Published on
European Snow Pride, Tignes
Authors

Name

Fabio Marcato

Twitter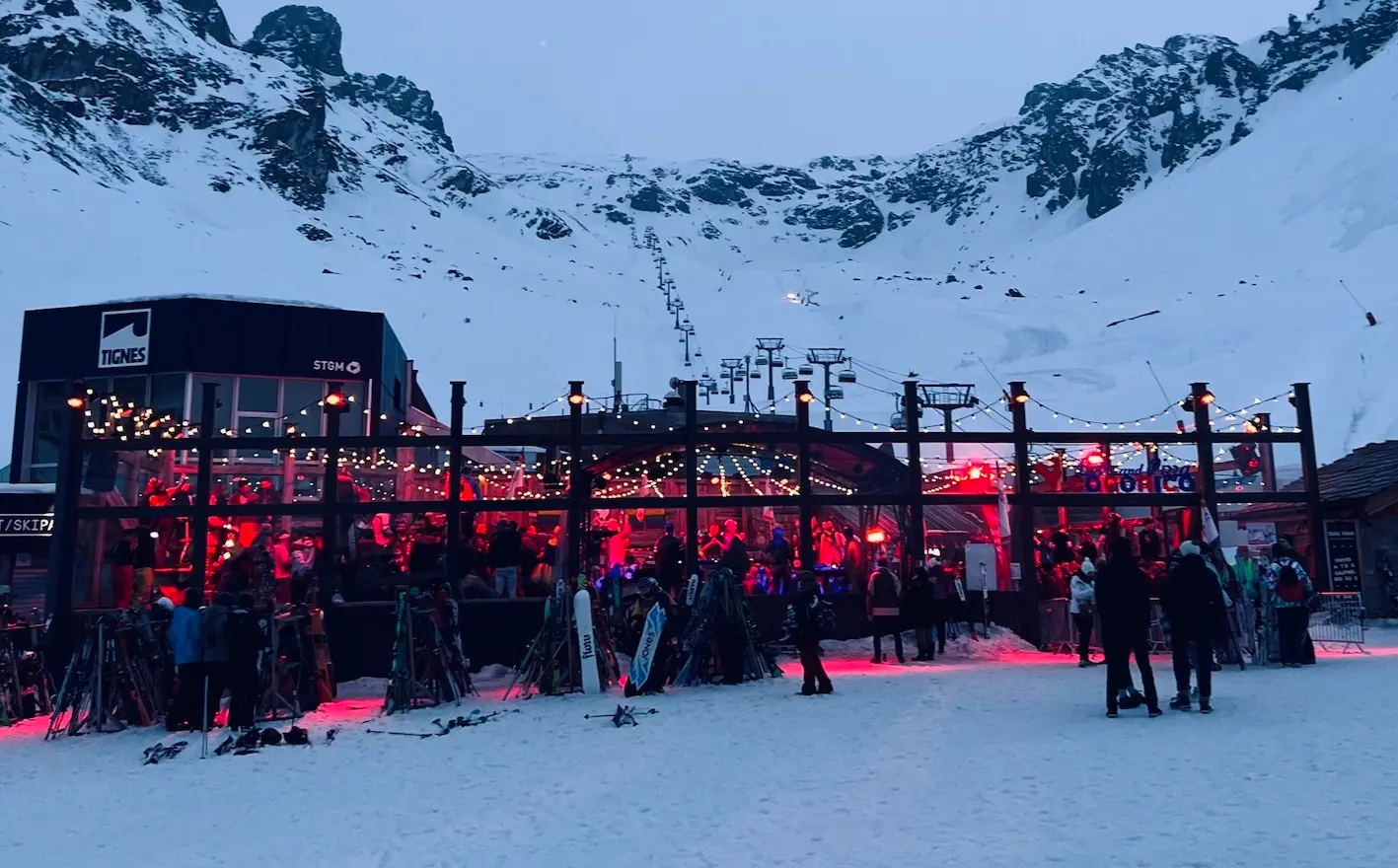 A very gay winter week
My friend from Lyon proposed to me, with another friend of ours from London, to do the winter pride week in Val-d'Isère, in the French Alps. After a lot of work to find the best way to reach Lyon (there is no easy fucking way) and many visits to sports shops to to get all the equipment, I leave for the city with a new iPhone in hand to capture the upcoming events. I spend the first night in Lyon, a city that juts out like a phallus, wrapped by the Rhone and Saone rivers with a nice historical center.
The ski is the limit
The day after we have a train to Bourg-Saint-Maurice and then a shuttle bus to Tignes. The bus was included in the offer we booked with:
7-night accommodation, 6-day lift pass, Event Pass Ski lessons (we bravely take 5 full days), Breakfast every morning at Le table du coffee (a kinda very warm chalet🤩), Dinner vouchers (French food is really delicious but price wise these vouchers are not really worth it) and Pool party with spa (but the location is not providing the right atmosphere for a party).
We book the special offer, which secretly translates to us having to share the flat with 2 other people. We share the flat with a nice couple from Belgium and we are fortunate to have a private room with single beds.
For the ski lessons i am in a mixed group with great people, the youngest guy is around 20 and the oldest around 60 but the program is extremely intense for me considering that I have never really skied and the instructor is pushing too much. On Day 1, i don't even know how to wear the gears and in a short amount of time I am thrown into the hardest piste. I really felt the pain in my legs from skiing the whole day because of inactivity and i have to be really focused in maintaining the right form while I am skiing.
Tignes winterweek
Skiing is also a lot of fun and it was made better by the views. In between runs, we would have a a break in these Afterski places like La Follie Douce (even if it is a bit too jet set straight for my taste).
Every night there were also 1-2 gay parties in small locations but I was always too tired and worried for the lesson the day after so I just went and got the free drink (which is just a small glass of juice with a drop of alcohol in it 🤪).
Conclusions: winter pride week in Tignes is a must especially with friends and if you are over 40.
Time for a little break reading the Bible