Published on
A Digital Nomad Guide to Almaty, Kazakhstan
Authors

Name

Ryan Kretch

Twitter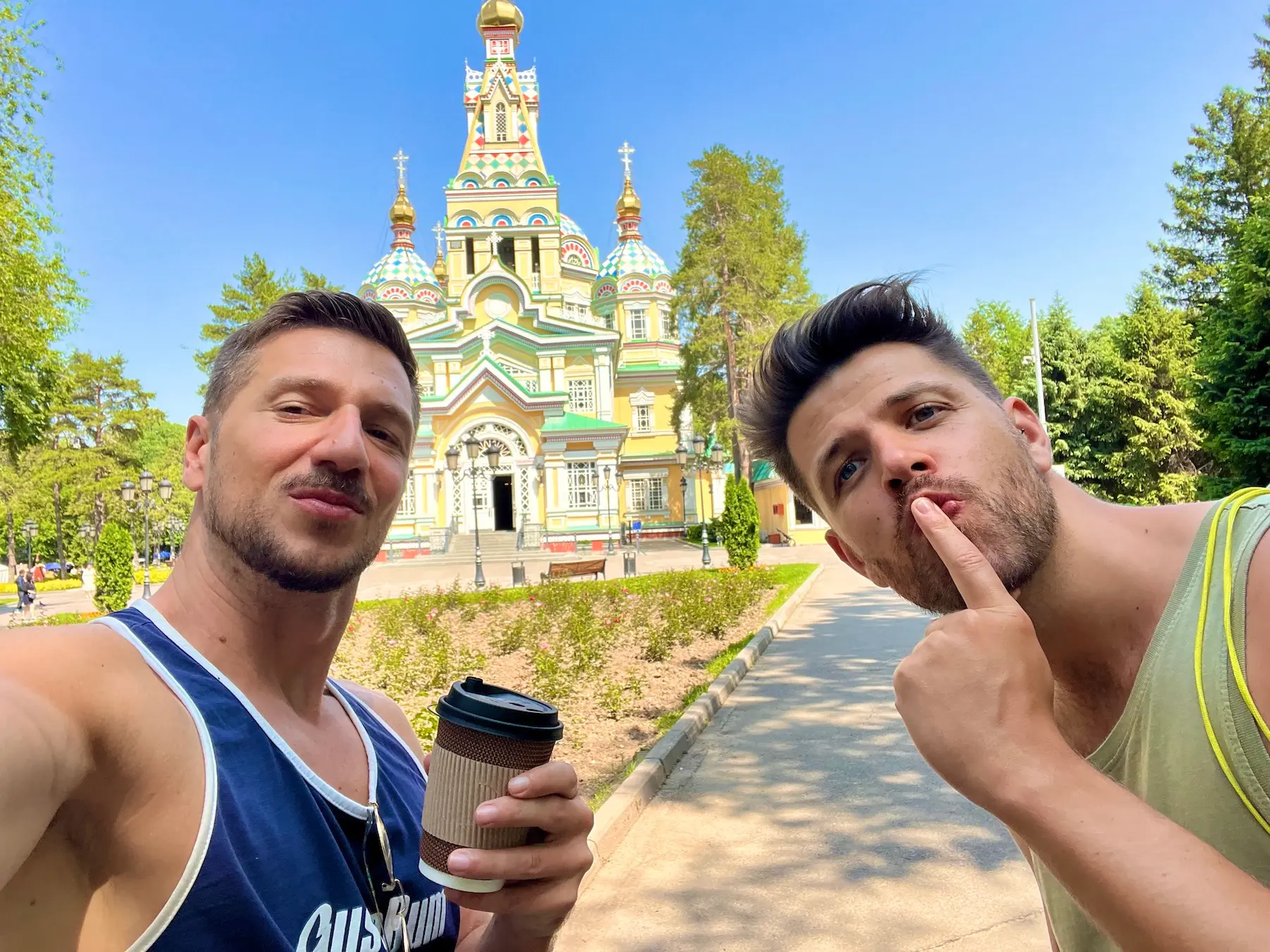 First off: Why Almaty, Kazakhstan?
While planning a way to get back from East Asia to Crete (for my mom's 60th birthday celebration), we couldn't for the life of us find something within our budget that wasn't going to require more than like 27 hours of flying and many hell-ish changeovers. Suddenly some flights popped up in Skyscanner that peaked my adventurous side: Air Astana flights from Seoul to Almaty and directly from Almaty to Heraklion (Crete) with over a 2-week layover. I had been to Almaty back in 2014, and had tons of incredible, random, raw, local experiences and did my best to convince Fabio (who at that point pulled up a map, and for the first time, located Kazakhstan on a map).
Soon after, we were booking those flights, and before we knew it, we were flying to Almaty, Kazakhstan, a name meaning The Father of Apples.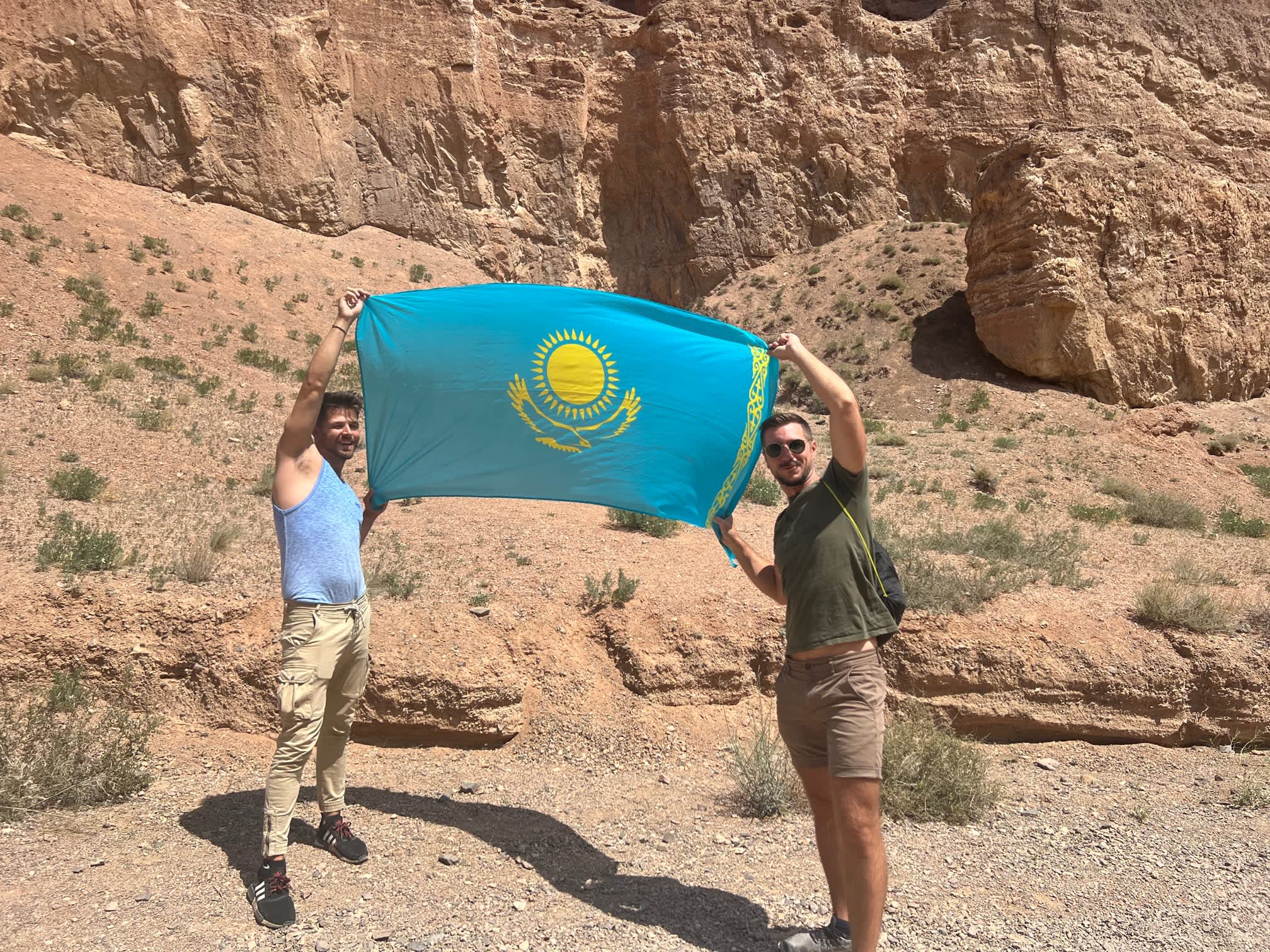 Us showing off plenty of Kazakh Pride at Charyn Canyon
Before you go: Things to Prepare and Accommodations in Almaty
1) Drop your previous misconceptions about Kazakhstan (and Almaty)
Before we came to Almaty, Fabio stumbled upon this article when Googling "Is Almaty safe?" and it scared him so much that the first night he was afraid to go out (I had to pull him out the door). That article is written by a travel insurance company, and from firsthand experience as tourists, we felt extremely safe in Almaty. There are some areas outside the central part of the city that feel a bit rawer, but don't let an article like that dissuade you from coming to Almaty or Kazakhstan.
Additionally, inform yourself a bit on Kazakhstan and Almaty beforehand, and you will soon realize it is a pretty special place to visit! We recommend this YouTube channel, which provides some nice videos to get you inspired about the city and country.
2) Figure out how long you can stay
Kazakhstan has come a long way in the last ten years in tourism. I remember I was one of the first few people to cross over the border from China with an allotted 15 days visa-free on my US passport back in 2014.
While there is nothing like a digital nomad visa available at the present, all EU countries, the UK, and USA are some of the several countries that can now benefit from 30 days visa-free entry. This is enough time to really get a feel for the country and city in our opinion.
Take a look at where you stand in this and then take a look at flights ;)
FYI: You cannot extend your visa-free stay by crossing the border to Kyrgyzstan, unfortunately.
3) Figure out how to get to Almaty
Almaty is arguably not nearby a lot, but on the other hand lies pretty centrally within the Eurasian landmass. We used it as a stopover point from East Asia to Europe, which is a good alternative to typical stopover points like Dubai and Qatar.
To Fly ✈️:
Check out Air Astana. It doesn't always show up on the 3rd-party sites, but I can highly recommend them! They have a very new fleet and economy class is not as depressing as other airlines. We found that booking on Skyscanner, we could put in a layover from Seoul to Crete, for example, and there was no price increase at all!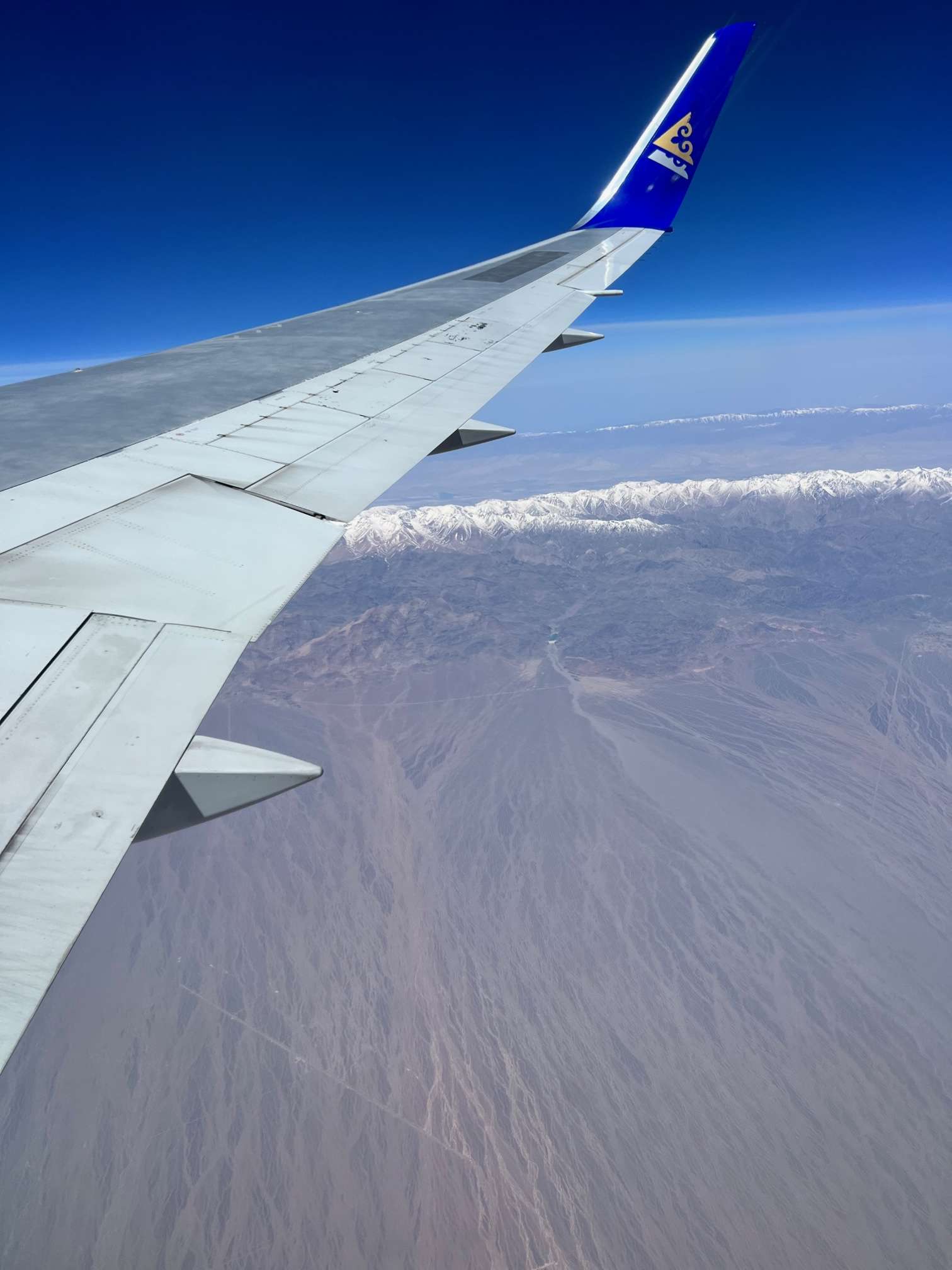 Flying in on Air Astana
By Ground 🚎:
Well, this is all dependent on if you are in one of the neighboring countries. I did it once from China, and it was for sure a multi-modal adventure. For sure, you can get to Almaty by road from countries like Kyrgyzstan, Uzbekistan, China, Russia, etc. but I will steer clear from too much information on this.
4) Where to Stay in Almaty and Accommodations in Almaty
For semi-long-term (2 weeks+), we used Airbnb to snag a pretty good deal. For under 30 euros a night, we found a basic flat with a fabulous, panoramic view of the business district and the mountains. This is without a doubt much more expensive than what locals will pay, but it came with everything we needed plus above average internet speed (often clocking in at 50 MB/s). Make sure to check on the internet speed with the host, as it isn't a country yet renowned for its Wi-Fi speeds.
We cannot recommend more the Almaly district, nearby Abay Avenue and Furmanov Avenue. It has everything you need in walking distance - like gyms, restaurants (including Soviet-style stolovayas -- more on that later), vibey parks, etc.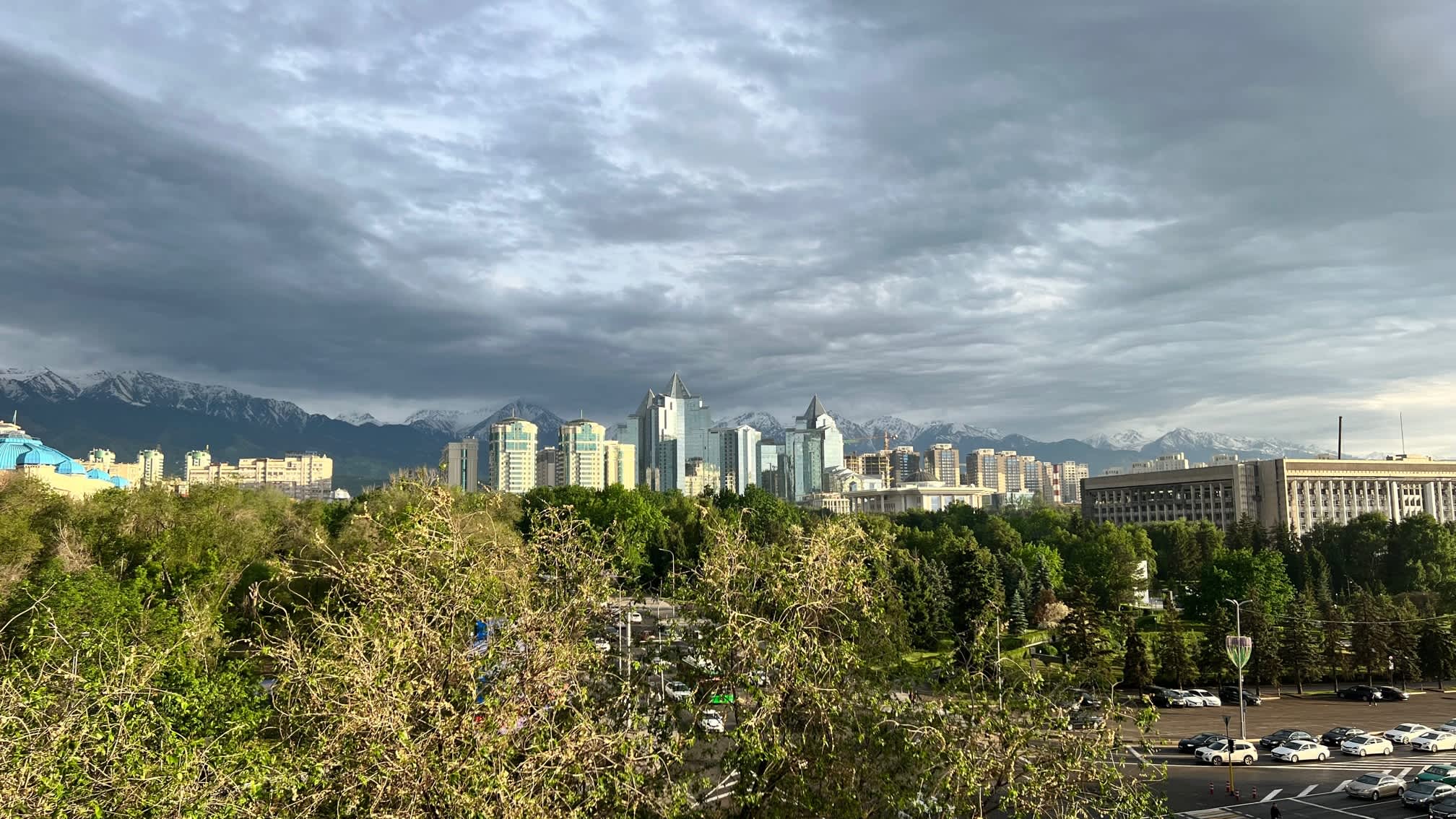 Our view from our Almaty AirBnb
4) Stock up on the necessary apps to make moving around the city easier
You won't need too many apps here, but the essential ones are Yandex (Яндекс) Taxi and Maps. We found out about these after arriving here, and never actually downloaded the iOS versions of them, as our App Store would not allow us.
Nonetheless, you can get away with googling either Yandex Taxi or Yandex Maps and then saving the site (they are progressive web apps (PWAs)) as icons on your phone for easy access.
We noticed that Yandex Maps had way more coverage than Google Maps did; showing way more places and points of interest around the city.
5) Learn a little bit of Russian
While Kazakh is spoken natively by nearly 65% of the population, Russian is declared the "official" language of the country due to Soviet Union occupation all those years back.
We found that a few Russian phrases (hello, goodbye, thank you, please, this, that) and counting to ten helped immensely with basic communication. Also, since both Russian and Kazakh are written in Cyrillic (although the Kazakh language will transition slowly to a Latin alphabet), learning a little how to read the Cyrillic goes a long way.
Many years back, I used Duolingo to help me learn a few phrases as well as how to read Cyrillic, and it has stuck with me ever since. Highly recommended leading up to your Almaty visit.
That being said, Almaty has plenty of young people, and we noticed about half of them eagerly switch to English when ordering at a restaurant, for example.
If you go outside Almaty, try to pick up some basic Kazakh phrases to impress those around you.
You've arrived! How to maximize your experience, time, and money in Almaty
6) Get yourself a SIM card
If you are eager to get a SIM card right at the airport, there is a tiny stand on the left side when you walk out into arrivals (next to the canteen). The stand does charge a bit more, but for about 6,500 Tenge, we had a SIM card with 13 GB of data in just a few minutes (we got Beeline, which has worked super well for us, including when we've hot spotted for a meeting or two, but here is a link to more detailed info about the other SIM cards).
If you can wait a bit, you can certainly get SIM cards at the designated mobile phone shops in Almaty, but we were happy to pay a little bit more to have it from the get-co.
7) Get to your flat from the airport
This part was a bit stressful at first since we weren't familiar with Yandex yet and the outside area after arrivals was packed with very little in terms of marked taxis.
After we realized Uber was not working, we kind of awkwardly walked around for a bit, unsure of what to do. Finally, a man approached us, and we worked out a deal of paying 4,000 Tenge to get to our apartment. There will be quite a few of these unofficial drivers walking around, and in our experience it was fine. You can definitely take one of these for 3,500 to 4,000 Tenge or if you already followed Step 4, just order a car from Yandex.
Make sure you get a bit of cash out at the airport ATMs beforehand. Whether you go the unofficial way or with Yandex, you will need to pay in cash.
There is also a bus that runs from the airport, but we didn't try it.
8) Learn how to get around Almaty
We basically walked the entire time we were there, but there are alternatives. Almaty has a metro (with tickets that were just 18 cents at the time I wrote this), an extensive bus system, and even rentable electric scooters. However, we could not get the scooters to work as we needed a Kazakhstani debit card at the time.
As mentioned before, Yandex taxis are inexpensive, but make sure you carry around cash for this purpose as it doesn't seem like they accept international cards in their system.
9) Hungry? Head to the Stolovayas (столовая). Cheap food in Almaty.
These canteens, called stolovayas (similar to the Milk Bars in Poland), are scattered all over the city and are a must if you are looking for cheap, practical (and tasty) food. They are cafeterias reminiscent of the soviet era and are a great alternative to cooking, with plenty of healthy (and unhealthy) options.
You walk in, grab a tray and cutlery, and then point at whatever dishes you want to the servers. They will then microwave it up for you. Depending on the extravagance of the stolovaya, you could also have a large choice of desserts, drinks, salads. The selection at some of them are incredible!
We tested out a lot of stolovayas in our area and these happened to be our favorite - with links to where they are on Yandex or Google Maps:
The total cost ranged from approximately 3 to maximum 8 euro per person, so we made a daily (and sometimes twice daily) visit to these.
It was a bit hard to order with our limited Russian, but pointing will get you far in this scenario :)
Lastly, to find them easily, type in "столовая" in Yandex, and you will likely find one within five minutes of you (there are much fewer results on Google Maps).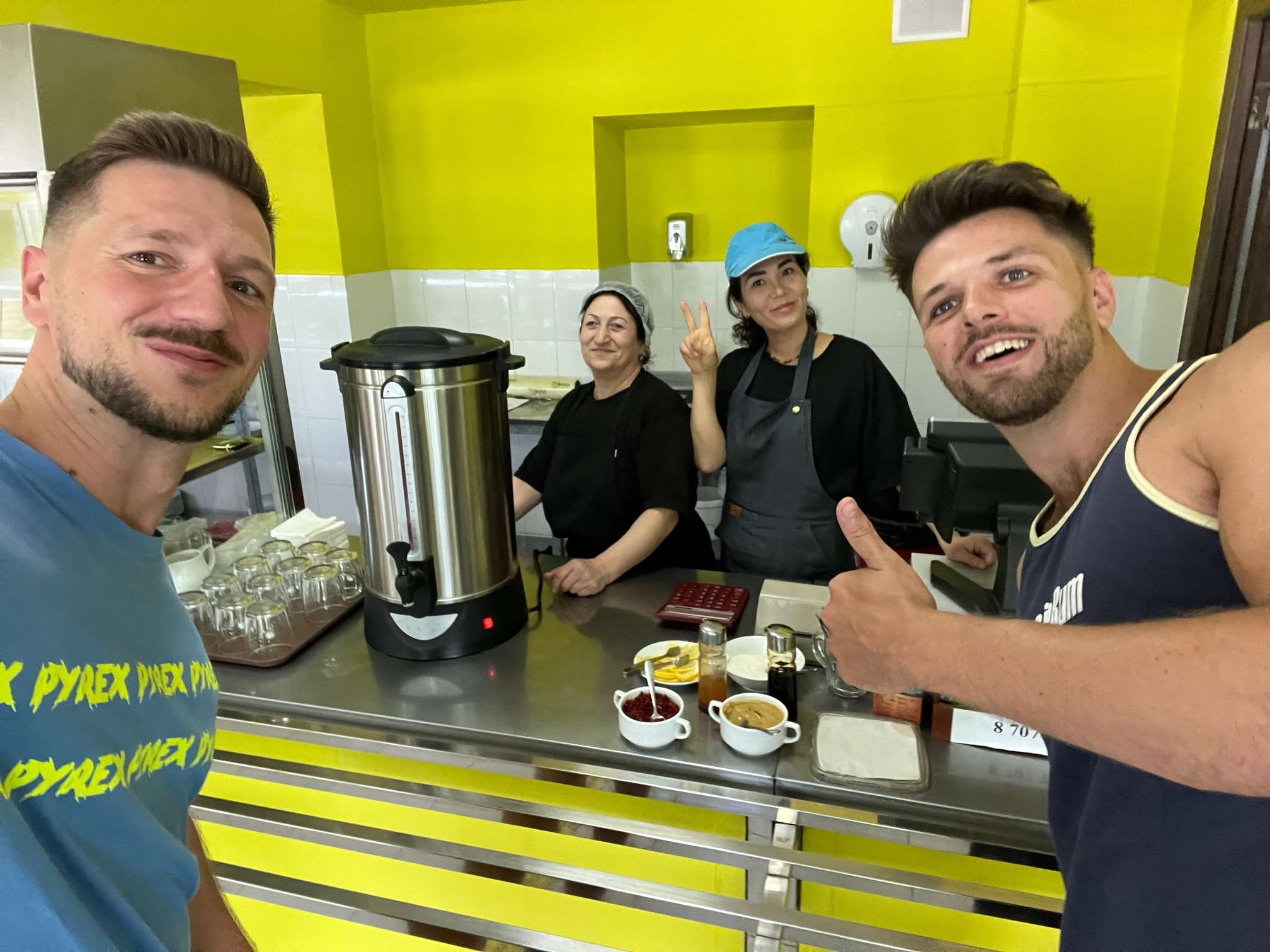 With our favorite ladies at Вкусный мир
10) Hungry for something nicer? Check out Almaty's Georgian food scene 🇬🇪.
It is hard to say why, but in Kazakhstan, I noticed the Kazakh food scene just isn't so easy to seek out, making trying Kazakh food something we really only did outside of Almaty. In Almaty, however, the city loves its international food culture, and Georgian food is where it shines. We felt like on nearly every corner in central Almaty boasted a Georgian restaurant and in the few weeks that we were there, we counted that we had eaten 8 khachapuri total 🤣. They all have a selection of Georgian wines and have beautiful interiors and spacious seating (a common theme with Almaty restaurants). They also often do have pretty massive menus that include other dishes besides Georgian ones, including a few central Asian specialties, like shashlik (big kebabs of meat).
At this point, when I think back to Almaty, my mind literally associates it with Georgian food and khachapuri.
So if you head to Almaty, check out some of these: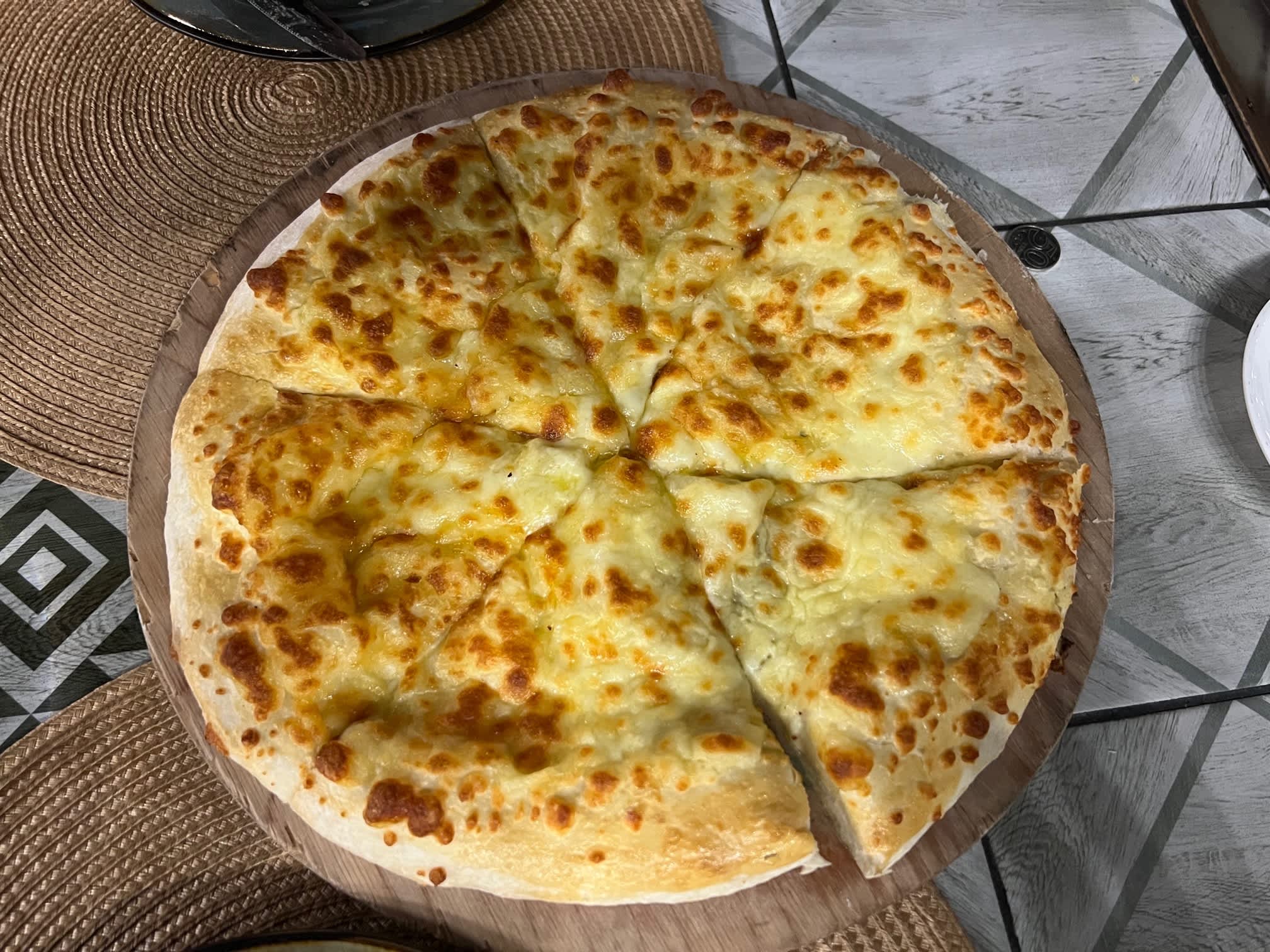 Khachapuri, the most beautiful thing on this planet
11) Exercising in Almaty: Running and joining a gym
To work off the aforementioned Khachapuri and shashlik, you are probably going to want to exercise a bit.
One of the ways we did this was by running. The streets are organized in a grid with a steady incline going south towards the mountain, so you can run upwards or downwards depending on how much you want to challenge yourself. While running in the streets isn't exactly the most pleasant experiences, due to the traffic and pollution, there are lots of streams from the mountains heading down through the city, and along these streams are leafy footpaths void of traffic.
My favorite was Terenkur - A nice place with a long, leafy, shaded park going up and down the stream. There are also plenty of cute cafes lining the area for when you finish your run.
Just watch out for the gradual incline if you go towards the mountain. It is tough in the moment, and even harder days after when your calves are still burning and yelling at you for ever having attempted it.
There are also a bunch of gyms scattered around within walking distance of anywhere. We joined one called Banzai fitness, which offered a 12 time pass (3 days per week for a month) for 8,000 Tenge. It was super organized and clean, so much so that the woman at the front made us put those funny slipper condom thingies over our outdoor shoes the first time we joined. From that point onward, we brought our outdoor shoes in a separate bag.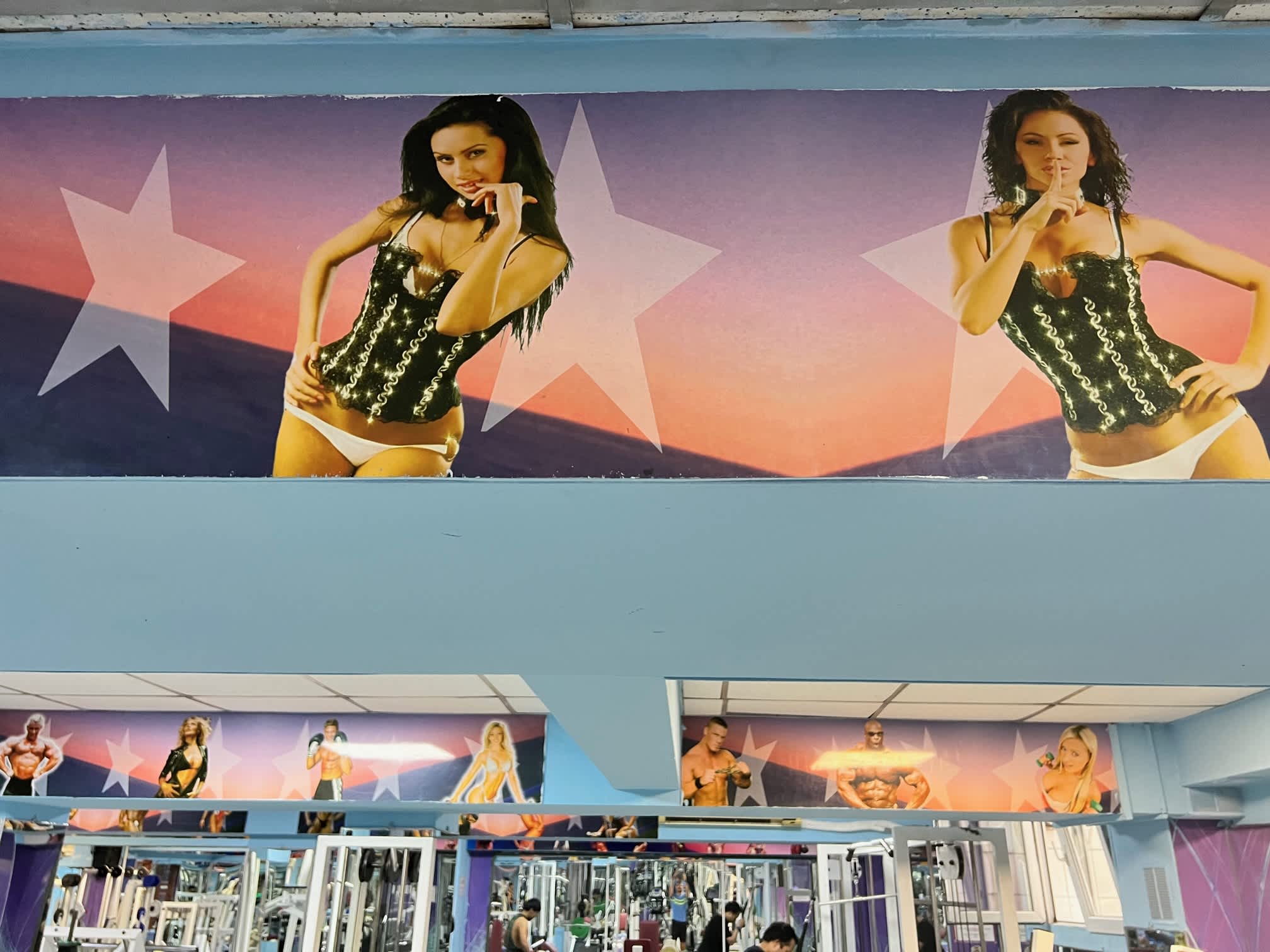 The wonderful visuals at Banzai
12) Change up your work environment, get a coffee
Sometimes, we would need a change of environment from the flat while we were working and would head out to a café. Almaty has a big café culture and thus the coffee scene is pretty good (and we have high standards for coffee).
They are good places to get some work done too, and I never felt like we were imposing by sitting for a few hours and just a cup of coffee. The Wi-Fi can be pretty fast, but I did find that the networks tended to be unprotected, so I always kept my VPN on (you can read more about this in this article).
If the Wi-Fi went out for some reason, I always had my SIM card from step 7 handy in case I needed to hotspot.
My favorite was called JumpinGoat coffee, which didn't just serve up espresso-based drinks, but also had brews from Guatemala, Ethiopia and Kenya. Yes, you can get coffee from these countries in Kazakhstan 🤣.
13) Check out the nightlife in Almaty
Our nightlife experience consisted of going to Georgian restaurants and karaoke booths. This place, Mega Karaoke, cost less than 14 euros on a Thursday night with two massive beers each.
We attempted once to go to a techno club called Bult, but honestly couldn't find it.
Since we didn't make ourselves such an expert on this front, we will link you to our fav YouTube girl.
14) Get out of Almaty to Experience the Real Kazakhstan on Weekends
As soon as you leave the borders of Almaty, the scene changes from glitzy metropolitan to vast ruralness fast, and that is where the true fun begins.
Kazakhstan has some of the most gorgeous natural beauty on this planet, and it changes pretty quickly as you drive through it. One hour you will be in arid canyons, half an hour later you will be driving down flat green plains, and another half hour later you will be in the thick of snow-capped mountains.
These types of scenes are accessible nearby Almaty and one such itinerary is going to Kolsai and Kaindy lakes as well as Charyn canyon over the course of 3 days or so. While it is somehow possible with a mix of public transportation and hitchhiking, we rented a car for the duration and thus traveling on our own time and agenda became much easier.
We will make another post about this, but the point of this is, when you come to Almaty, definitely try to get out and see some of the other parts of the country (or nearby countries too).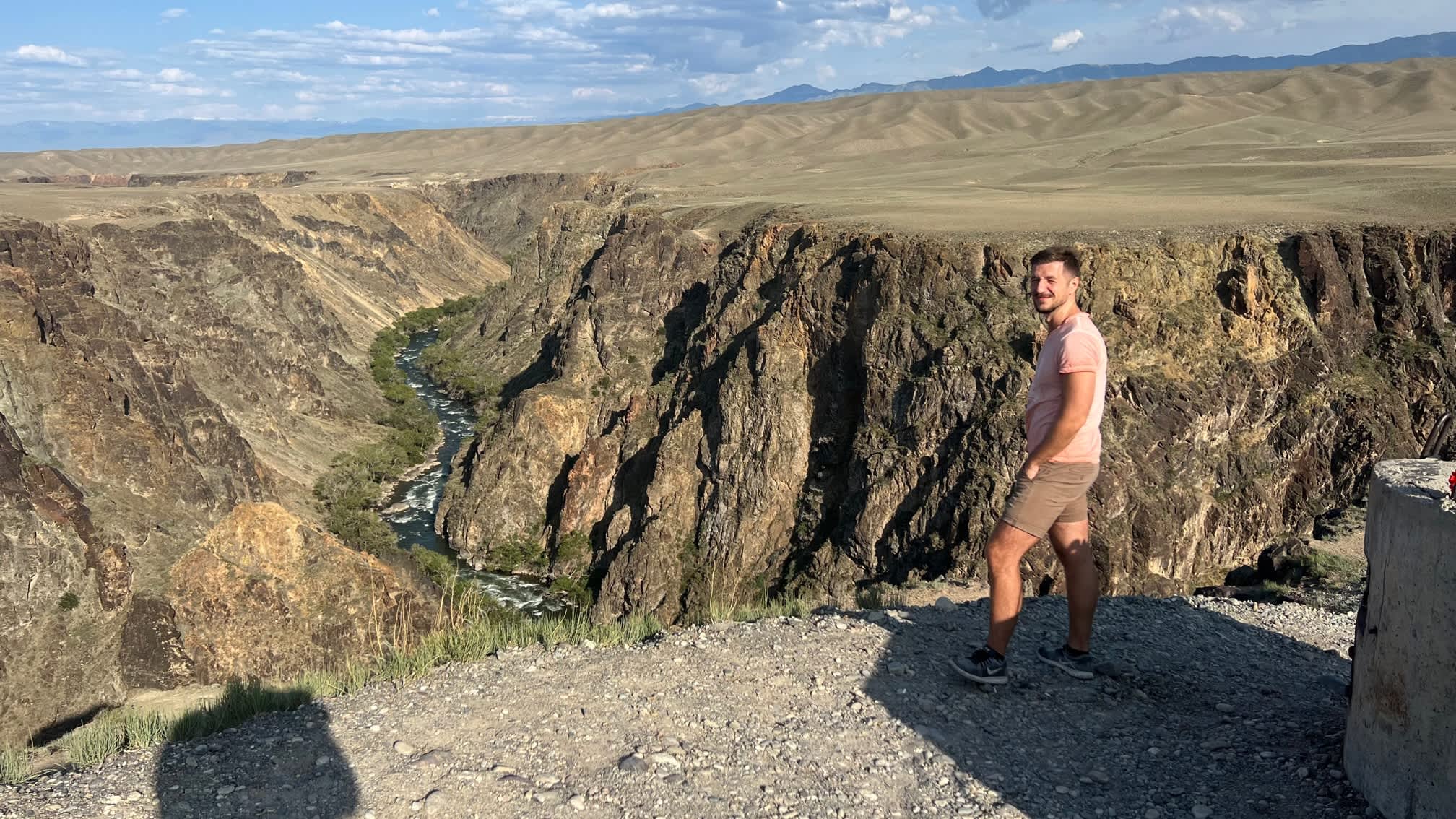 Fabio about to fall off Charyn Canyon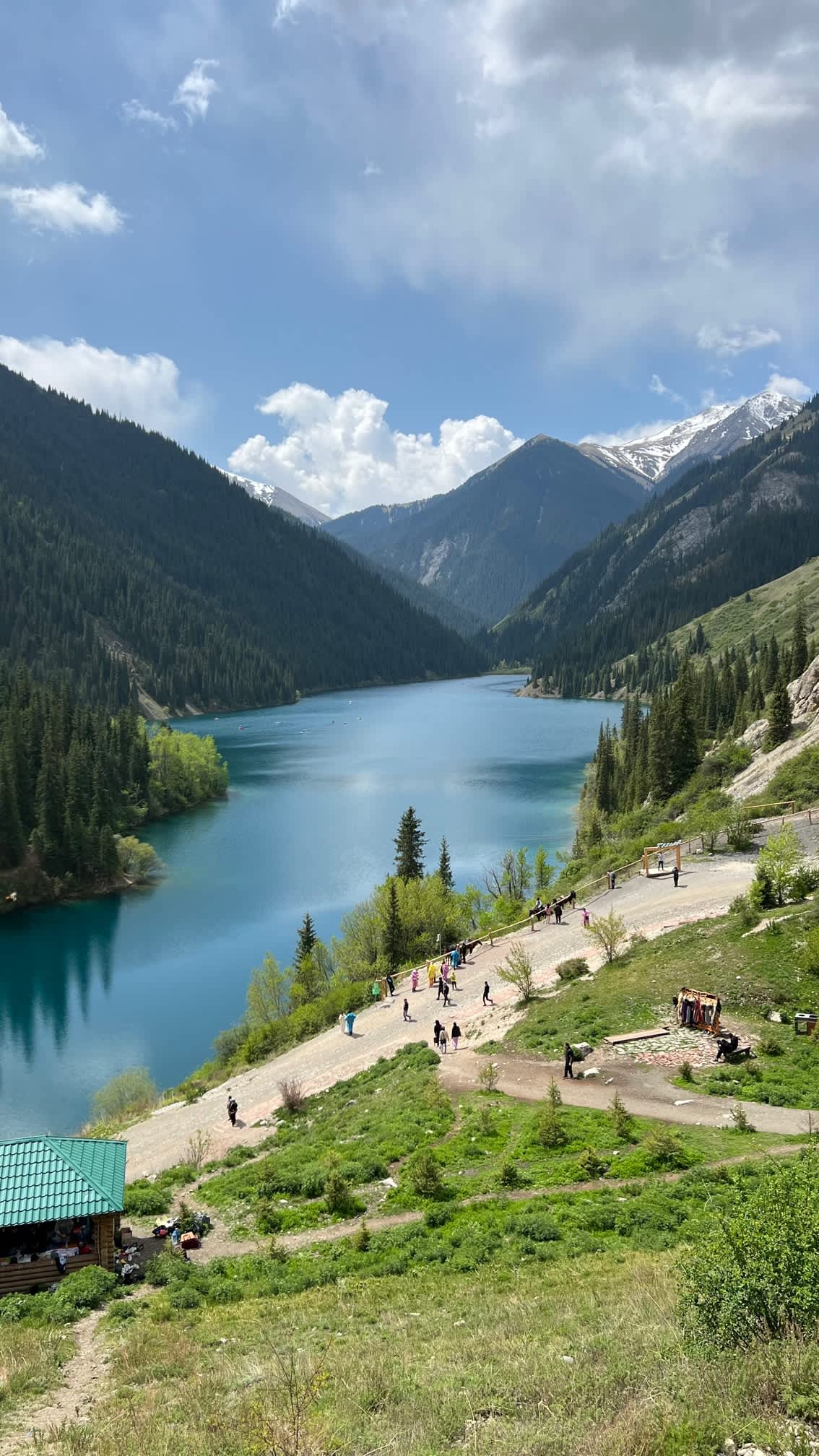 First Kolsai Lake
Some other ideas:
Bishkek, Kyrgyzstan for the weekend -- or if you have a long weekend even Issyk Kul 😍 (Kyrgyzstan has a similar or even more generous visa-free policy than Kazakhstan)
---
Extra Almaty Tips:
Basically everywhere in Almaty accepts Apple Pay (which is awesome since I lost my physical debit card a few countries back), but if you go outside the city, you need to go the primitive route and switch to cash. The only time in Almaty we needed cash was with taxis, as we found apps like Yandex didn't accept foreign cards.
The car culture is a honking culture and the traffic at rush hour is immense. Make sure you have some nice headphones to drown out the sound while you are working.
Thanks to the aforementioned car culture, Almaty sometimes feels a bit hazy and polluted, but don't let that dissuade you from coming!
It is literally one of the greenest cities ever and around spring time, it becomes super outdoorsy. Take advantage of this by walking around the city on the tree-filled streets, eat outside at some of the cozy (Georgian, he-he) restaurants, and stroll through the plentiful parks.
The cost of living in Almaty can vary a lot and be expensive or cheap depending on how you budget. There is really something for everyone, though.
Some of our favorite sites there included the Green Bazaar, Park of 28 Panfilov Guardsmen, Kok Tobe (which was super random) and First President Park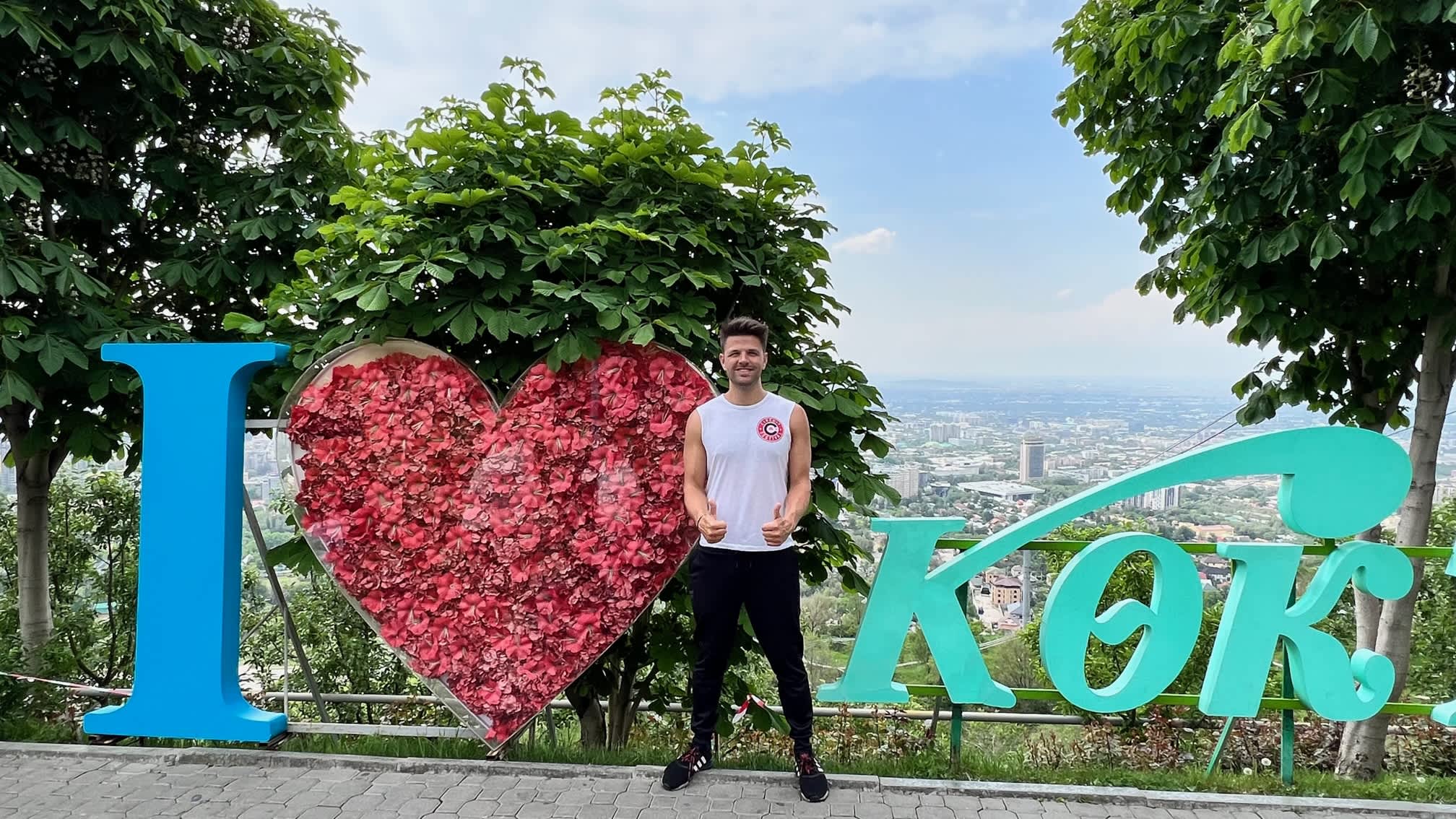 Too inappropriate?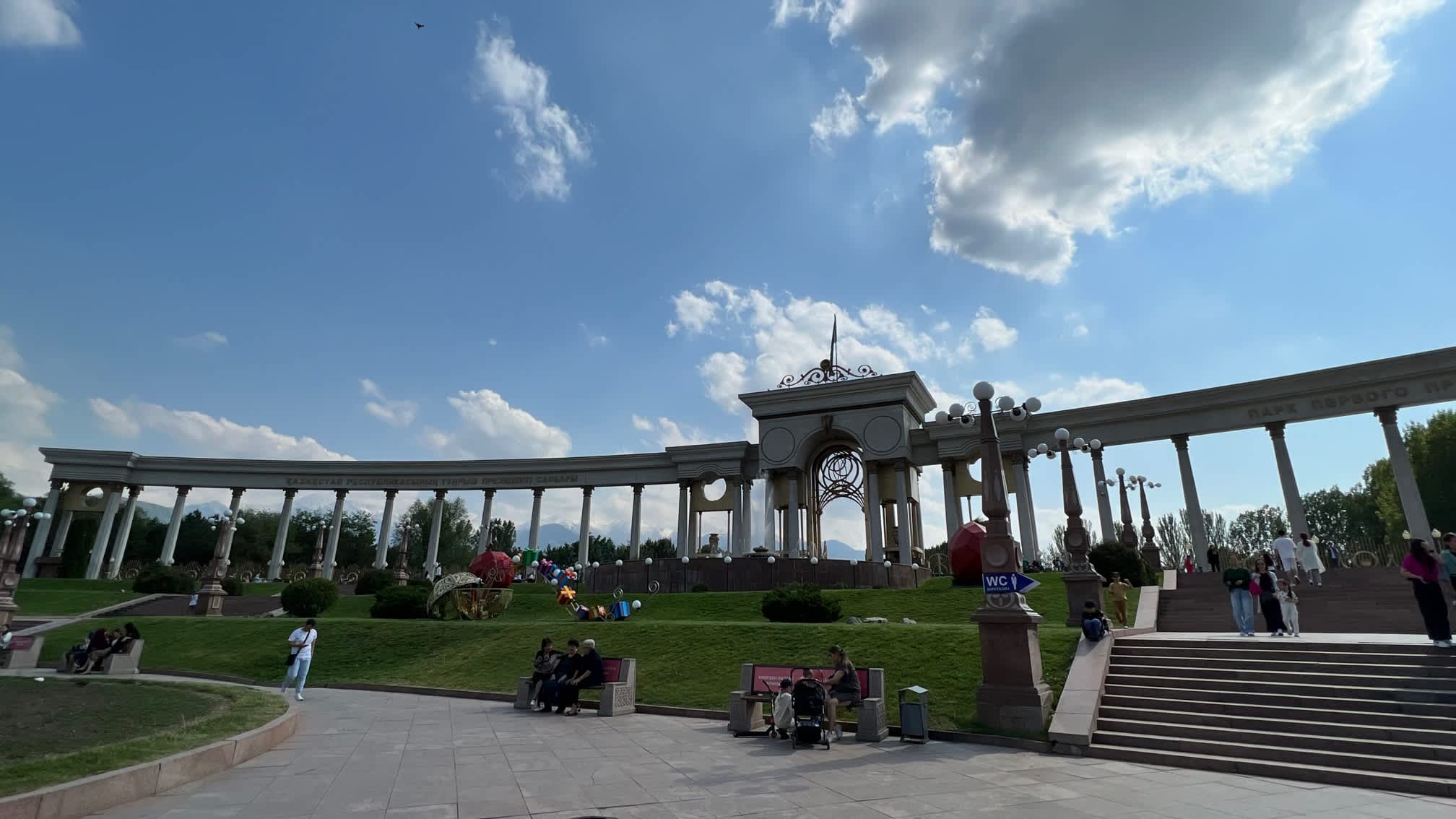 First President Park
---
Enjoy what this incredible city and country has to offer! We reckon in the next decade, this place will blow up as a destination, so make sure to get there before everyone else.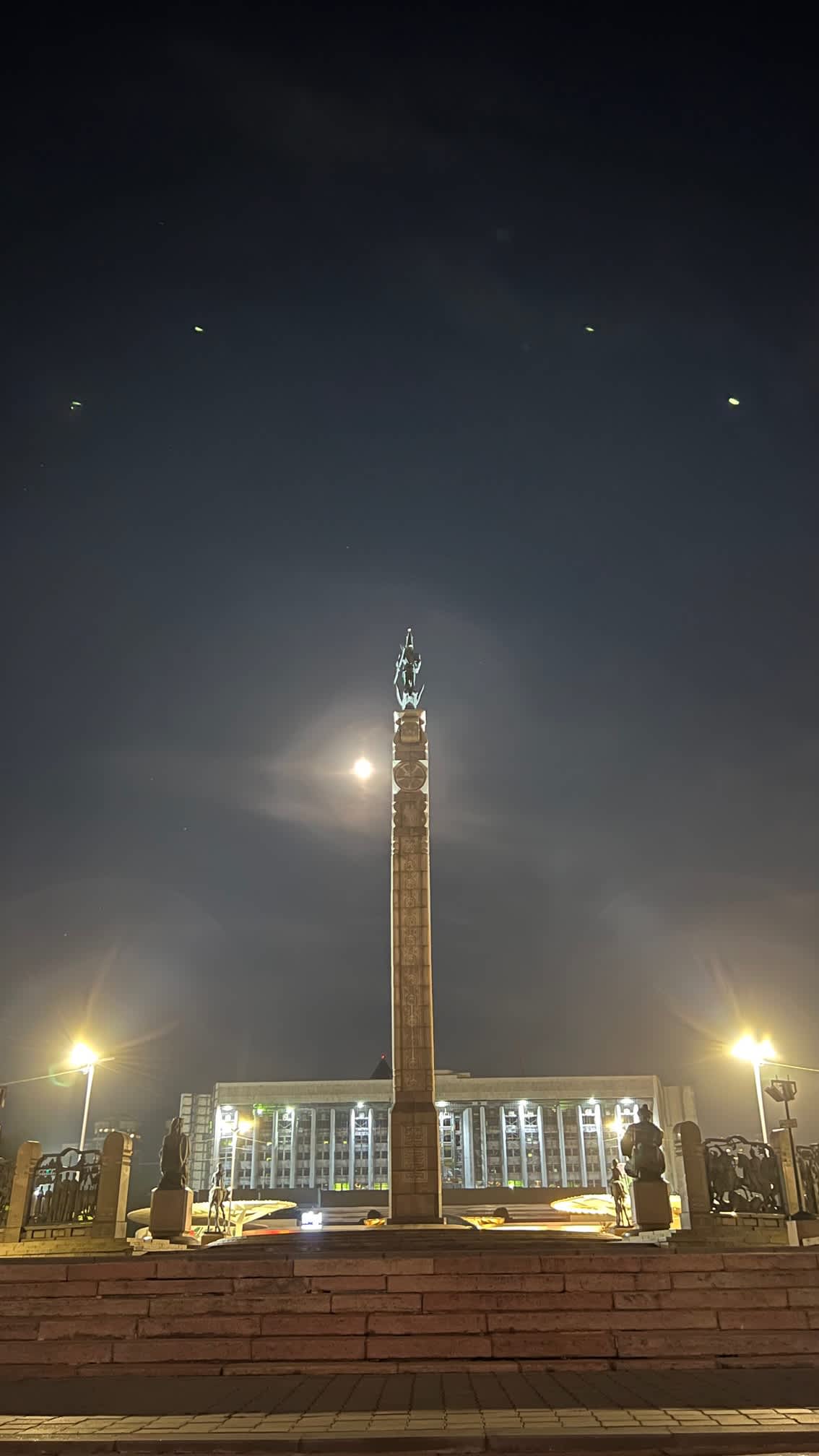 Рахмет, Almaty
---
More digital nomad guides: