Published on
A Digital Nomad Guide to Ubud, Bali's Enchanting Mountain Town
Authors

Name

Ryan Kretch

Twitter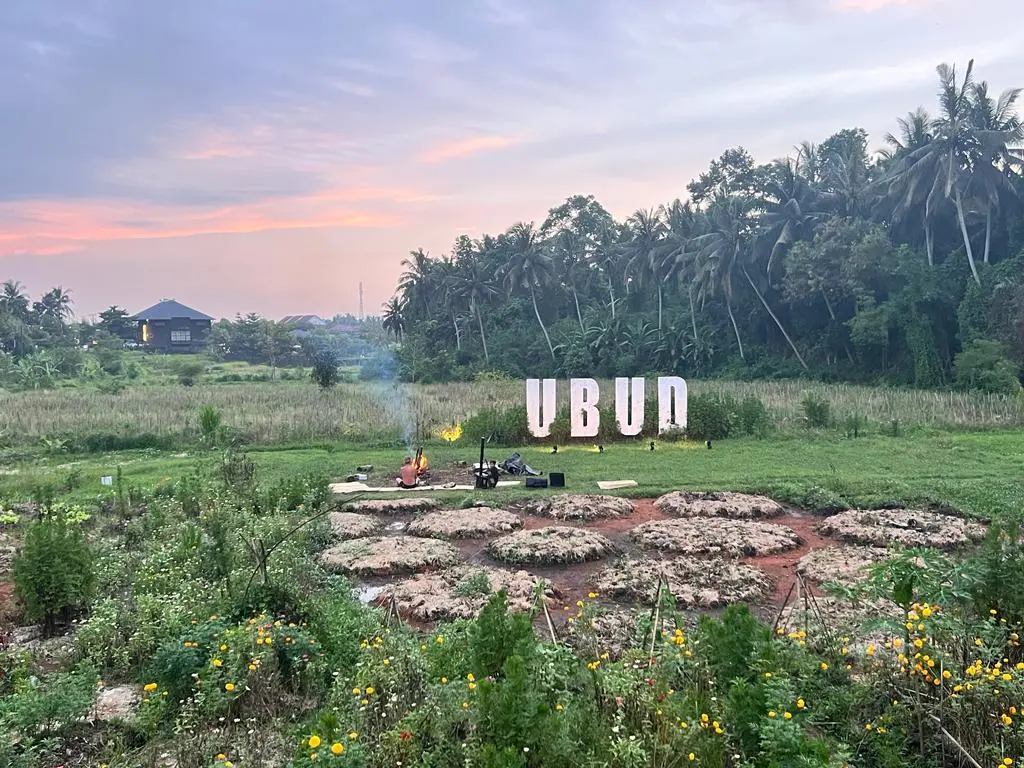 Our Ubud Backstory
When we were trying to figure out where to go after Cape Town, South Africa, it was a toss up between heading back towards Europe to Istanbul or heading out to quite the polar opposite, South East Asia. The latter brought out the intrigue in us, so after much deliberation and using the flights that were cheapest on Skyscanner to guide us, we settled on Bali, Indonesia.
Neither of us had ever been there. Aside from knowing it was like a digital nomad mecca, we knew very little about the culture...even assuming that buddhism was the main religion there (it is fascinatingly enough, hinduism). We settled on the mountainous, Ubud, because in all honesty, we wanted to be in a place far enough in case a tsunami hit 🤣, and really neither of us are going to learn how to surf anytime soon.
The morning after we woke up in Villa Silas, after 20+ hours of flight-time from Cape Town and some airport drama which I will cover in a bit, the enchantment of the island set in immediately. Surrounded by rice fields complete with ducks quacking about, this became our home for a month. As I write this, we are on our flight out of Bali and to Japan, and I look back wondering if it was all a dream. While we worked, probably more productively than we do in Germany, every day felt more like a holiday. Bali and Ubud has a way of captivating people and making them stay, and I reckon we would have. Either way, we will for sure be back in due time.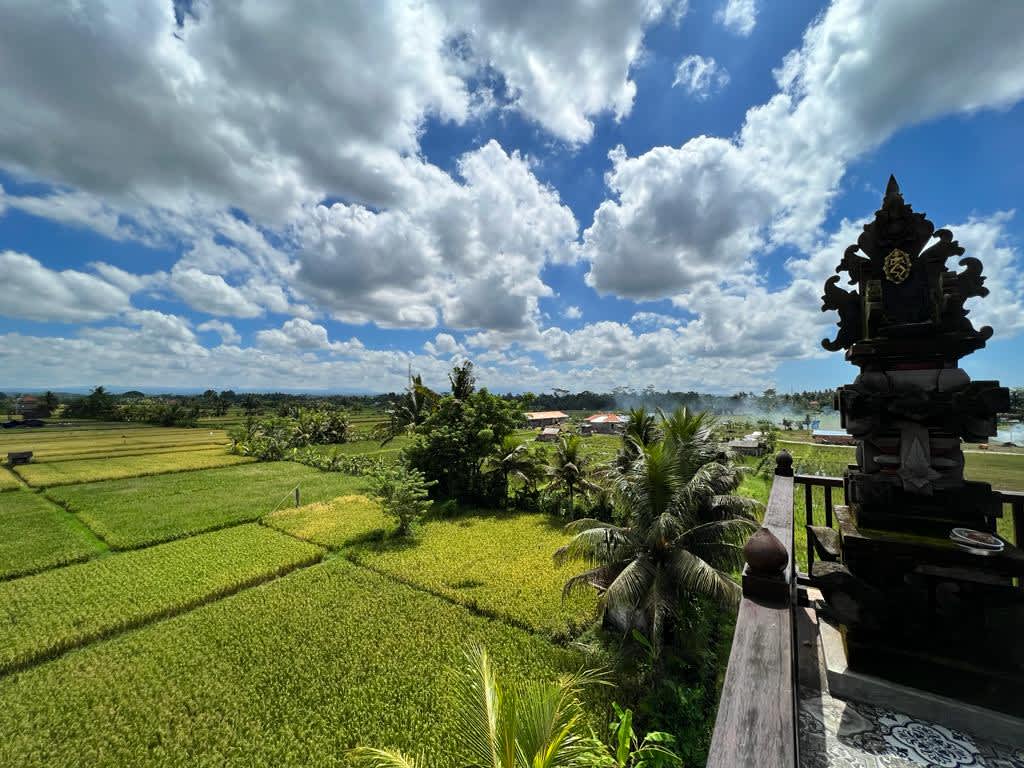 Our villa set in the outskirts of Ubud
So without further adieu, here is our digital nomad guide to Bali, or more specifically, Ubud, as that is the place we experienced the most of.
Before you go: Things to Prepare and Accommodations in Ubud, Bali
1) Double, triple check your passport before even getting on the flight
🚨 This is hands down the biggest advice on the list! 🚨
Bali Ngurah Rai International Airport is one of the most notorious airports in the world for sending people back when they hit immigration for minor passport flaws. My good friend in Berlin tried to come to Bali a few months ago, but because his passport was expiring within siz months, he was detained in immigration for a long time and finally sent back to Germany 😳.
Fast-forward a few months to our same-same-but-different experience...
When we are in the Qatar airport on our layover from Cape Town, Fabio accidentally ripped a small tear in his photo page. We didn't really think anything of it until Fabio is pulled aside by the scary immigration man in Bali and brought into a room. I had no idea where he went, and with the mediocre wifi was struggling to reach him. After nearly an hour and a half of back and forth. Fabio finally came out from what looked like he had been through war and said he had paid off (yes, BRIBED!) the guard an equivalent of 350 euro (down from an astounding 800 euro) as an ultimatum to being sent back on the account of the small defect in his passport. You can read more about our unlucky experience here.
Alledgedly they are able to fine the airlines that let a passenger into Bali with a defective passport thousands of euros, and while we got away with a small bribe, the consequences could have been much worse.
So before you go to Bali, make sure your passport is in pristine condition (a little wear and tear is fine). But if there are any tears, mold, or an upcoming expiration date, you are best saving the overwhelming stress and getting a new one.
AirBnb or Booking.com; stay out of the hustle of Ubud central
2) Check out
Alright so there are many ways to track down accoms and this one isn't revolutionary, but with AirBnb or Booking.com your life will just be much easier. The selection in Bali and Ubud on these platforms is immense...thus ensuring you find your perfect little abode for your stay. You can find villas, bungalows, mega villa-style hotels renting out specific rooms, treehouses, and more. We were on AirBnb for about half an hour or so before we came across a place called Villa Silas, advertising itself several times for the various rooms it had. As I mentioned in the first paragraphs, this place was utterly fantastic. The staff, the surroundings in the middle of nature, the food they cooked for an extra fee, etc. And while it was made for holiday-goers more than digital nomads, we made it work. I reckon there are many, many places like this.
One of the best things about these accommodations is that we were about a ten minute scooter ride from central Ubud, which was a massive blessing, as the center of Ubud is plagued with traffic and chaos. Chaos is nice in its own way, but not for when you are trying to get work done or rest.
I highly recommend familiarizing yourself with some maps of Ubud and aim to get a place about 10-15 minutes radius from the center.
Alternative:
If you are looking for a co-working, co-living situation, look no further than Outpost. We worked from here one day to get the real Ubud co-working experience and they offer all in one packages for accomodations and co-working. Not our vibes, but nice if you are a solo traveler!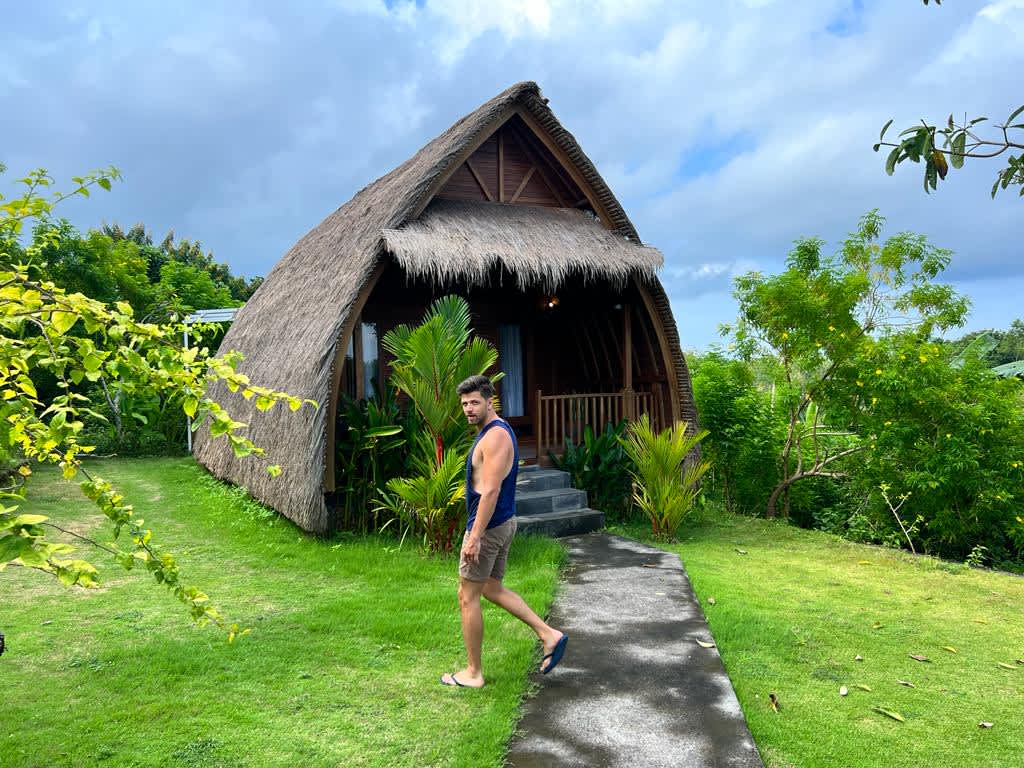 You can stay in a Bungalow!
3) Brush up on the local customs before coming and follow the rules
A lot of news has broken recently about foreigners who come to Bali and behave badly. Take the Russian man who was detained for flashing his peen on Mount Batur when hiking, or the Australian woman who fought with cops before getting thrown out because she wasn't wearing a helmet on her scooter, or the Italian woman who was teaching a dance class for money, thus violating typical visa rules when it comes to working. There are a lot of tourists who come to Bali and take the freedom of the island for granted.
The fact of the matter is culturally, Bali, is quite conservative. With religion (mostly hinduism and islam) guiding most of its people, it's just as heavy on rules as it is on cultural richness. If something seems even remotely questionable in your own country, think twice before doing it, as it could very well offend many people and put your time in Bali in danger.
I recommend reading up and educating yourself on Bali before coming so you can make the most of of it and not get yourself into any embarrassing situations.
Some resources: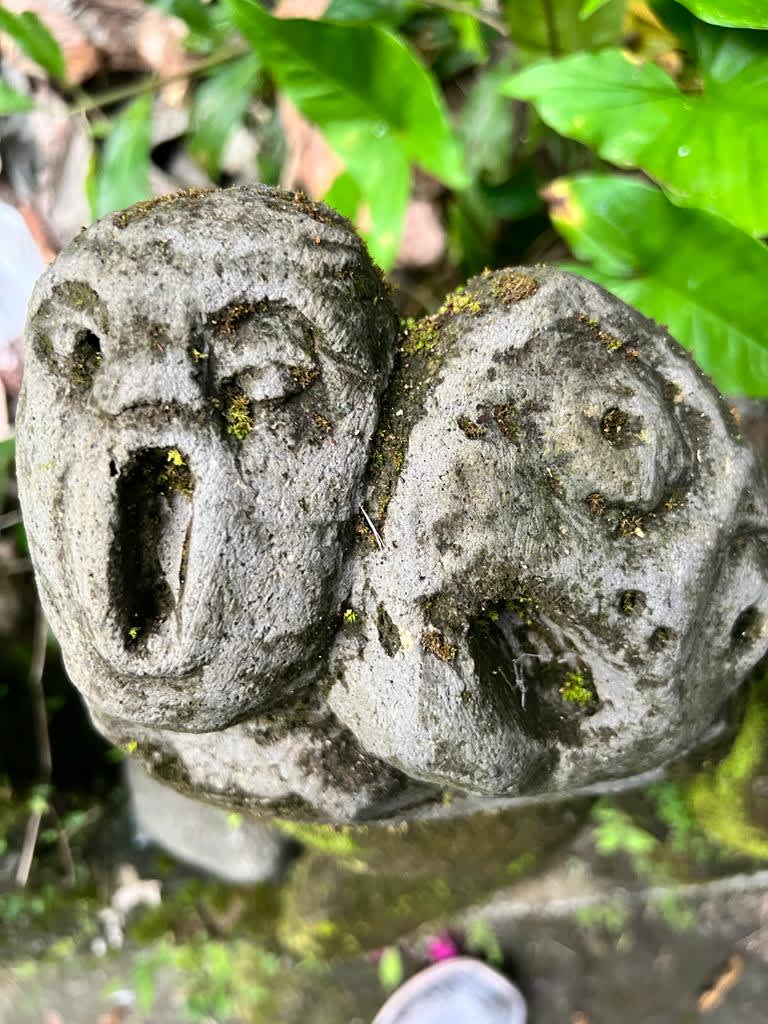 Learning about some of the Bali history and traditions can be bizarre
You've arrived! How to maximize your time and money while in Ubud
4) Get a SIM with a whole lotta data
As you are passing through arrivals, grab yourself a SIM card. We recommend Telekom as it was pretty much always reliable in most places on the island. I found that my SIM always delivered when I needed to hotspot to have a meeting, whereas the Wifi could be a bit spotty in places. For a little bit of cash, you can get a lot of data, and everyone knows consistent internet is a digital nomad's best friend.
5a) Get a scooter
You made it past the terrifying airport process and have checked into your accommodations in Ubud, now what? Well you have probably noticed the copious amount of scooters weaving their way in and out and traffic. In all of Bali, scooters are the mode of transportation to get around. Hopefully you have brought some kind of license with you so you can acquire one of these babies as humanly possible (it was fine with my non-international, New Jersey license -- but ideally you should have an international license).
I recommend asking whomever hosts you for a tip, as they generally have the fairest recommendations. Nonetheless here are a few places in Ubud you can check out which seem to have a good track record:
When we were there, we paid 800,000 INR (yes, my friend you will be a millionaire in Indonesia 🤣), for a month for one of the most basic 50cc, but allegedly you can haggle your way down to even cheaper.
Tip: When you are in the possession of a scooter, make sure to take a few pictures of the exterior to do a before/after comparison on any scratches.
And as for my #1 advice, make sure to wear your helmet. I don't want to be that mommy again, but why did we ever deem helmets uncool?! I saw so many people whizzing around without helmets on their scooters, but me having gotten into one minor accident and Fabio two while there, we are happy to have been wearing them. It doesn't take much effort, and while it may fuck up your stylish hair, it saves an expensive visit to a clinic or worse, your life. Scooter accidents, while mostly minor, are borderline inevitable to anyone in Bali, so be safe!
Note: Recently they have announced that they may be banning scooter rental for tourists. This would be a massive shame, as you'll see that Bali and scooters go hand-in-hand, and limiting them would be changing a whole ecosystem, but let's see. I reckon they will just get a bit stricter with licenses as some rental places don't even check and enforce fines more for reckless driving. There are always just a few people who ruin everything for all of us!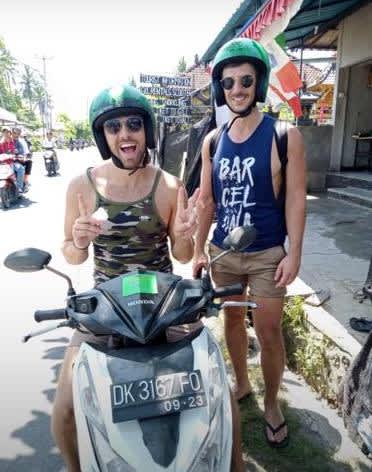 Not a day went by when you wouldn't find us on one of these babies
5b) Learn how to navigate on your scooter
While you may have taken my advice and live in nature somewhere, you will need to scoot around, and if you are passing through central Ubud, you will inevitably experience some stand-still traffic at some point. I imagine before all the tourism and big cars, these small intersections without lights were charming, but now they are just impractical and clogged a lot of the time.
First things first, in Indonesia, you will drive on the left. If this is your first time doing that, I promise your brain will adjust quickly.
Now let's talk traffic. If you find yourself getting in a traffic jam, stay calm and follow suit with what all the locals on scooters are doing.
You don't need to wait forever in that long line of cars and SUVs. Generally I found that the other side of the road would have less traffic and you could pass a few cars on their right before another big vehicle would pass on the other side of the road. You can also pass on the left, too, if there is enough space to squeeze in on the road. I don't condone this 🤫, but as the more vulnerable scooter driver, with more mobility than a car when it comes to a traffic jam, you should be able to pass much large vehicles.
Just follow what the locals do, but again, be safe!
6) Be prepared to give up your chores, laundry and other house-work
If you are the type of person that somehow finds cleaning therapeutic, this might not be what you want to hear, but if you are like us and find cleaning to be time-consuming but obviously necessary to maintain a quality living, this will make you extremely happy. While you are in Bali, a little bit of money goes quite far when it comes to outsourcing chores. If you are living in a serviced-villa or hotel, of course you will get room-cleanings as often as you like and you will forget that the concept of chores even exist.
And what about laundry? Well that can be outsourced, too. Every few shops on every street in Ubud is a laundry store, where you drop off your laundry and usually by the next day, you can either pick up (or even get delivered to your residence) a beautifully folded bundle of clothing. The prices vary, but even for the most heavy of clothing plus delivery, it shouldn't cost you more than 75,000 INR.
This was our favorite:
7) Do yoga
Ubud and yoga are like those best friends that never leave one another's side, so all around the city, you will find various yoga centers offering nearly every kind of class possible! The centers are generally in picturesque settings, complete with backdrops of the Bali jungle while you are straining in your Warrior 2 position. In comparison to the cost of living, yoga will likely be one of the more expensive activities in Bali, and will run you anywhere from 120,000 INR to 150,000 INR per person, but it is worth it. While we found some of the classes to be a bit pretentious (cough, cough The Yoga Barn), generally they were the kind of spiritual/physical/mental kick in the a$$ that we needed.
Here were some of our favorites:
Ubud Yoga Centre - Brutalist-esque building with a view out over the Bali jungle and a stream, this place was one of the most serene places you could go. We tried a hot yoga class first, as this is what they are quite popular for, and it was a surprise we survived until then end, but if you are into that, then this is the place for you. The yin yoga class, which basically requires 1% of the effort of the hot yoga, was for sure more our style 🤣. When you are done, get a fresh coconut and breakfast at the downstairs cafe while sitting on a swing and overlooking all of that sexy Balinese nature. Ubud Yoga Centre view

Intuitive Flow - Another yoga studio, another gorgeous setting. This one takes the cake for the studio with the best views while you are doing a yoga class. We accidentally ended up at an organic flow class, which is basically a style where you end of dancing around on your mat as you are given full freedom of movement, and while it was a bit unstructured for us, the teacher was a lot of fun and put on a memorable class. Intuitive Flow view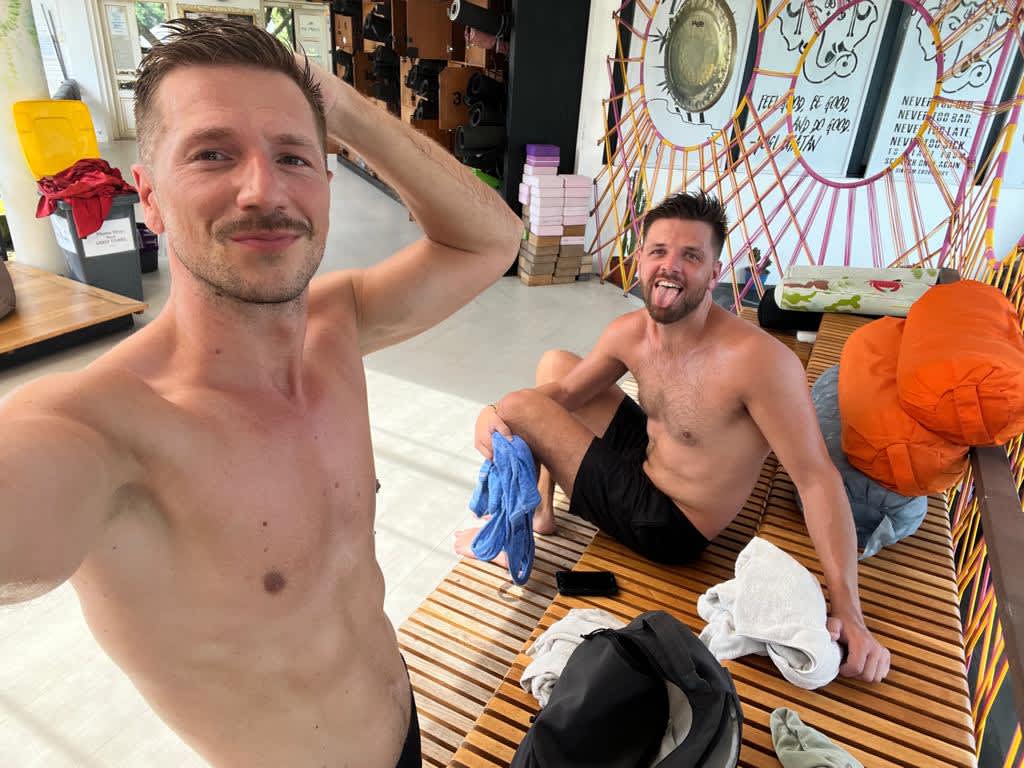 Proof that we survived hot yoga
If you really detest yoga and need a gym 🤣, there are still some of those in Ubud. We went to a place called Massa's fitness when we weren't doing yoga, and while it was caked in dirt (quite literally), it had all the equipment and space you needed to get in a good workout.
8) Explore Ubud but make sure to get out as well
Ubud is enchanting (I apparently love this word as a means of describing Ubud). It is so rich in culture and nature that there is no chance for boredom when you are not working. Some of the most worthwhile places we visited while there was:
Campuhan Ridge Walk - do this at sunrise or sunset, but not in the middle of the day 💦
Tegallalang Rice Terrace - Tip: start by hiking past all of the touristy parts down the rice terrace, pay a small entrance of 10,000 INR, and cross over to the other side where you can trek through the rice terraces and come across very few people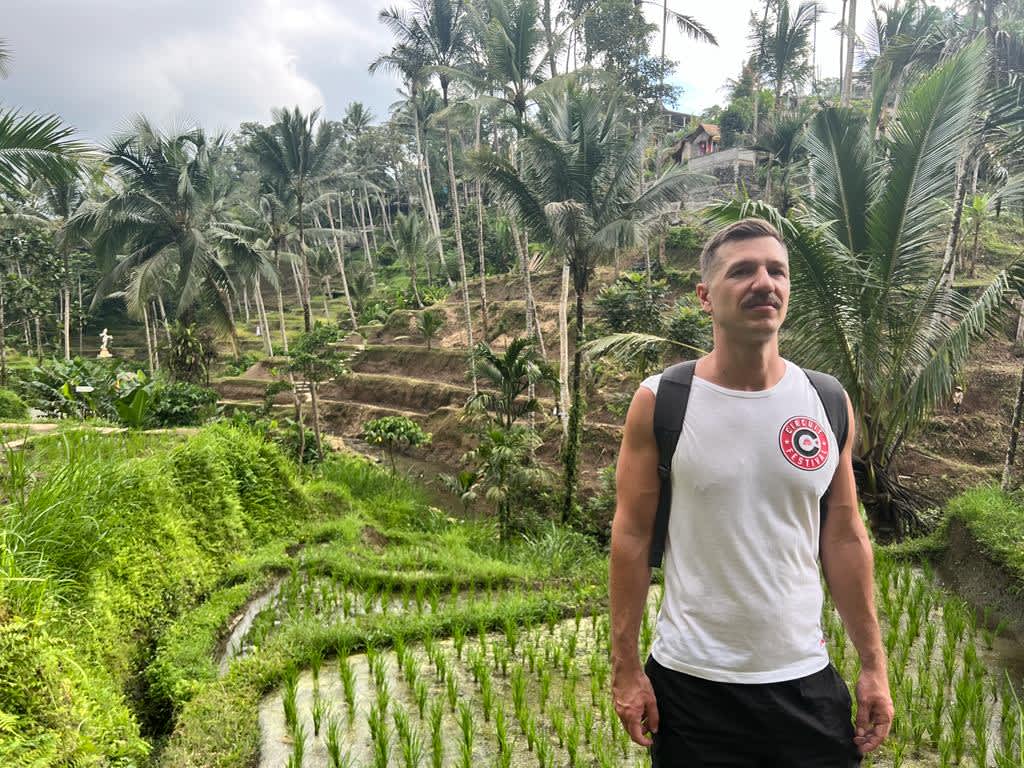 Fabio looking hot on the Tegallalang Rice Terrace
But don't limit yourself to Ubud, as the island has so much else to offer. Here is what we got up to on weekends after our busy work-weeks:
Exploring Nusa Penida Island - Insert YouTube Video Shamelessly here:
Hiking up Mount Batur at sunrise - We used this GetYourGuide tour. While it is defintely a touristy thing to do, as you are hiking amongst dozens of other tourists, it is SO worth it when you are at the top to witness some of the best of what mother nature and our universe has to offer.
Going to North Bali - We used Chat GPT to plan a trip for us to North Bali and what ensued was an off-the-beaten-path memorable trip to some mountain lakes (Lake Buyan, Lake Tamblingan), abandoned temples, chilled out hill-side accommodations (Munduk) and tourist-free beaches (Lovina beach). Video coming soon.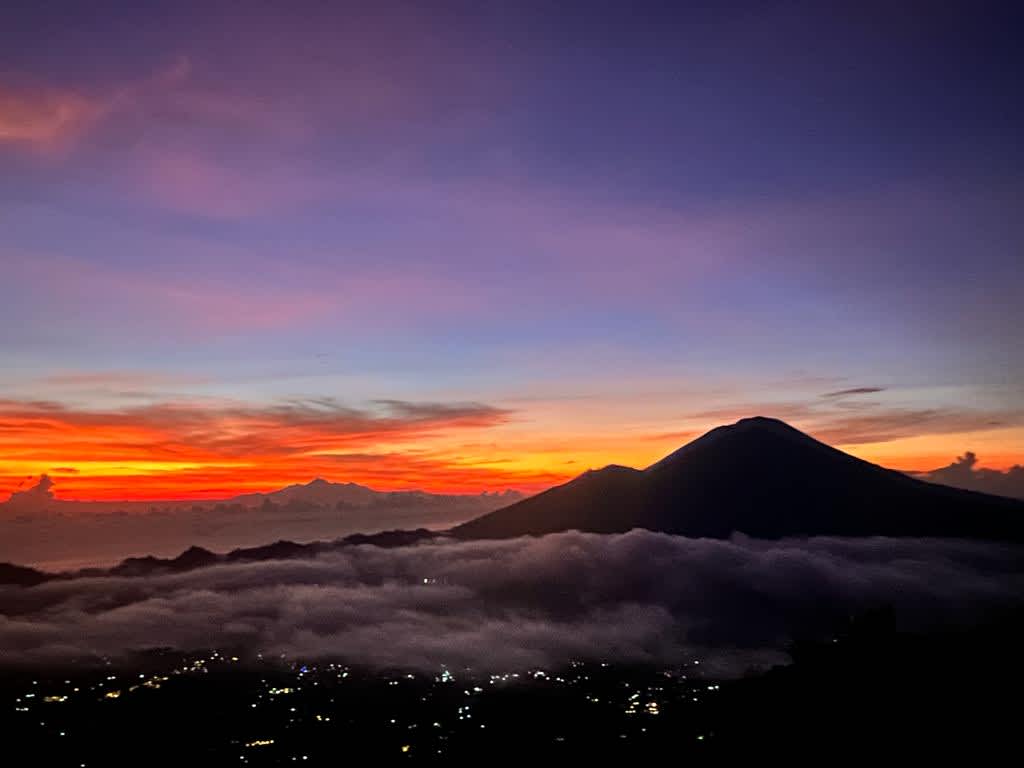 Mount Batur at sunrise
Nusa Penida Manta Point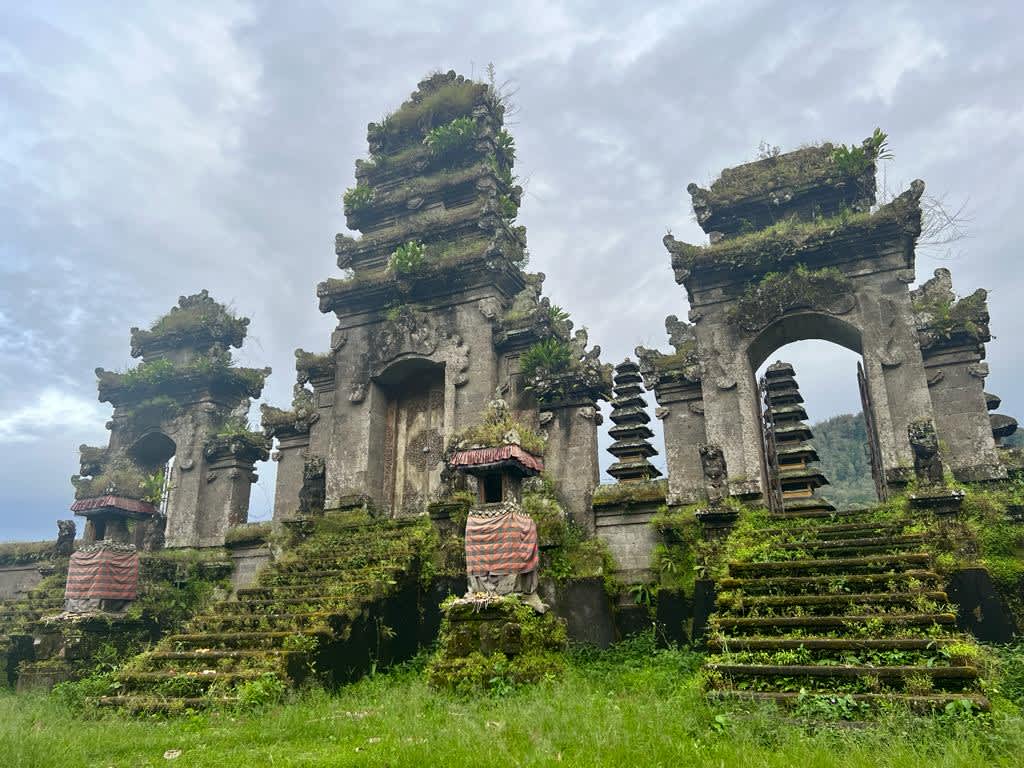 Lake Temblingan abandoned temple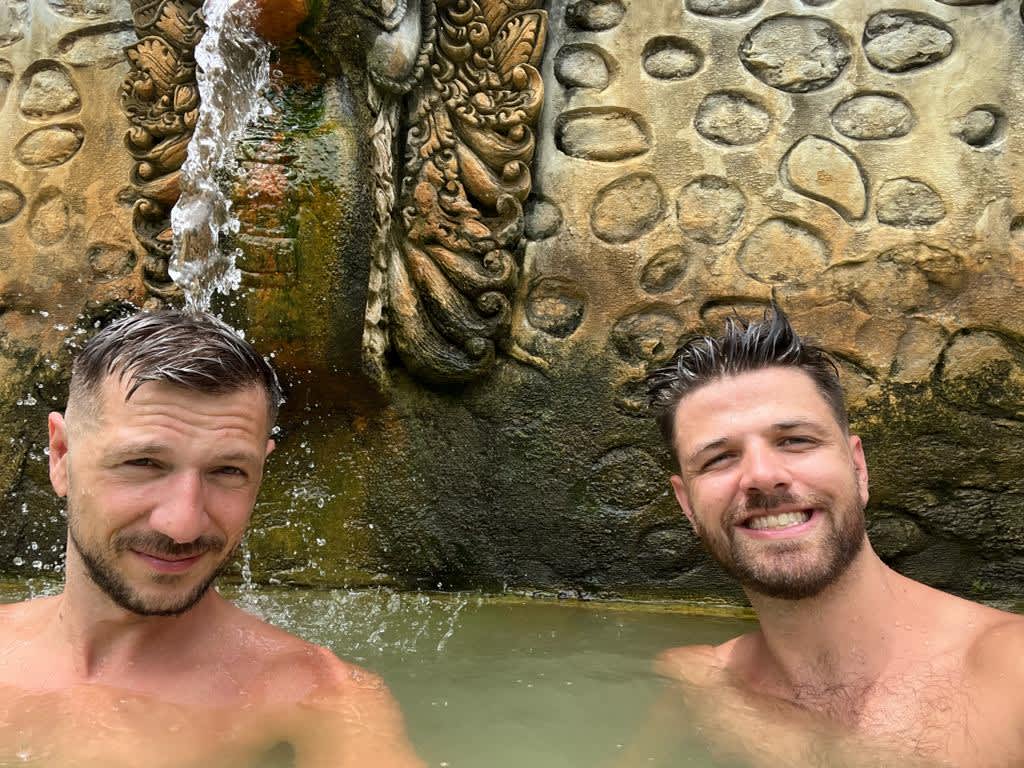 Us in a very local hotsprings in North Bali
Again, I don't think we got bored on this island once while we were there, and yet there are so many more places we were not able to experience.
---
So so so, there you have it, a digital nomad's guide to Ubud. Make sure to let us know in the comments if there is anything you would add that has added to your digital nomad success, as we are just one couple to have experienced a tiny part of the island for a tiny amount of time. In the meantime, stay safe ✈️!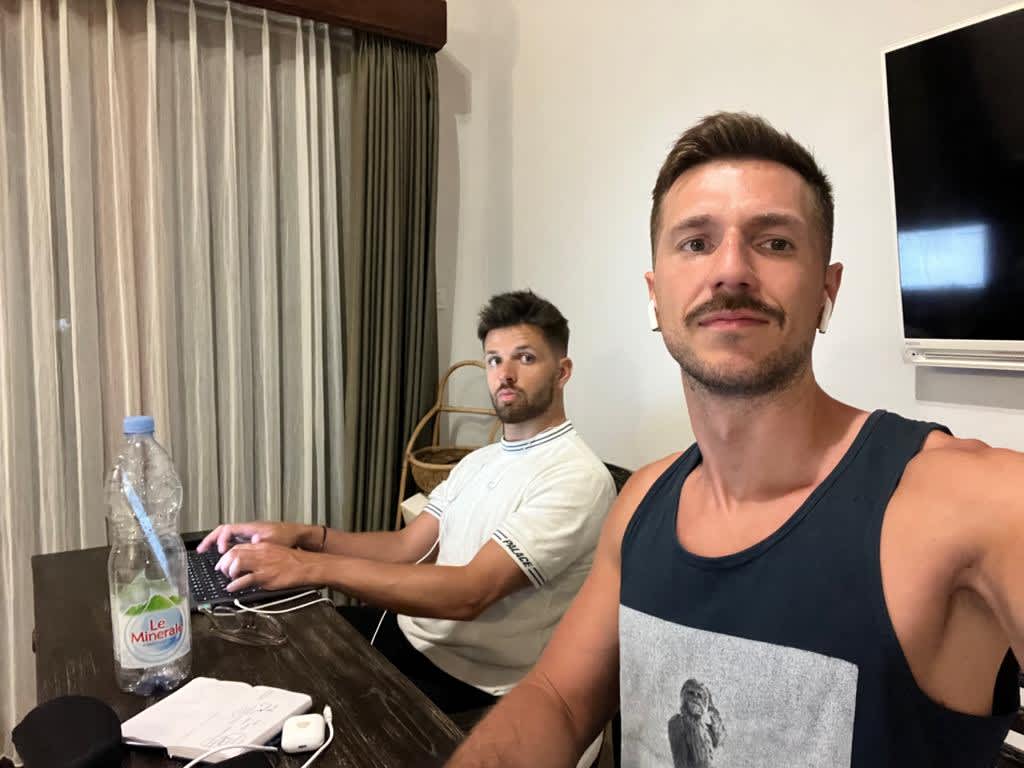 Happy digital nomads
More digital nomad guides: