Published on
5-Day Hokkaido Itinerary: Memorable Journey in Japan's North
Authors

Name

Ryan Kretch

Twitter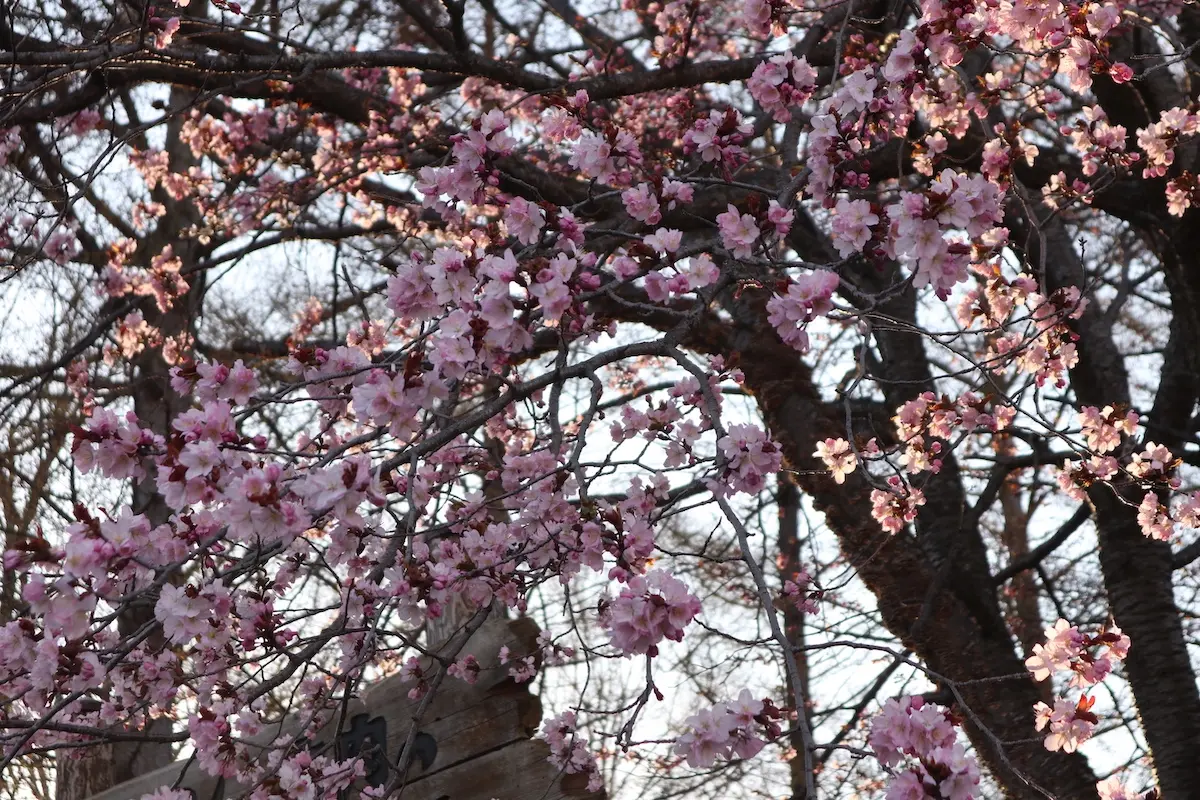 When we were mid-way through our largely unplanned one month Japan trip, all the signs were pointing for us to go to Hokkaido, Japan's Northernmost main island. We had received several recommendations from friends and when I hopped onto Skyscanner and found flights from Tokyo for a mere 34 euro each, I knew it was bound to happen. I booked them, and we were on our way for a 5-day adventure in Hokkaido.
I was a bit apprehensive about being able to cover the ground that we wanted in Hokkaido in 5 days, but we made it happen and more.
So here is our itinerary on how to spend 5 days in Hokkaido along, through our lens, along with some alternatives suggestions as well, so you can make Hokkaido as memorable as we did. Before we begin, let's talk about some logistics:
Best Time To Visit Hokkaido
For us, it was the end of April, or Hokkaido Spring, which I would say is probably the least likely time other tourists visit Hokkaido. During Hokkaido Winter, the main attractions are skiing and other winter sports, while during Hokkaido Summer there is trekking and endless lavender fields.
But April had its perks. With the rest of the country already losing its cherry blossoms, we found the Hokkaido cherry blossoms to be in full bloom. The temperature was a bit chilly yet comfortable. Best of all, we got to experience Hokkaido without any swaths of tourists, so for us, Spring was the best time to visit Hokkaido.
How many days to spend in Hokkaido?
This itinerary is a 5 day route through west and central Hokkaido, but it definitely wasn't enough. I reckon pretty much unlimited time can be spent here without experiencing the urge to leave 🤣, but it can be done with a minimum of just five days.
Getting there: How-To and Airports in Hokkaido
Our Choice: Flying to New Chitose Airport 🛫
We booked our flights from Tokyo Haneda to New Chitose Airport, just 45–50 minutes from Sapporo, the 5th largest city in Japan, and Hokkaido's main hub.
Even with just booking a few days in advanced, the prices on Spring Airlines Japan were a mere 34 euros, one way. Other budget airlines offer comparable prices, notably JetStar, giving you several options per day.
New Chitose Airport is relatively well-connected to other major Japanese airports and also have flights to some foreign cities, like Seoul-Incheon, South Korea 🇰🇷 (where we flew to after Hokkaido)
Alternative Airport in Hokkaido: Asahikawa Airport
If you happen to follow this itinerary and want to skip Sapporo for the nature or maybe have a shorter time in Hokkaido to spare, there are also flights to some of the other regional airports from Tokyo including Asahikawa Airport, which had flights for as low as 78 euros, one way, when I last checked.
Alternative Way to Get to Hokkaido: JR Pass 🚄
For those on the JR Pass, you can definitely get up to Hokkaido using that. We didn't choose this mode as our JR Pass had expired. However, if you aren't on the JR Pass, the train trip up here is definitely not as cost savvy as flying.
Getting around Hokkaido
Driving a car in Hokkaido
"Driving is the only way to get around Hokkaido" several people warned us. But when I went to go check the requirements of car rental agencies, I almost considered cancelling the trip. We needed an international driving license (which neither of us have) and a credit card (both of us use debit cards like good debt-free Europeans). If you are better at planning and prepping for trips than us, this is certainly the best option, and I recommend booking with a company like Discover before heading to Hokkaido, but after surviving and thriving without a car in Hokkaido, we are living proof that it can be done and just as many adventures can be had as if you had a car.
Public transportation in Hokkaido
"Public transportation isn't reliable in Hokkaido" the naysayers went on to say, but we are talking about Japan here. Perhaps it isn't as reliable as the rest of the country, where we never once experienced a late departure on any mode of transportation, but I would put the public transportation in Hokkaido well above the reliability of Germany and puts public transportation in the largest American cities like New York and Chicago to absolute shame.
After we knew a car wasn't a possibility, we decided that maybe a regional JR Pass would be best. If you do not have the country-wide JR Pass, Hokkaido offers three different regional passes, allowing you to check out various parts of the island. However, when we got to the ticket counter past 7 at New Chitose Airport, the counter had already closed.
After a bit more deliberation on our train ride into Sapporo, we decided we would just buy tickets as we go, as we likely were just going to go to a few places in the 5 days we would be going around Hokkaido, and we wanted to do some bike-riding between places.
The moral is, Hokkaido public transportation never failed us. For those who claim you need a car, don't listen. There are alternatives.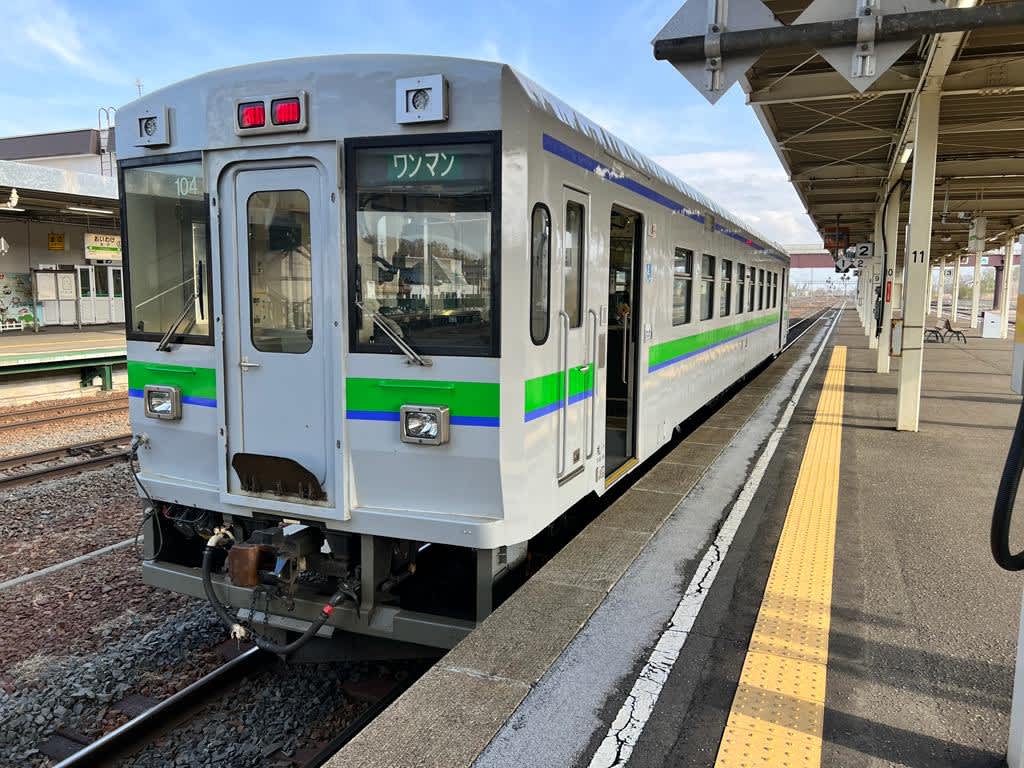 You will find many cute, tiny trains in Hokkaido
---
So now with the basic logistics out of the way, how to spend 5 days in Hokkaido? Well, follow along, my adventurous friend.
Night 1/Day 1: Sapporo by 🚞
We arrived to Sapporo Station around 8:30pm and were immediately struck by the chill vibes and pace of the city compared to Tokyo. Our hotel (plat hostel keikyu sapporo sky -- we snagged a private room with a private bathroom for just 26 euros on Booking.com) was located just two stops away on the subway in Susukino. The area, which I am now just discovering is the red-light district of Sapporo, is also a foodie-haven and over the course of the next hours, we hopped around to four different places, trying local Ramen (RAMEN ICHI), devouring steamy pork buns (茶寮すすきの店), and ending the night with fried chicken and sake. We avoided any red-light situations and finally went back to rest.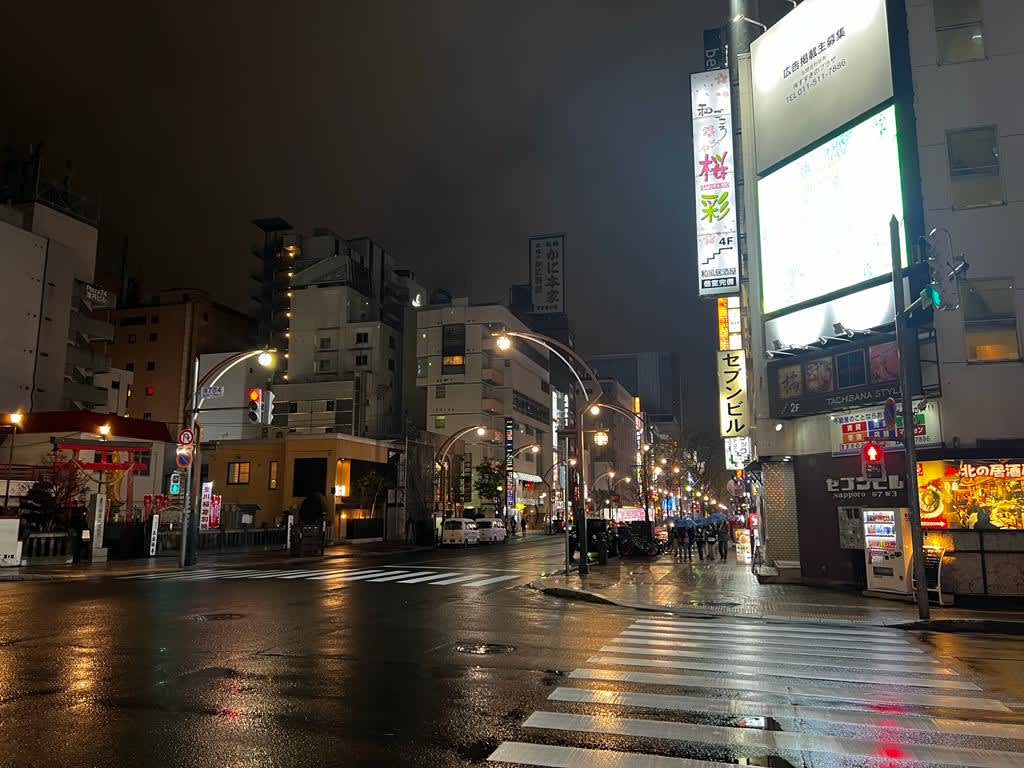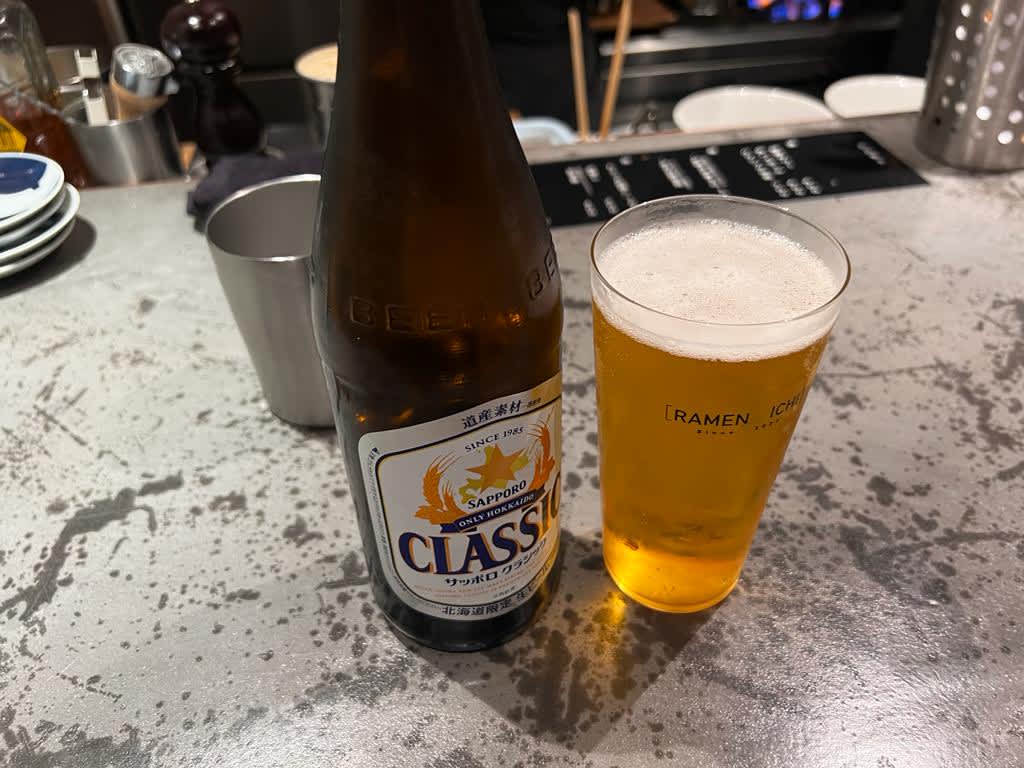 Sapporo beer is all over Japan, but apparently this is Hokkaido-only Sapporo beer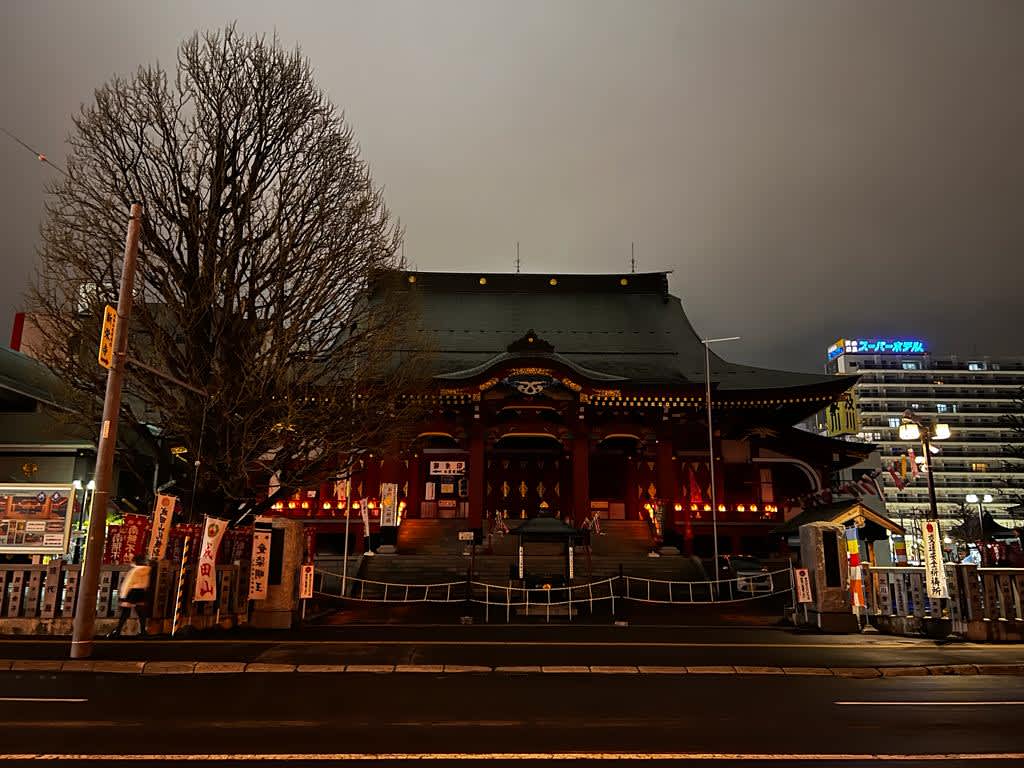 The following morning, we got up and went out into the Spring sunshine for a walk down by the Toyohira River, a place where you can see the locals doing their thing, including plenty of old people playing a type of golf with a large ball, called Ground Golf. In desperate need of coffee and something sugary to jolt us awake, we stopped by Smooch Café and were transported to Santa Cruz, complete with delicious, strong drip coffees and cookies. The café sits right next to Nakajima Park, and with the cherry blossoms in full-force, we were basically forced to take a walk through. Once again, the park was mainly locals doing their thing and while we strolled through and eventually back to Sapporo Station to catch a bus, we knew that Sapporo and Hokkaido was the vibe we were looking for.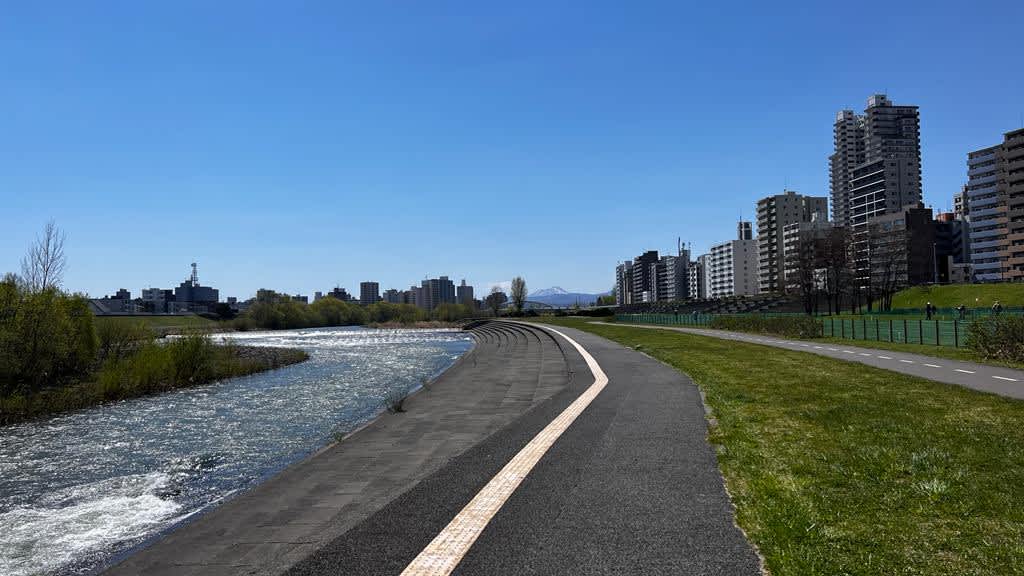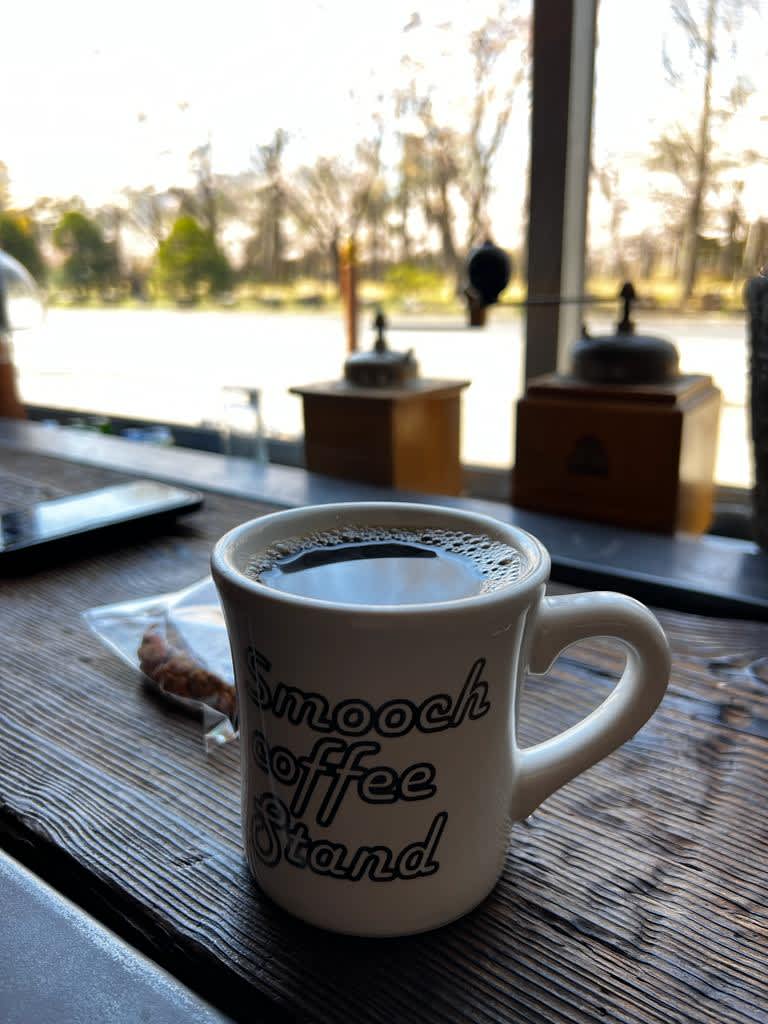 Day 1/Night 2: Furano by 🚌
We hopped on the direct bus to Furano, in central Hokkaido, with a bag of 7/11 treats in hand and were soon (and, mind the naysayers, on time) flying down the express-way. In 2.5 hours and with many scenic views had along the way, we made it to Furano. The first thing that made our jaw drop was the view of the Daisetsu Mountain Range in the distance and the second was the hotel we just checked into, which had a well-equipped onsen at the top floor, free ramen after 10pm, and the world's coziest beds (La Vista Furano ⭐️⭐️⭐️⭐️ - just over 60 euros for the night we stayed 🤩 on Booking.com).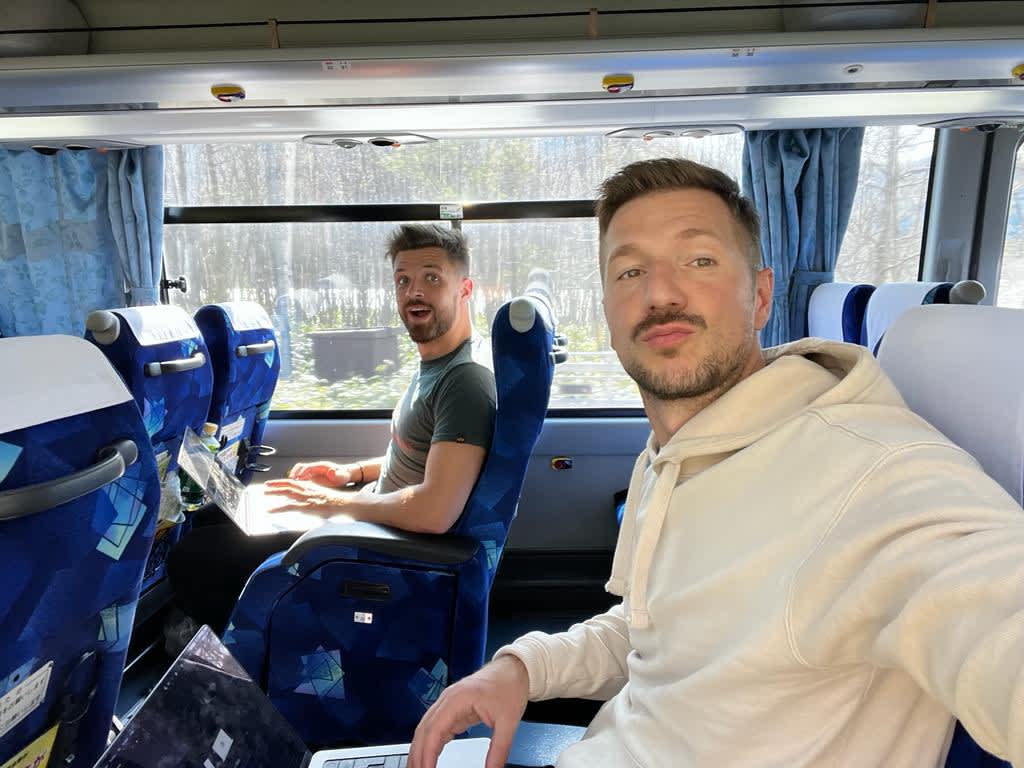 For the rest of the afternoon, we decided to stay on foot to get some exercise in and walked a few kilometers out of the town and into the hills to Furano Winery, definitely a place to check out considering I didn't expect to ever find a winery in Japan. A few glasses of free and paid wine tasting down (all done from an automated machine, of course, as it is Japan), we wandered around the hills and had to keep pinching ourselves to remind us that the surrounding nature was real.
As the sun began to set, we headed back into town and through the ghostly alleyways to find some dinner. We kept saying that the town of Furano could have been a town in Alaska or the Midwest, United States, minus the guns and meth addictions 🤣. We risked stumbling into a place that could have been a restaurant, but equally someone's house, but fortunately found it to be a cozy little Izkaya, with a wooden stove burning in the middle and a kind owner who explained the menu to us, notably about the Furano specialties (Robata). In minutes, he brought out cold beer, an asparagus dish that was in season, a delicious leek and egg stir fry, along with a giant roasted, oil-dripping mackerel split down the middle. Filled to the seam with Japanese food and light small talk with the owner, we made our way back to the hotel to enjoy the amenities it had to offer.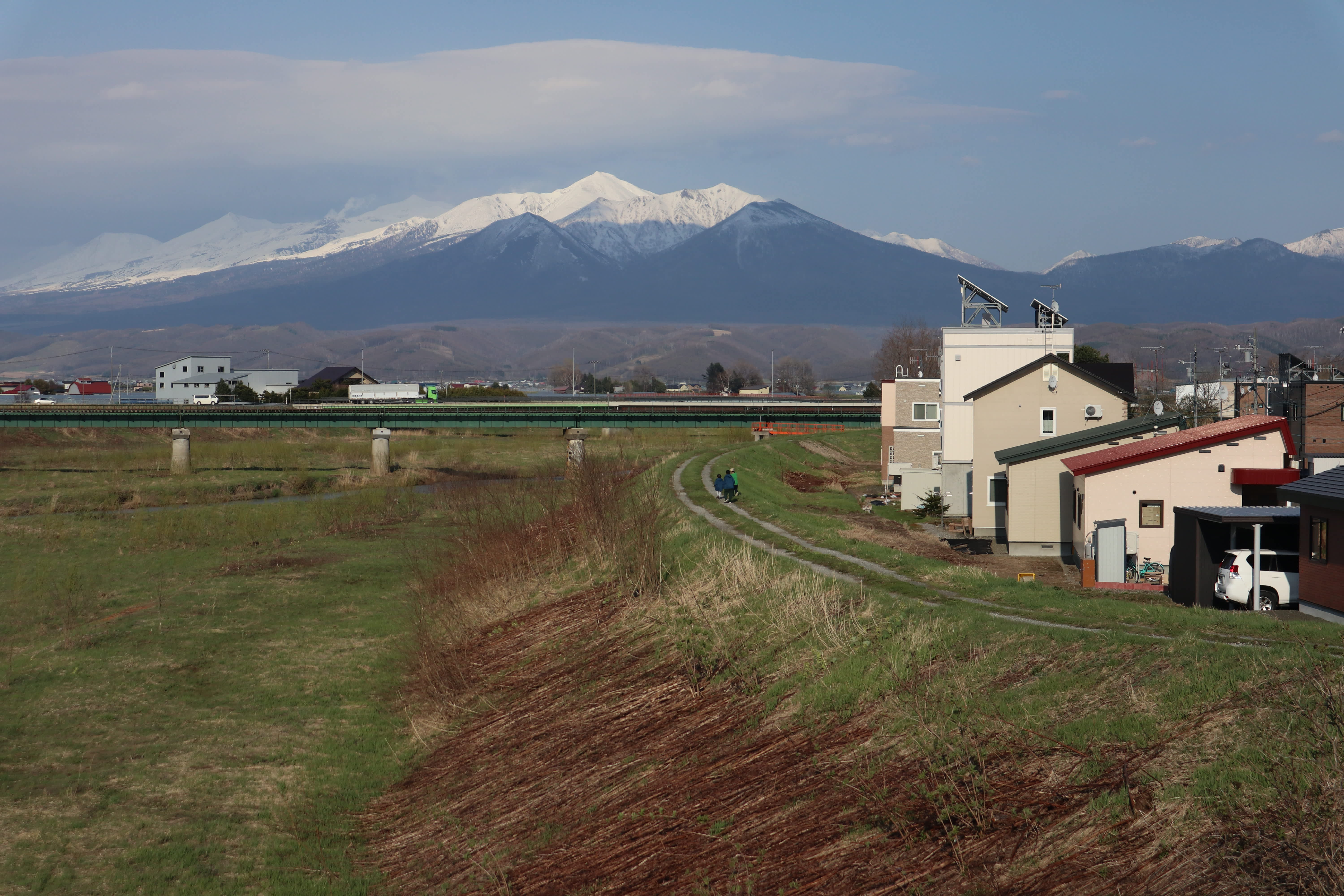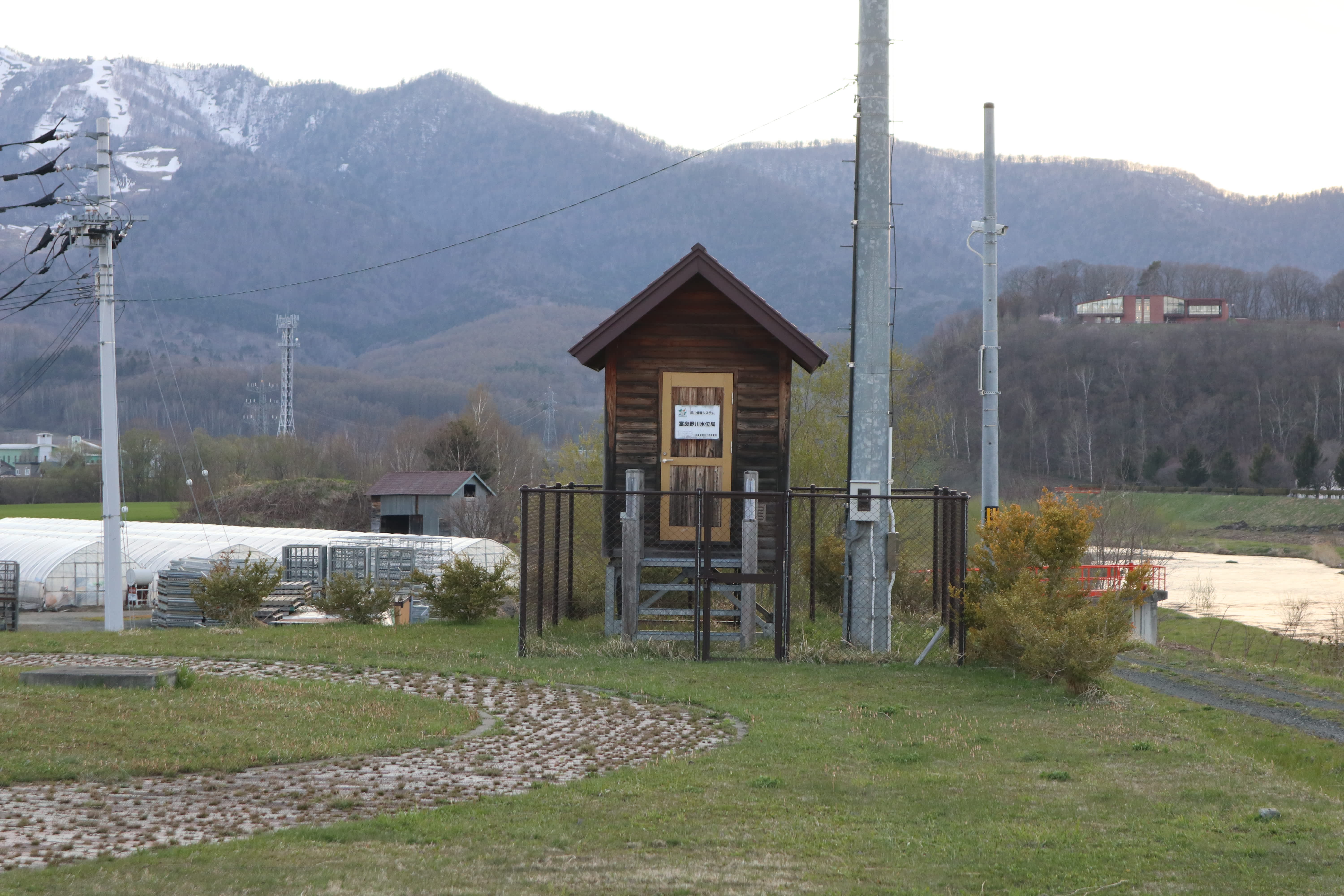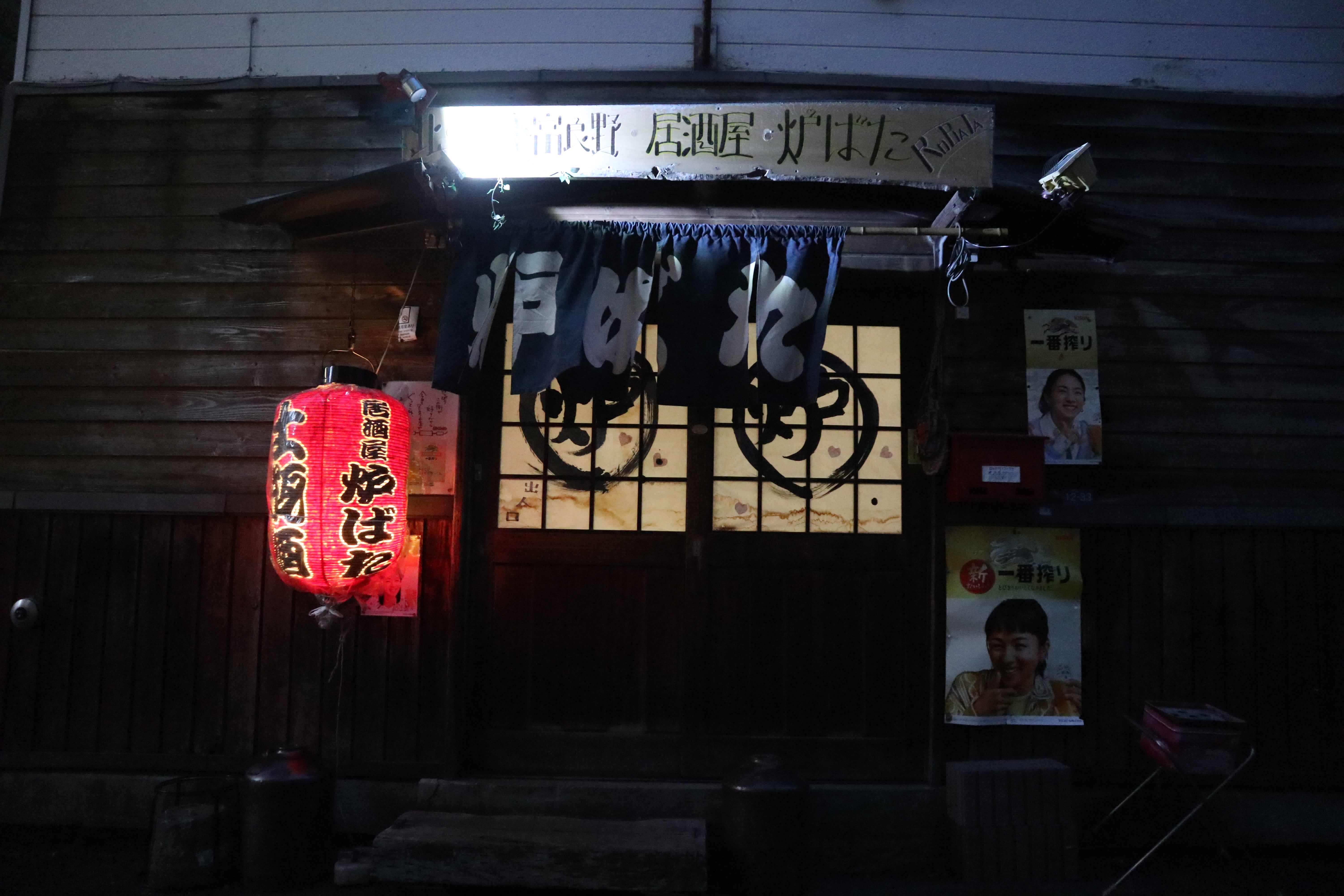 We got our fill of the largely empty onsen, including 30 minutes in a private onsen, massage chairs, free ice cream, and ultimately free ramen. This hotel knew how to pamper us, almost as though it anticipated the strenuous journey we were about to embark on the following day.
Day 2/Night 3: Furano 👉 Shirogane Pond 👉 Biei by 🚴‍♀️
We had the grand idea to ditch public transportation and make a bike ride out of the day, but when we got to the little bike-rental shop (just right of Furano Station when looking at it) the most hardcore bikes were merely beach cruisers with 3 gears, clearly suited for a little stroll around the town. Regardless, we were committed to the idea and rented them for a total of three days for 1500 yen + a 500 yen overnight fee each, not telling the woman where we were going in case she changed her mind.
And on our beach cruisers we went, stopping by sights along the way such as Farm Tomita, which although was sporting lavender fields not yet in season, had delicious Hokkaido lavender ice cream to make up for it. When we stopped by the town of Kamifurano for a late lunch, we randomly happened upon Dai Ichi Shokudo. As soon as we walked in, the owner's kindness and humor was infectious. As we were biking, she encouraged us to get the big portion (for an extra 100 yen) and in return two massive portions of food came out. It was the first time on my trip where I struggled to finish my food thanks to the size, but alas, we had a strenuous journey ahead of us. As we were about to leave, she even gave us parting gifts, including lavender and a small hand-sewn coaster her mom had made 🥹. We mentioned to her that we were headed to Biei on bike, and she was shocked, as though we were cycling to the other side of the planet. Little did she know, we also had an additional detour that would add quite a few hours to the already long trip.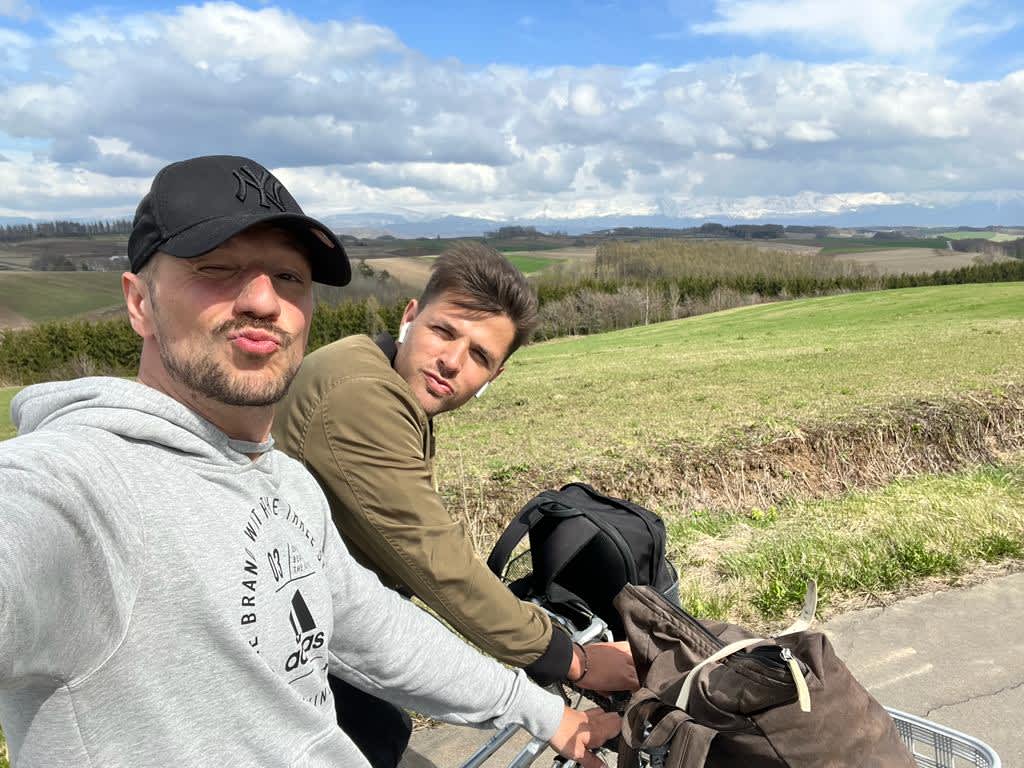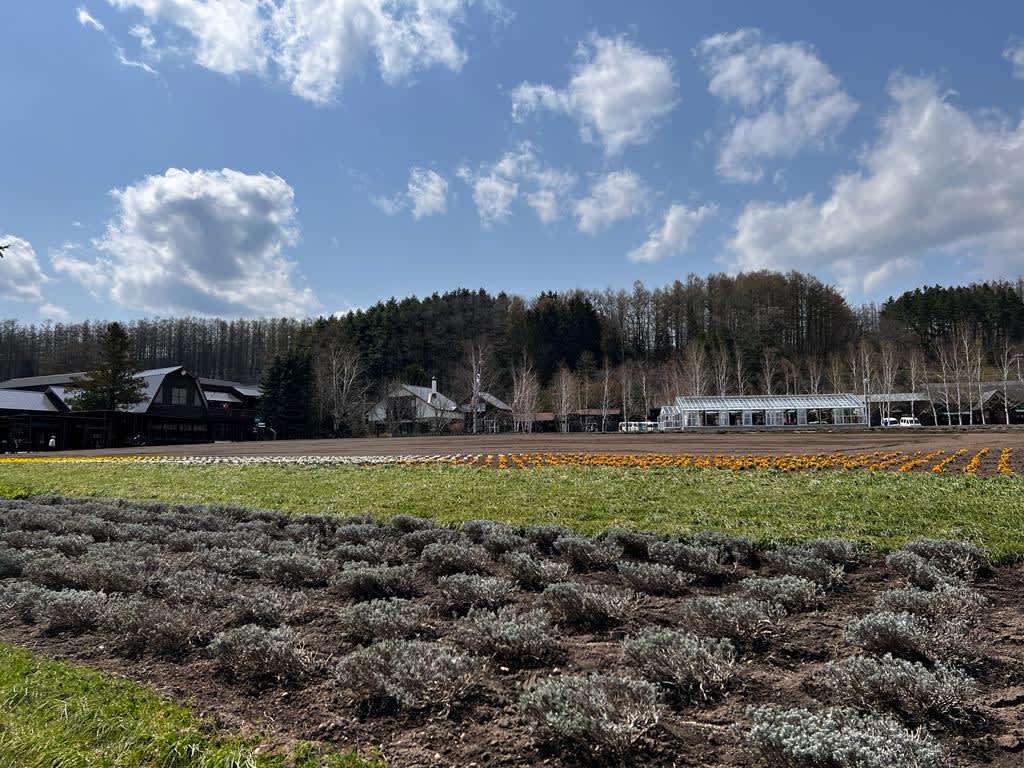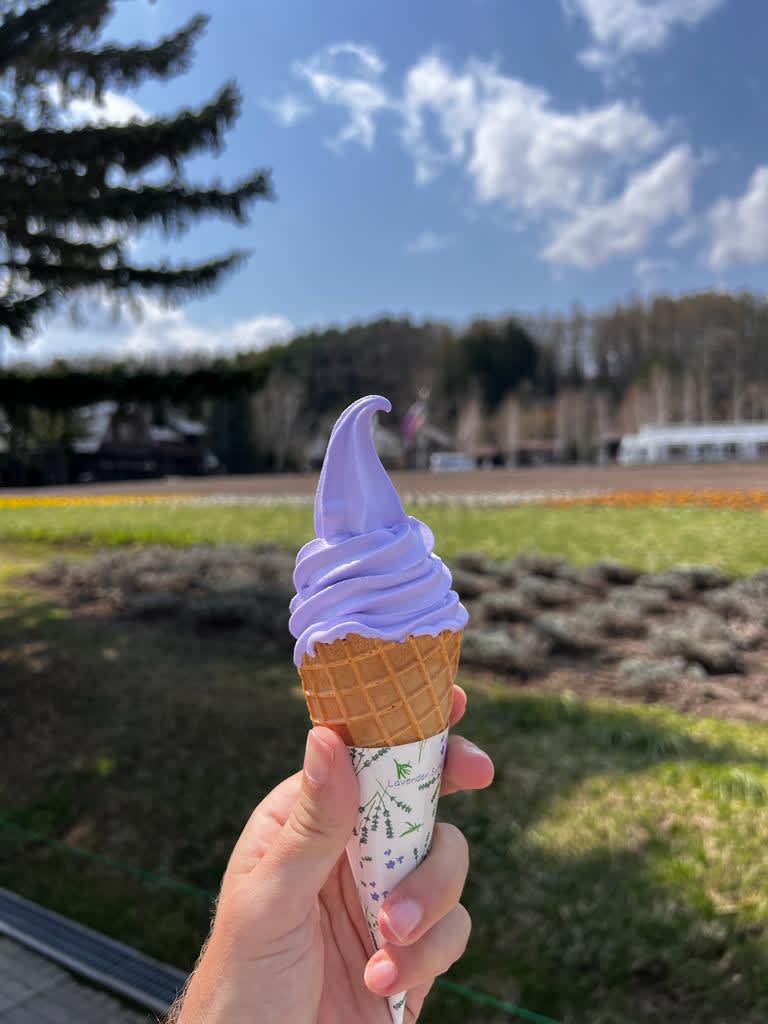 Filled to the brim with pork and rice, we battled the hills (mainly by walking up them with our bikes), fears of bears, and light rainfall and in the late afternoon, we made it to Shrogane Blue Pond, which is exactly what it sounds like. The brilliant blue water was the result of an accident to prevent mudslides, in which aluminum seeped into the water and thus scatters the sunlight. Was it worth it to visit Shirogane Blue Pond, absolutely. I can imagine there can be a lot of tourists there, but when we were there we encountered very few.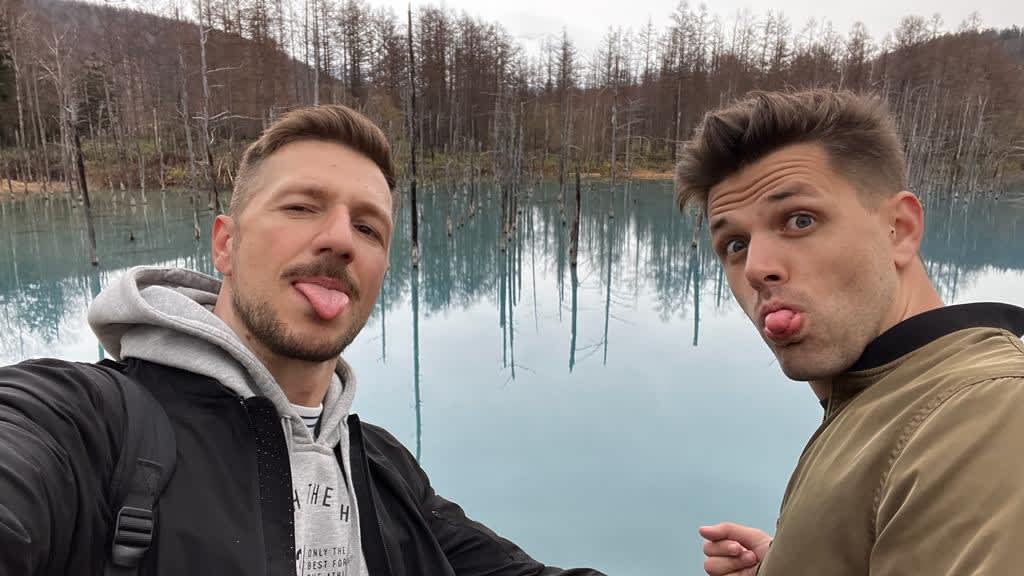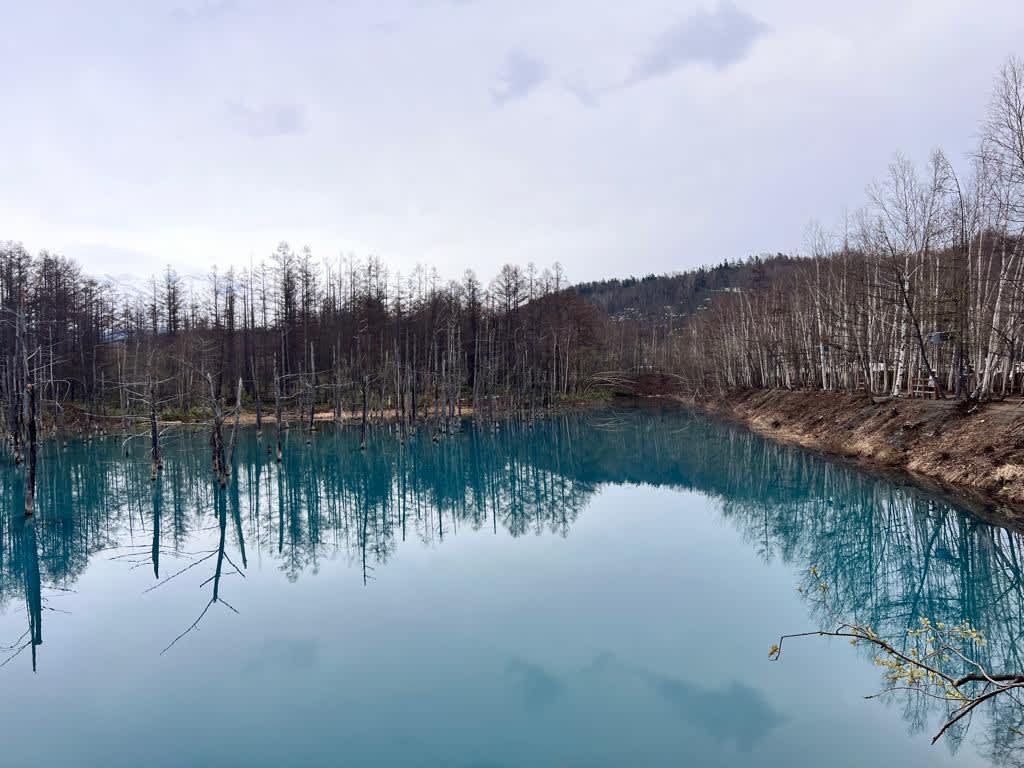 Much to our good fortune, the ride to Biei was the easiest of the legs so far, as there was a paved, flat, clearly-marked bike path that went for 17 kilometers from Shirogane Blue Pond to Biei. We encountered not a single person on the ride and bathed in the freedom of the open roads.
45 minutes later, we strolled into Biei, another Hokkaido town with seemingly few people and checked into our much more basic than the night before, albeit nice hotel (Hotel Lavenir) and hit the town with sore legs and 🍑. We tried a total of five different restaurants and were oddly turned away from each of them, a first we had experienced in Japan. It began to feel a little like getting turned away at Berghain in Berlin, complete with soul-killing rejection, but I suppose it was understandable on a Friday night. The lesson is: if you happen to come to Biei on a Friday night, make sure to book something in advance. Defeated, we ended up walking into a gem of a place called Snack Ringu (nearby the 7/11), what seemed like the town's only bar. Coated in red velvet from floor to ceiling, the woman of the bar invited us in with open arms, giving us a beer and a few snacks. Three beers later, we were still there, singing karaoke allegedly with the mayor of Biei and speaking with the bar-ladies, Naomi, Yumi, and Mama as best as we could. Even though we spoke very little of one another's language, we could feel the warmth of the hosts and took pictures together at the end. A little drunk, we stumbled out and finally settled on 7/11 for dinner, resulting in us over-microwaving a bag of fried chicken.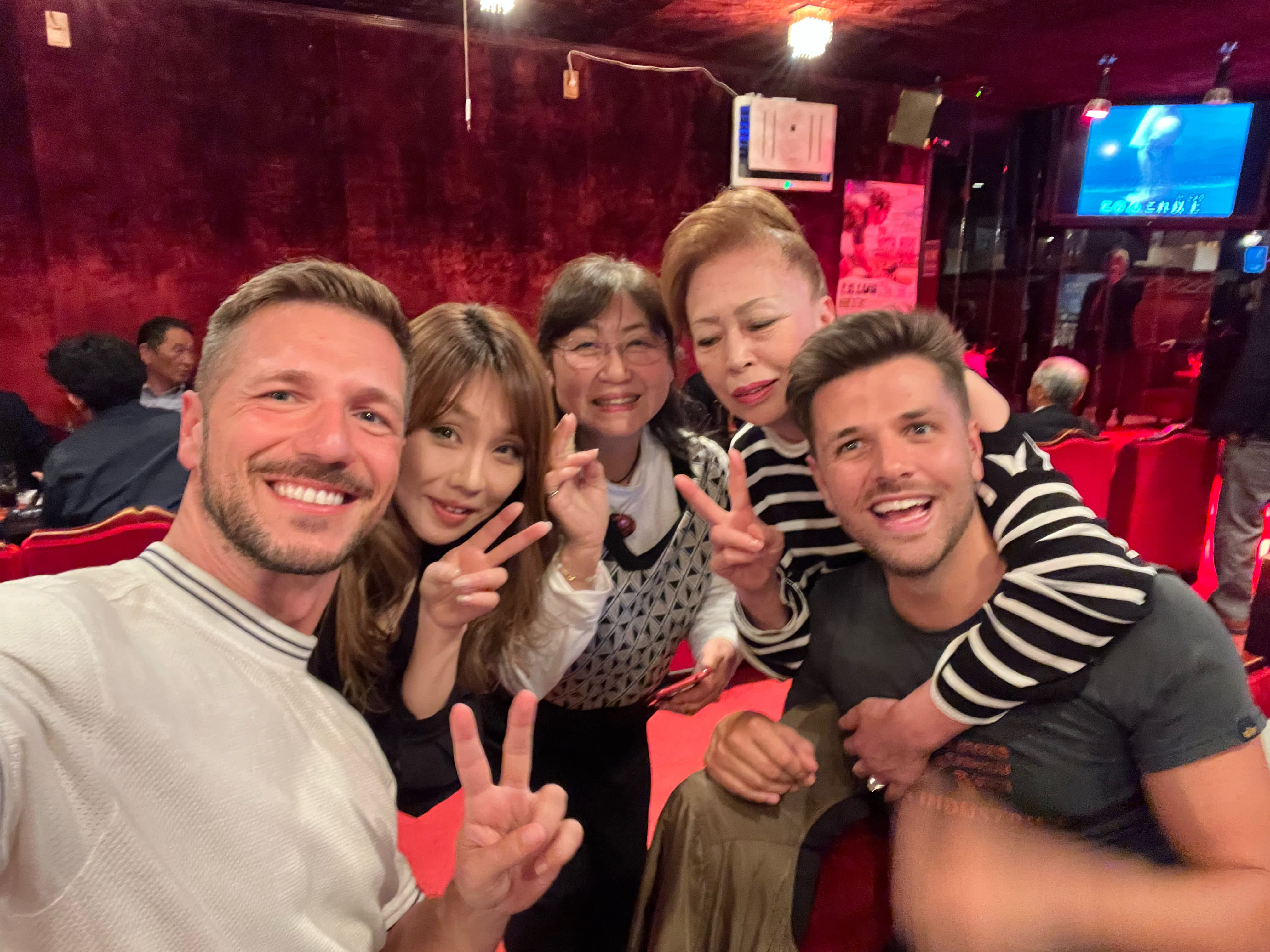 Naomi, come back to me!
Day 3/Night 4: Biei to Mt. Asahidake (Hokkaido's tallest mountain) by 🚴‍♀️🚌⛷
We made it down to the hotel's breakfast buffet just in time. While I am not particularly a fan of a buffet, this was actually fabulous, with tons of healthy western and Japanese options to fuel us for whatever was to come that day.
We had a loose plan for the day, but knew we wanted to make it up to Mt. Asahidake, so we headed to the train station in hopes to catch a train that was headed to Asahikawa airport, where we would then take a bus to Mt. Asahidake. The ticket agent looked at my Google Maps of the train suggestion and told me it wasn't leaving at the time on my phone but much later than anticipated, which would cause us to miss our connecting bus (okay, so public transportation in Hokkaido may not be 100% reliable).
Thinking cap on, I looked up the bike directions to Asahikawa Airport, which was only 45 minutes away. So rather than abandon our bikes in Biei for the night, we hopped back on them, against our bodies' will, and journeyed to the airport. Despite some additional hill-age, we made it to the bus with 15 minutes to spare and were soon climbing altitudes to the snowy base of Mt. Asahidake. The bus conveniently dropped us off right in front of our home for the night, K' House Hokkaido (just 45 euros for a private room on Booking.com), and after dropping our things off we made our way straight for Asahidake Ropeway just a kilometer up the road. We had gone from Spring to late Winter in the course of an hour, with snow coverage everywhere.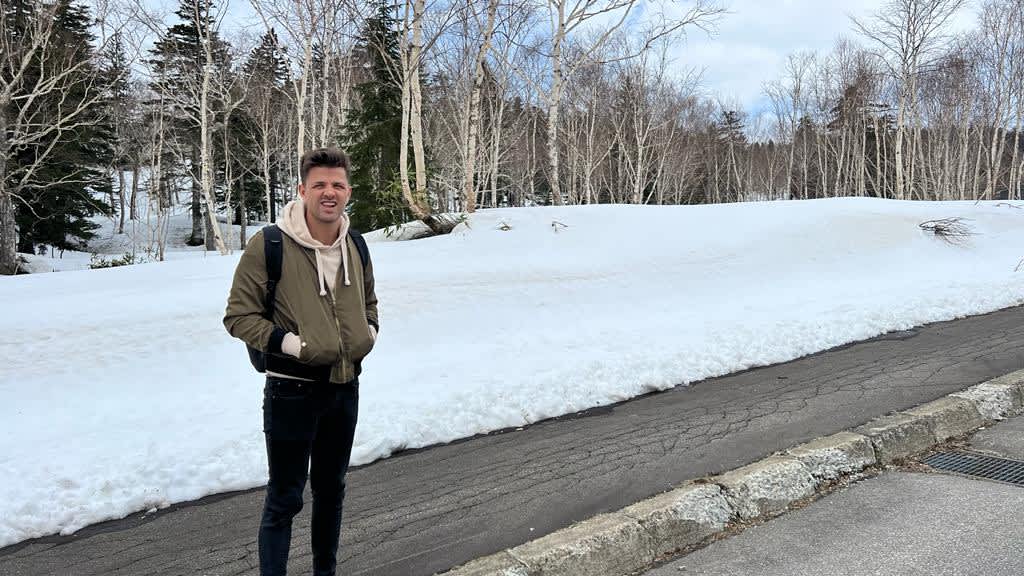 As not so well-versed with winter sports, we headed to the visitor's center next to the rope way for some advice. Soon after, for a mere 800 yen and the price of a one-way ticket up the rope way (a little over 1,000 yen), we were trying snow-shoeing for the first time. We first made our way to smoky caldera and then walked down ski course B and C. Just 2–3 hours later, and covered with blisters on our feet, yet totally satisfied, we were back at the rope way base just in time before the only restaurant in the area closed. We scarfed down edamame, Asahidake beer, and ramen and the exhaustion of all the biking and snow-shoeing set in.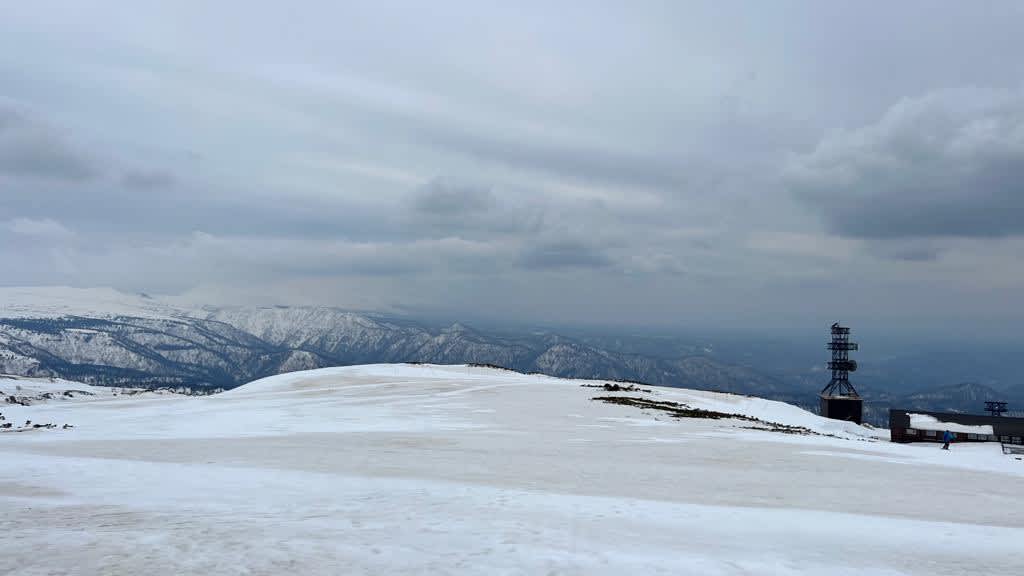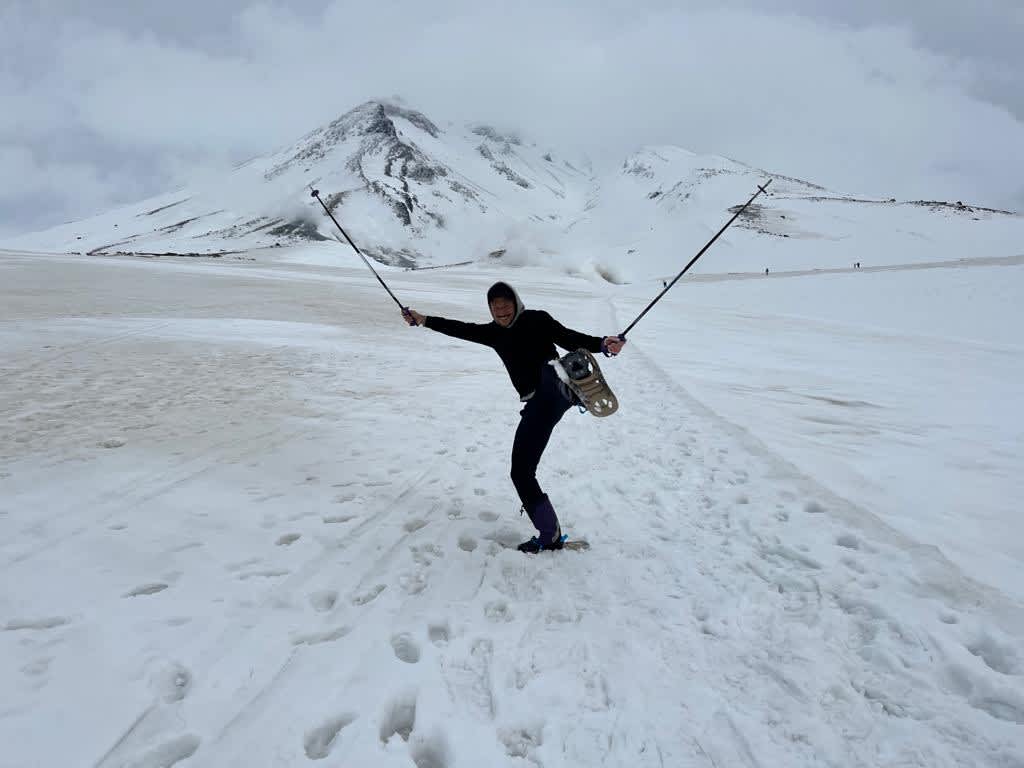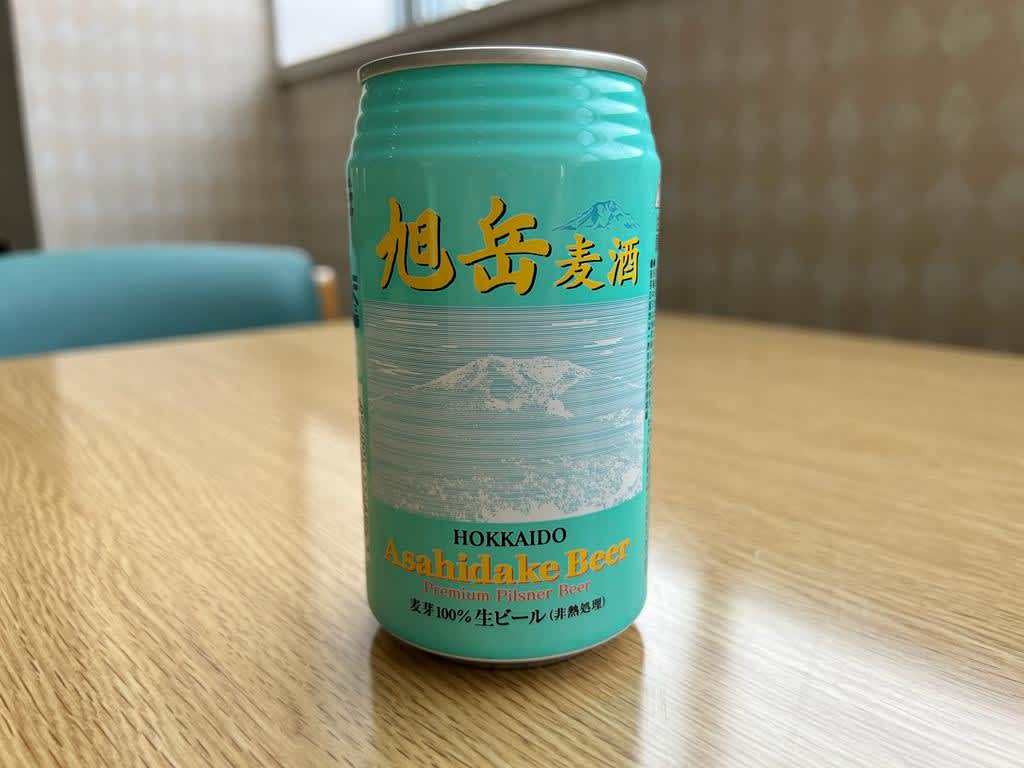 Back at K's House down the road, we lounged in the massive lounge, which even had a tent and hammocks set up and hacked together a meal with a few ingredients from the in-house grocery store (there are no grocery stores in this area, so bring your own). It also turns out onsens are popular in this region, and our hotel had another one. The best part was sitting outside and watching a peaceful scene of white-bark trees in the deep snow as the stars came up in the sky.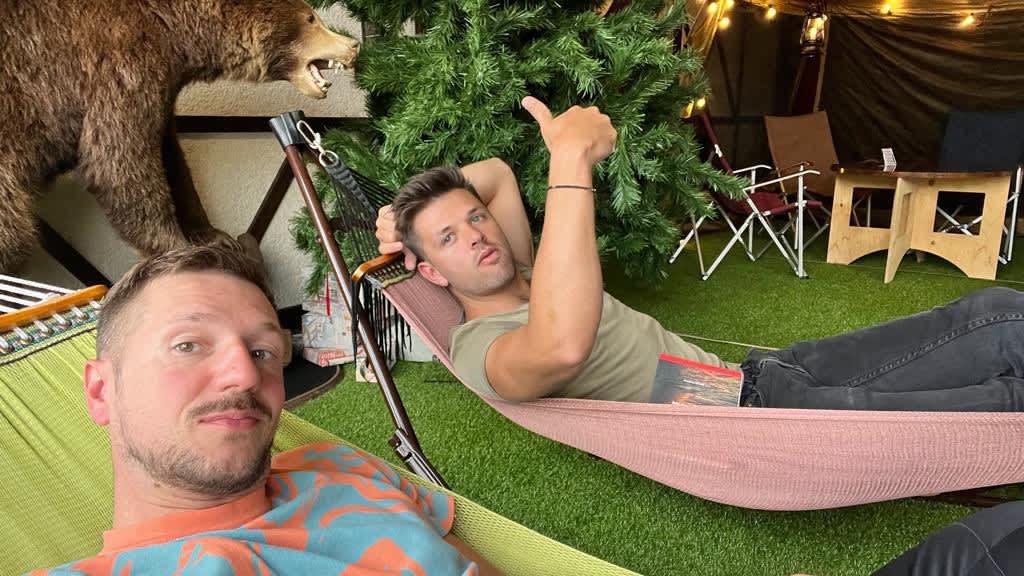 We were exhausted, but all that we felt was pure bliss.
Day 4/Night 5: Mt. Asahidake 👉 Biei 👉 Furano by 🚌🚴
We had some brewed coffee and two slices of thick bread with jam before getting on the 9:34 bus back to Asahikawa Airport, where our worn-out bikes stood all alone, probably not ready to be ridden all the way back to Furano in a single day. Fabio searched on Google Maps for some must-see places along the way, and then we were off. It started with a Zerubu Hill, where we rode some ATVs around the complex, back through Biei, for lunch at the super chill and seriously delicious BeACafe, and over the river to the bizarre Ikoigamori Park. By afternoon, we were still only about halfway to Furano as we couldn't stop taking pit stops, partially because of the unexpected hills and partially because everything was just so gorgeous. Even if it wasn't the full bloom of summer complete with lavender, there were rolling green fields for ages.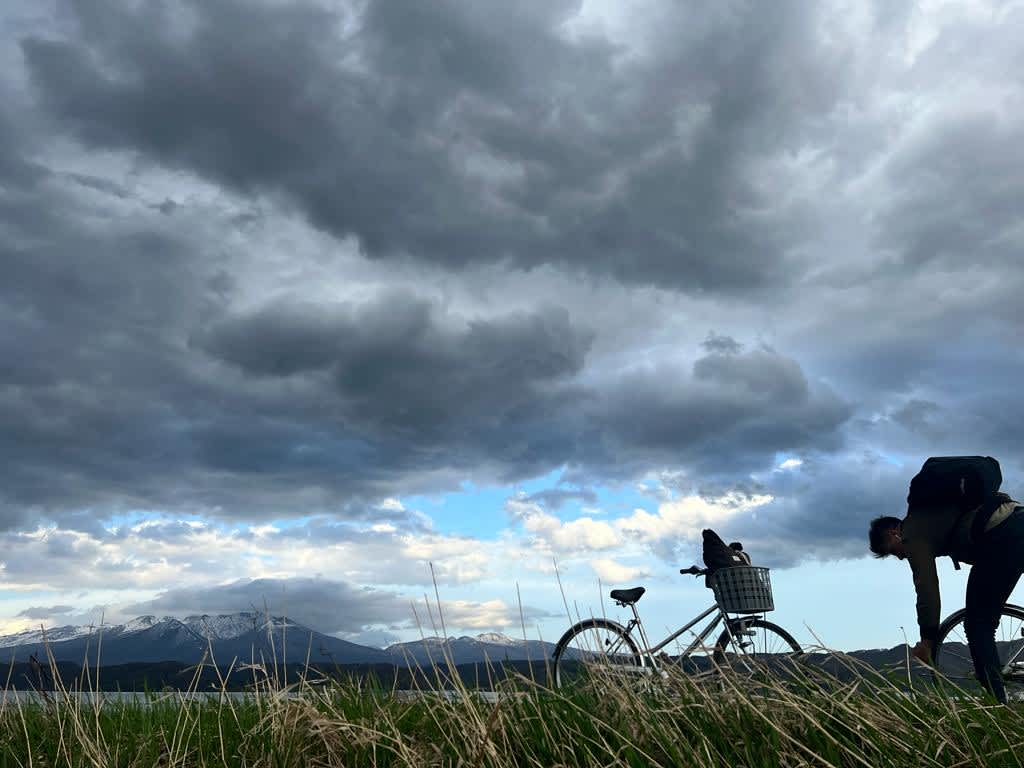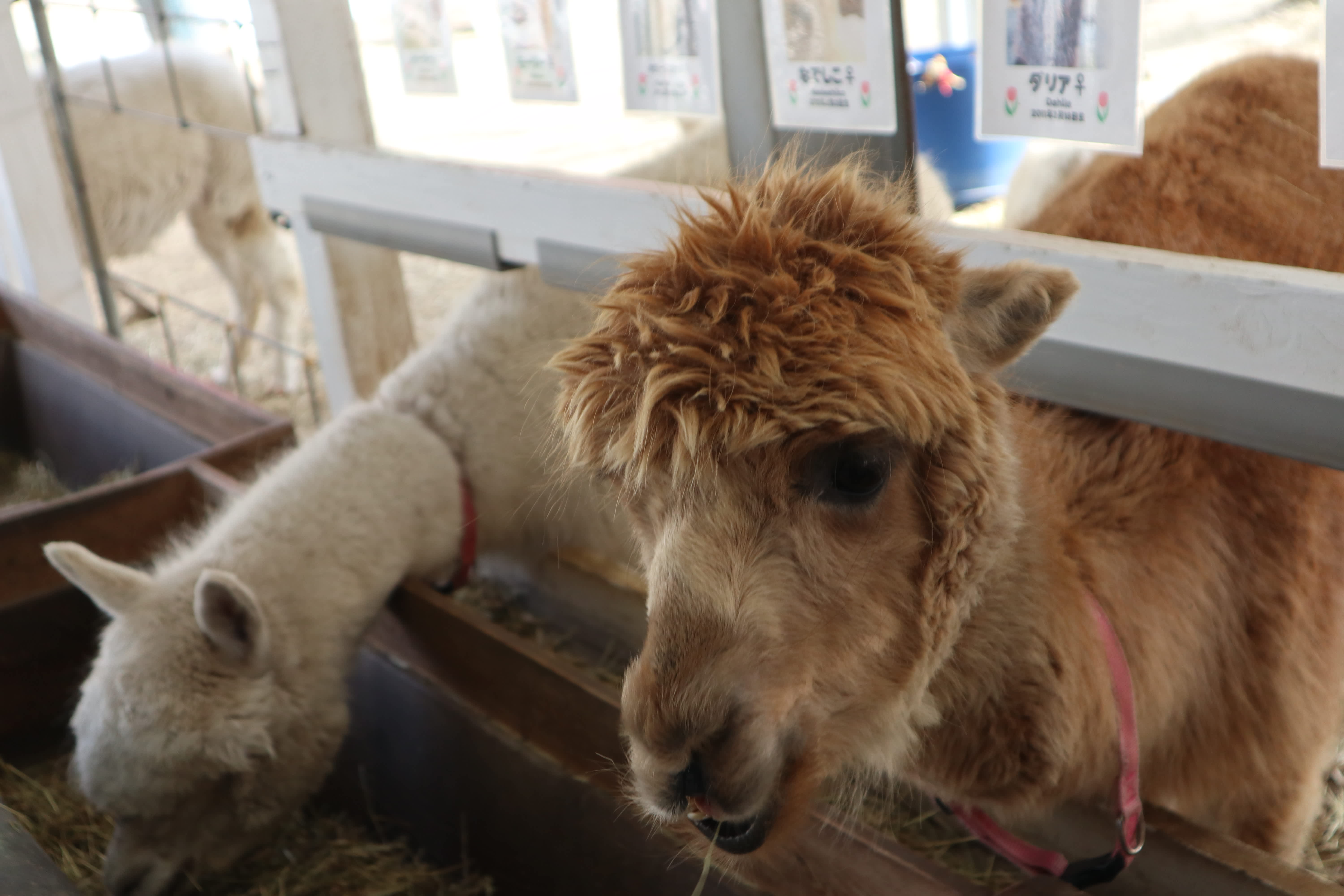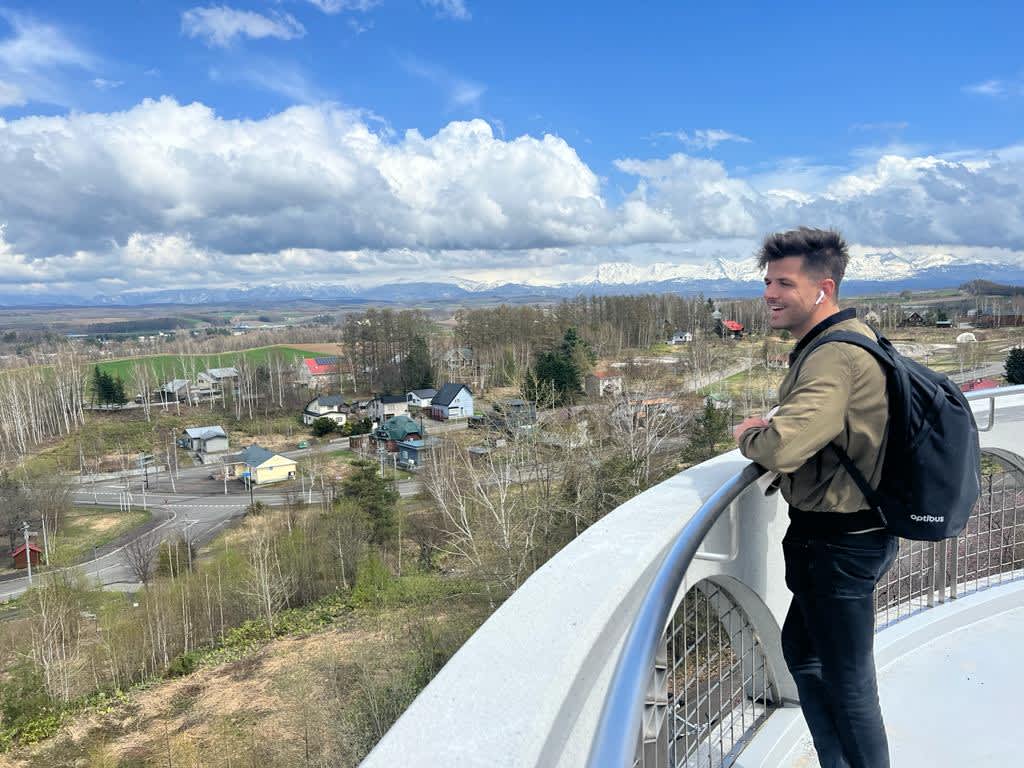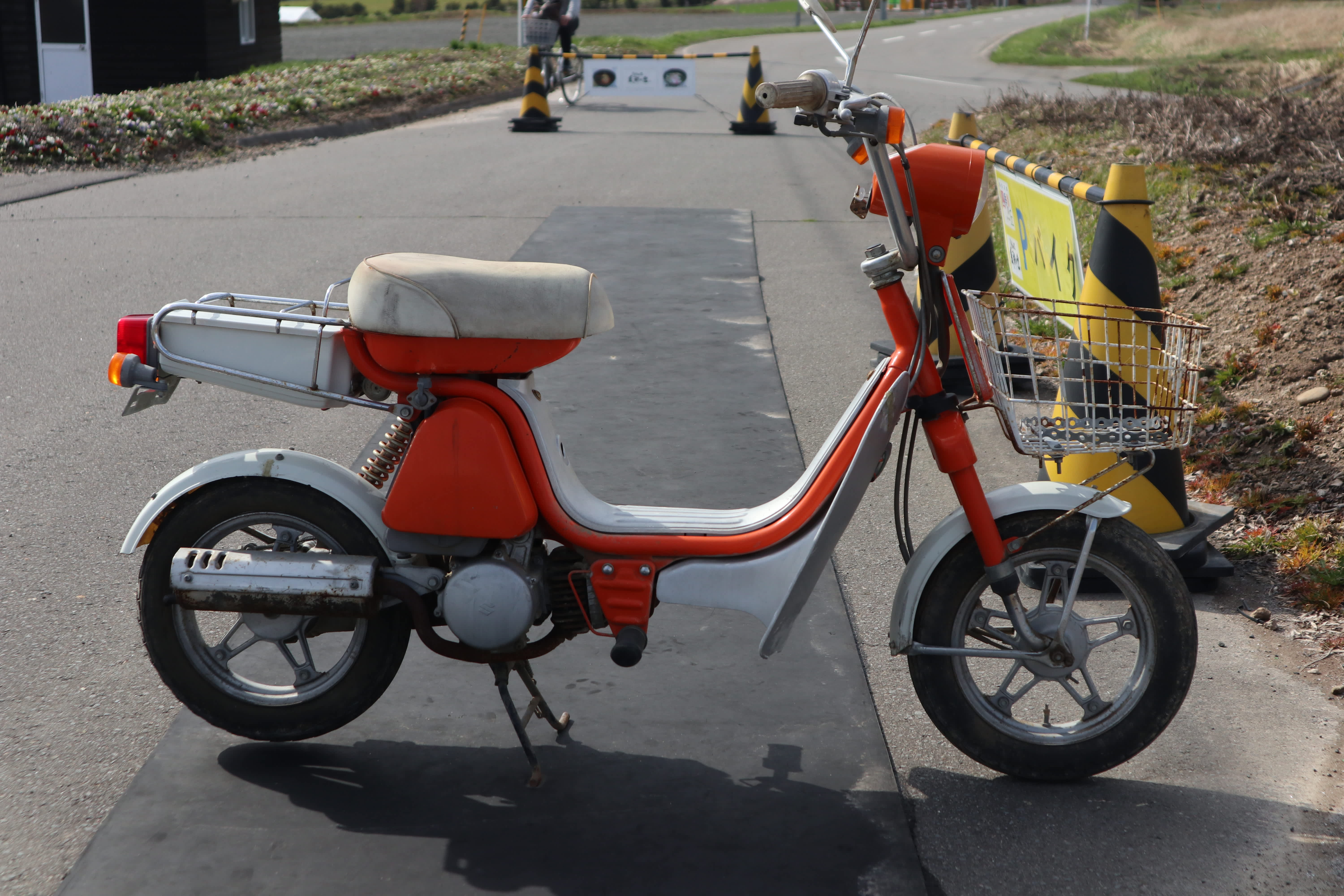 Our last stops before the long rocky road back were Shikisai-no-oka which had an Alpaca farm filled with shaved alpacas (it is hysterical) and back through Kamifurano which was looking particularly like a ghost town that day, at the start of the Golden Week holidays.
Just before the 6pm close of the bike-shop, we rolled on in, totally destroyed, having biked on beach cruisers for nearly 8 hours that day.
We stopped by Furano Bar for the closest thing to a Campari Spritz we could find in all of East Asia and somehow mustered up the energy to head to a nearby karaoke, to get rid of any remaining energy we may have had over the course of 2 hours.
Back in La Vista for the night, we repeated our regimen from a few days prior (onsen, ice cream, free ramen), completely elated by the last few days of pure adventure.
Day 5: Furano to "Chitose" by 🚌🚞
We had one day left on holiday, so we decided to make the most of it and wake up early despite the inviting beds and walked a few kilometers to Asahigaoka Park, where we could see the cherry blossoms from our hotel window calling to us. It was a peaceful place, like most places in Hokkaido and as we walked by the cherry blossoms, we felt only gratitude for having come to Hokkaido. It may have not been the easiest place to get around, but the people and nature made the experience incredibly heart-warming and satisfying.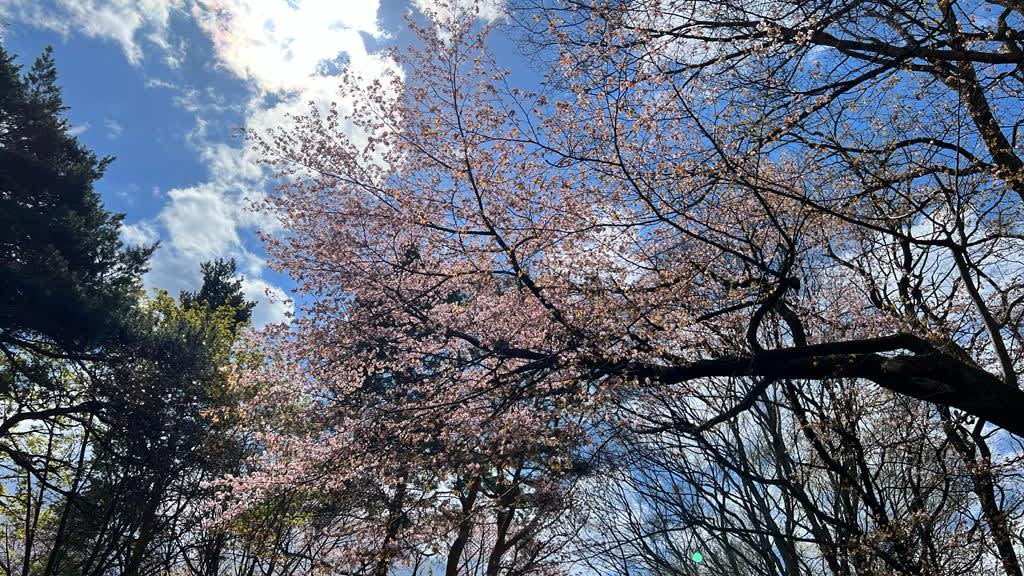 Soon after we were back on the same bus to Chitose/Sapporo ready to start remote working again.
---
So if you are coming to Japan, you must factor Hokkaido into your adventure. After seeing much of Japan, Hokkaido has been the absolute highlight and its beauty cannot be left unseen.
Sayonara, for now.
---
To read more about Japan, check out: