Published on
The Best Gay Clubs in Berlin: Ratings and Tips
Authors

Name

Ryan Kretch

Twitter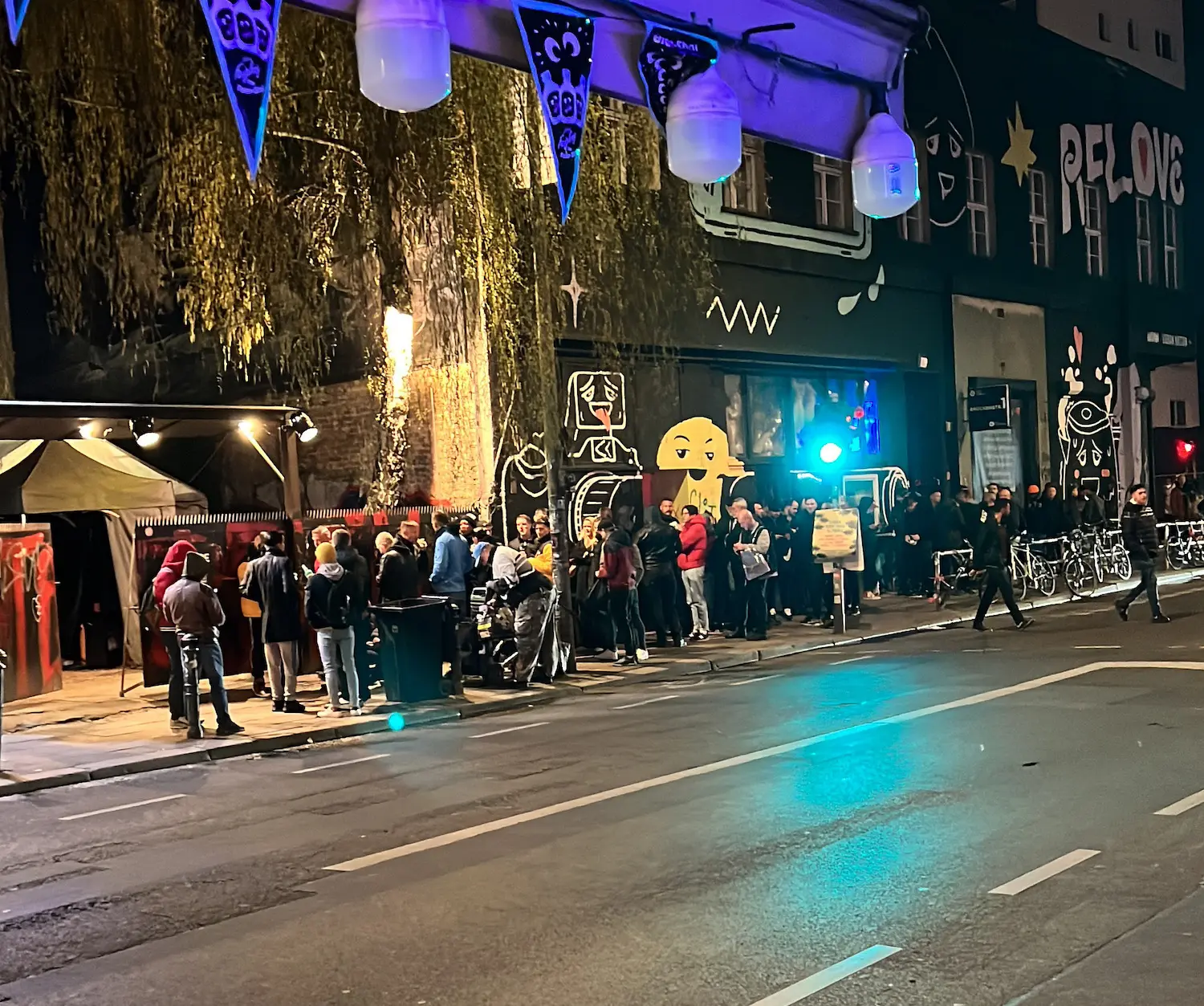 If you are reading this, maybe you are headed to Berlin soon and trying to scope out the best gay clubs the city has to offer. You've heard all the rumors around the Berlin nightlife, from the never-ending lines to the sadistic bouncers with no formula for who they let in and who they reject, from the hedonistic sexual play corners to the open use of drugs (particularly in the toilets), from the 72-hour long parties that end on a Monday morning to of course the techno/electronic scene, which triumphs all other music genres, or at least Berliners think so.
So let's get to it. Here is the only guide you need for the best gay clubs in Berlin. I will organize this by clubs (these are venues which typically are open every weekend and sometimes in the week).
If you want to read about specific parties (some of which happen on a monthly, bi-monthly, or quarterly-basis), check out this post where I curate the gay parties around Berlin
---
Table of Contents
---
Each club/party will have a rating across five categories so you can easily find which one suits you. I will also provides some tips to make sure you know what to look for.
Here are the categories:
Lines - This is referring the queue leading up to getting into the club. Generally these are pretty outrageous in Berlin if not planned properly.
Bouncer - You've made it through the line, now the only barrier to endless hedonism is getting through the bouncer. Some of them are sadistic pricks in Berlin, and there is no rhyme or reason why you may get rejected. Sometimes they ask a bunch of questions, sometimes they don't say anything. It can be much scarier than going through immigration in a strict country. In this category, I will explain ways to not look like a tourist and get in with ease.
Music - As all venues play some sort of electronic music (ranging from house to techno), you have to have an affinity to these or these ratings will seem a little weighted! Sorry, but you will rarely find pop/mainstream music here in Berlin clubs.
Atmosphere - The overall vibes of the place.
Opportunities for Play - Euphemism for sexual atmosphere, this is one of the unspoken reasons why people come to Berlin clubs in the first place. I'll make sure to go into detail about which places offer the best atmosphere for fornication, if that is your vibe.
---
The Best Clubs in Berlin for Gays
Best for fetish and new experiences
I list this one as first, because this was truly the eye-opener that started it all for me in Berlin. I wrote another article about this and how KitKat made me hate the real world, where I go into all the details of just how much this fetish club opened me up (this is not meant to be a double entendre 😆).
KitKatClub Berlin is known for its sexually charged atmosphere and alternative parties. The club hosts a variety of events, including techno and house music parties, fetish parties, and swingers' parties. KitKatClub's dress code is famously liberal, with many party-goers opting for provocative or fetish-inspired outfits. In addition to dancing and music, the club also features a darkroom and various other play areas, where guests are free to explore their sexuality in a safe and consensual environment. While the club's parties are not for everyone, KitKatClub is a popular destination for those looking to let loose and indulge in Berlin's wild nightlife scene.
They host a monthly gay-centric party on Fridays called Revolver, but in all honesty, I find it to be a bit overwhelming and prefer the weekly Saturday night, Carneball Bizarre, which has about half as many females as males, and thus balances out the overwhelming toxic masculinity typical found in Revolver. Plus, as the name suggests, it is truly a bizarre night and you will find whatever you are looking for around every corner.
If you are in town during the week, then head over to Symbiotikka on a Wednesday. While the sex is less of the focus this night and just the main room is open, the music tends to be much better as they bring in top DJs.
Don't worry, KitKat is open again 🤣
Lines ★★☆☆☆
For Revolver:
Buy tickets early on the Revolver site
Arrive early irregardless of having a tickets or it could be a hot-mess of a line
For Carneball Bizarre:
Get there about an hour before opening as the line will wind around the corner and last for upwards of 4 hours or more if you get there even 30 minutes past opening. If you are one of the firsts, they are also less selective.
Bouncer ★★☆☆☆
They can be hit or miss, but I have had times when I have been rejected there after waiting for 3 hours. As mentioned, arrive early and they are less selective. Furthermore, make sure you wear something kinky or at least bring something in your bag that you can show them at the entrance. KitKat is a fetish club, so if you are not dressing the part, you will not be let in. A safe bet is to wear something like a harness, but feel free to make your costume individualistic as long as it abides by some sort of fetish.
And always break into smaller groups of maximum 2 when trying to get in.
Music ★★★☆☆
This is not my favorite club for music. If you go on one of the bigger nights (Carneball Bizarre or Revolver), you will have 3-4 floors with varying hardcore-ness of techno (and sometimes house), but I haven't found the music experience to be the most memorable quality of this club.
As mentioned, Wednesday's Symbiotikka is generally much better, as music is more the focus.
Atmosphere ★★★★★
This is an unparalleled atmosphere where all of your inhibitions will be released and everything will soon become normal. From the masturbating old man in the corner, to the good vibes around the swimming pool, to the BDSM shows in the basement fitted to look like a hospital, it is the epitome of an adult playground.
Bathrooms ★★★☆☆
During peak periods in the night, the lines can be a bit long to get to the restroom, but definitely not as long as some of the other clubs (cough, cough Berghain). In terms of cleanliness, well you might need to lower your standards a bit for all of the remaining entries.
Opportunities for Play ★★★★☆
With upstairs darkroom areas, to play beds scattered outside the dance floors, there are no shortage of places to explore...on top of that, whatever your preference for men is, they will likely be there at KitKat any night that you go. I am only knocking this down one star as there isn't really any private areas unless you are a truly dirty boy and do it in the aforementioned toilets.
---
Best for atmosphere and sound system
This is considered to be the holy grail of clubs in Berlin and I cannot believe it took me just over four years to go here for the first time. Set in an old industrial building, it is notorious for the longest of lines and the scariest of bouncers, but once inside, you can find yourself easily entertained for at least 36 hours (Berghain is generally open from Saturday 11:59 PM until Monday morning) wandering between the Berghain main floor, to the darkrooms, to the housey Panorama Bar.
While Berghain is not explicitly marketed as a gay club, it has a reputation for being a welcoming and inclusive space for the LGBTQ+ community. Many of the club's parties and events cater to queer audiences, and it has become a popular destination for gay travellers from around the world. However, Berghain's door policy is notoriously selective, and admission is based on factors such as dress code, demeanor, and overall vibe, rather than sexual orientation.
A famous gay party here is the twice-annual legendary, Snax party, where the adjacent gay sex club, Lab, and Berghain join forces and literally becomes a Guinness Book of World Record level orgy. It is a bit overwhelming for the faint-hearted, but worth a visit once in a lifetime.
Don't worry, Berghain is open again 🤣
Lines ★☆☆☆☆
I mark this one as one star because I once was in line and heard a girl behind me say she was waiting for 9 hours at that point. While this may have been an extenuating circumstance, considering this was right after COVID when clubs just started re-opening, Berghain is just as famous for its atmosphere as it is for its lines.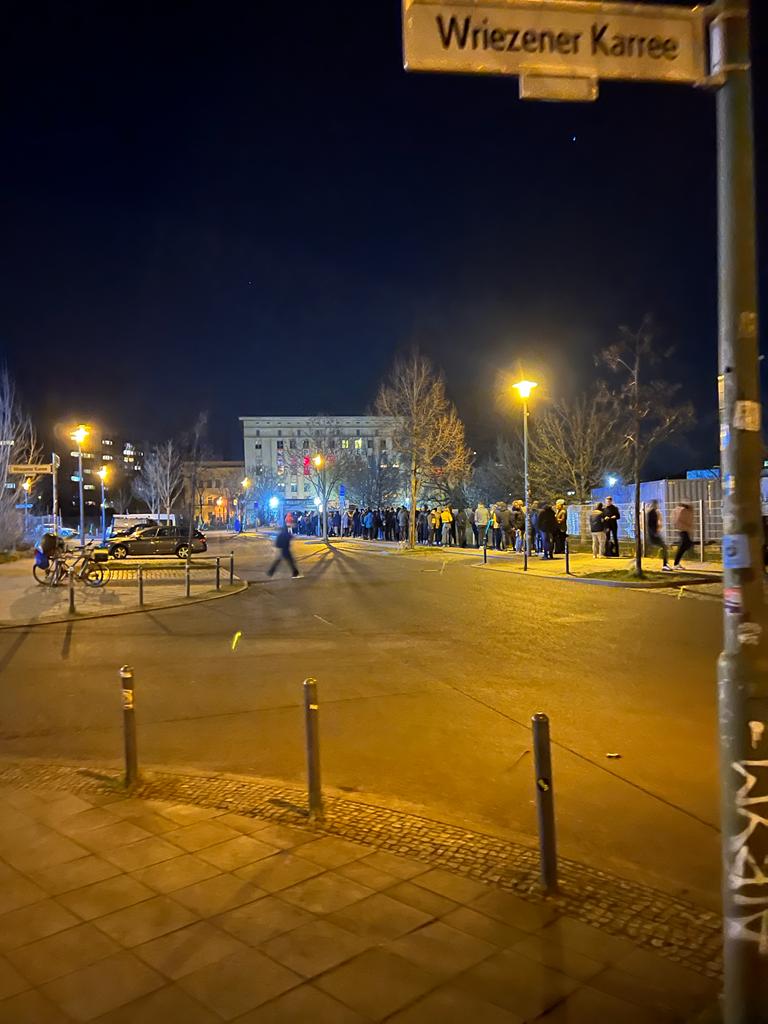 An approximately 3 hour Berghain line, not bad for Berghain
Some tips:
Okay, so cutting is unethical, and I hate to admit it, but all the regulars tend to do it. Nobody says anything to you because everybody in line is too afraid of standing out in front of the bouncer and not getting in. If you are one or two, just go for it and cut the line as much as you can 🙃.
If you go to the sex club Lab on Saturday night, you can ask for a bracelet as you are leaving, and then head into the Berghain guest list line (it hugs the building on the right). This also alleviates issues with being rejected -- this is the best little-known tip I think.
Don't be too loud in line
The left hand line, which is generally much shorter is for Lab and not Berghain. Beware that unless it is Snax, these two clubs are not accessible to one another from the inside.
For Snax:
There are no pre-sale tickets, so just show up early and well-before opening. If you don't you could be waiting upwards of 3-4 hours, and since this generally falls in April and November, you will be freezing your exposed nipples off.
Bouncer ★☆☆☆☆
The bouncer is the most notorious human-being in the planet. For this one, I have been rejected quite a few times before finally getting in. The main issue is I was generally with 3 or more people, and they just don't like that.
While there is no official dress code for Berghain, the nightclub has a reputation for being a haven for techno-loving, all-black-wearing club-goers. Many people choose to dress in dark clothing as a nod to the club's underground, alternative vibe. However, wearing black is not a requirement to gain admission to Berghain, and the club's notoriously strict door policy takes many factors into consideration beyond just clothing. Ultimately, it's more important to focus on embodying the club's ethos of openness, acceptance, and non-judgmental partying than on adhering to a specific dress code.
I will write some tips here, but I find that the algorithm for entrance is just far less predictable here, so take these with a grain of salt.
Tips for getting in:
Put on a resting bitch face
Only go in maximum of 2 people, if you are 1, your chances are even higher. This means split up from your group of friends. If someone doesn't get in, well hopefully they have a plan B 🙈.
Look like you are a seasoned raver, so ideally wear black and/or dress slutty. It helps to be in Berlin a bit and just doing some people watching in the streets 🤣. Be individualistic, but don't make it look like you are trying too hard.
Try to respond in German where you can (in my experience, they usually just ask "one (ein) or two (zwei) peoples?" and respond with ein/zwei 😁)
Here are some more tips for getting in, otherwise we will be here all day 😋.
Music ★★★★★
Berghain and music just go hand in hand; sporting both phenomenal acoustics and the world's best stereo system. You will be forever changed by this musical experience.
In the downstairs floor, you will witness some generally very hard techno, while in the upstairs Panorama bar, some housey/disco vibes and just utterly good vibes. I thought I knew electronic music and what was good/bad until I came to Berghain.
Atmosphere ★★★★★
I hate to admit it, as I was always questioning the Berghain hype, but it is a truly unparalleled experience. When I went there for the first time, my clubbing experienced changed forever. Particularly, I loved the vibe in Panorama Bar, which contained a mix of the most unique, sexy people I have ever seen, all dancing as one.
If you are in Berlin once, you should try your luck just for the experience of the atmosphere.
Bathrooms ★☆☆☆☆
Literally some of the worst bathrooms ever. I remember waiting for 30ish minutes before a worker cleared out the place saying it needed to be cleaned. You are better off wearing a catheter and colostomy bag or just peeing in a dark corner 🤣.
Opportunities for Play ★★★☆☆
A little less of the focus than in KitKat, as I consider KitKat to be the epitome of a fetish club, I still rate this one highly, as you have some sexy people and a big darkroom.
You will also find little areas in various corners where you can do your thang.
---
Best for a low pressure summer day (and night) party
I also discovered this one a little bit late in the game, but it has taken the title of my favorite place in Berlin, particularly when the summer months come around and I am in need of a day party.
While Sisyphos is not really a gay club, per se, and I feel as though the clientele tend to be on the straighter side, it is the most colorful place you will find in Berlin. It is an absolute adult playground with unique surprises around every corner and something for everyone (including a once monthly naked tea party).
It has four floors, again providing something for everyone and completely different micro-atmospheres:
Strand - Outside beach floor, which is the best during the daylight hours and tons of vibey electronic tunes
Wintergarten - House, tech-house
Dampfer - Melodic house and techno, super sweaty 🥵
Hammahalle - Hard techno
It is the place I like to come to when I just want to have a good time with friends and not feel the sexual pressure that might come with going to other places, like KitKat or Berghain. I go there solely for the atmosphere and music.
Lines ★★★★☆
I give this one four stars as I have not experienced enormously long lines (maximum of 30 minutes), but I highly recommend going during the daytime (on a Saturday or Sunday) rather than nighttime, as sometimes I have come out of the club around midnight or later and the lines have grown exponentially.
The best time to go to Sisyphos Berlin depends on the night and the event. The club is open from Friday night through Monday morning, with different events and DJs each night. On weekends, the club is busiest from midnight to 6am, so it's a good idea to arrive early if you want to avoid long lines.
Bouncer ★★★☆☆
Getting into Sisyphos Berlin can be difficult, especially on busy nights when the club is at capacity. The club is known for its selective door policy, so it's important to arrive early and dress appropriately.
Sisyphos Berlin has a relaxed dress code, with most party-goers opting for comfortable and casual clothing. However, the club's alternative, underground vibe means that many guests choose to wear edgy or creative outfits. As mentioned, the club is more colorful than some of the other places, so you don't need to deck yourself out in black here.
That being said, bouncer-wise, it can be a bit scary still. I found the bouncer to be quite forward with the questions here, asking me for instance what my favorite dance floor was, even though I had never been there before (I was honest).
Again, if you go during the daytime and in small groups, it will be much easier to get in.
Music ★★★★★
As someone who likes to DJ on the side, I get a lot of my inspiration from some of the sets done at Sisy. If you are really looking for a place with a good variety of music, this is it.
Atmosphere ★★★★★
Again, my favorite for atmosphere. It is a maze with weirdness around every corner. It may not be as gay as the other choices above, but I feel like I can be myself there without any judgment. It is a great place to also meet people.
Bathrooms ★★★★☆
Very little waits and usually pretty clean!
Opportunities for Play ★☆☆☆☆
I wouldn't go to Sisy for this, but I am sure it is possible. However, since it isn't really a fetish club, you won't see as many sexual acts flying around as you would in other clubs.
---
Other club options
So these are the honorable (or dishonorable) mentions. I would consider these ones to be more last-resort options, if all else fails.
Schwuz - Some people love it, some hate it. But for me, this isn't a club that is unique to Berlin. You can find many equivalent places to it around the world as it is more pop-centric than techno. You will have fun, but you could be anywhere in the world at a similar club.
Zum Schmutzigen Hobby - A club that also has a bar vibe. Again a good option, but not very original.
---
The Best Parties in Berlin for Gays
For parties that are on a bi-weekly, monthly, quarterly, etc. basis, I have made another article covering those specifically.
Don't miss it and check it out here!
---
So there you have it! As mentioned before, I will be sure to make more posts on how to navigate the gay parties and gay bars of Berlin, but I thought this one should be specifically for gay clubs.
I hope you enjoyed the read and enjoy your time in one of the best cities in the world!
---
Read more on Berlin: