Published on
The Best Gay Parties in Berlin: Ratings and Tips
Authors

Name

Ryan Kretch

Twitter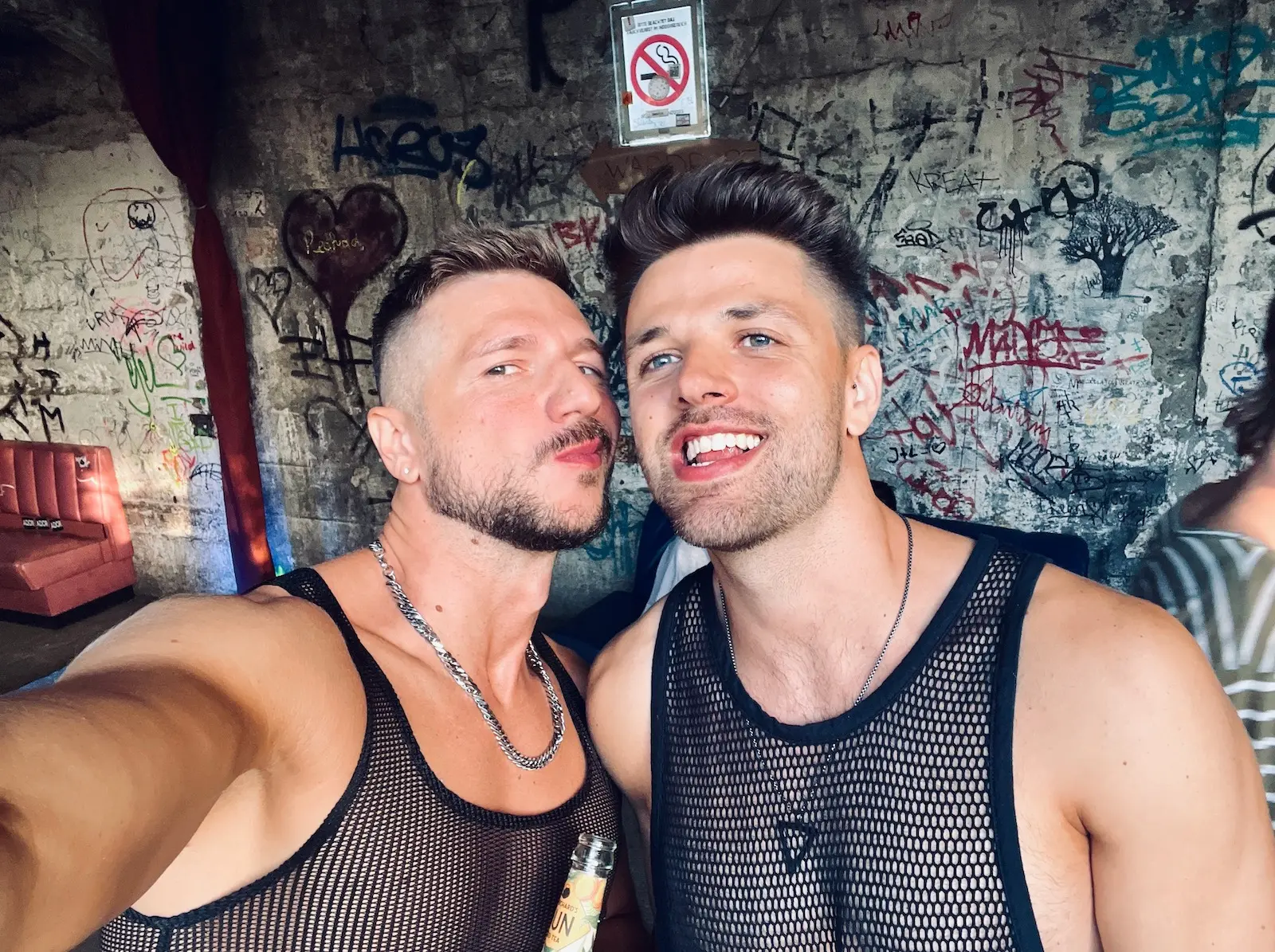 The Best Gay Parties in Berlin: Ratings and Tips
Welcome to Berlin, a city renowned for its vibrant LGBTQ+ scene and inclusive nightlife. In this article, we will delve into the thrilling world of the best gay parties that Berlin has to offer. While there are exceptional gay clubs in the city, this guide will focus specifically on the pulsating 🍆 energy and unique experiences found at these iconic gay parties. If you're looking for a night filled with music, dancing, and pure joy, look no further
So, which is the best gay area in Europe? Without a doubt, the answer is Berlin. This city is a beacon of inclusivity and a true haven for the LGBTQ+ community. Known for its accepting atmosphere, eclectic crowd, and diverse range of parties, Berlin offers the ultimate gay nightlife experience. 
---
Table of Contents
Members
Cocktail d'Amore
Snax
Pornceptual 
Gegen
Horse Meat Disco
Revolver
Others
---
The Best Gay Parties in Berlin 
Below, you will find a comprehensive list of the top gay parties in Berlin. Each party is rated based on the quality of music, ambiance, and overall experience. In addition, we have included some handy tips to ensure you have a fantastic time at each event. 
For information on the best gay clubs in Berlin, check out our accompanying article linked here.
These parties are not happening all the time. Some are on a monthly-, quarterly-, or even biannually-basis, so it is important that when you plan a visit to Berlin, you have a bit of foresight into which parties are happening and when. I like to use this website to keep up to date, but you can also go to each party's website or Instagram. And just one more note, you really cannot go wrong with any of these. In any party, there are lots of similarities and some differences, but either way, you are bound to have a good time if you go in with a positive and open mindset.
Like the other article, most of the parties will have a rating across five categories, so you can easily find which one suits you. I will also provide some tips to make sure you know what to look for. These are listed in no particular order, by the way, as it is a bit hard to rank these parties 🤣.
Here are the categories:
Lines - This is referring the queue leading up to getting into the club. Generally these are pretty outrageous in Berlin if not planned properly.
Bouncer - You've made it through the line, now the only barrier to endless hedonism is getting through the bouncer. Some of them are sadistic pricks in Berlin, and there is no rhyme or reason why you may get rejected. Sometimes they ask a bunch of questions, sometimes they don't say anything. It can be much scarier than going through immigration in a strict country. In this category, I will explain ways to not look like a tourist and get in with ease.
Music - As all venues play some sort of electronic music (ranging from house to techno), you have to have an affinity to these or these ratings will seem a little weighted! Sorry, but you will rarely find pop/mainstream music here in Berlin clubs.
Atmosphere - The overall vibes of the place.
Opportunities for Play - Euphemism for sexual atmosphere, this is one of the unspoken reasons why people come to Berlin clubs in the first place. I'll make sure to go into detail about which places offer the best atmosphere for fornication, if that is your vibe.
The Best Gay Parties in Berlin + The Best Gay Events in Berlin
At Members, Berlin's underground queer party, sexy, good times awaits you 😃. This inclusive gathering invites individuals of all genders and sexual orientations to celebrate together. Prepare yourself for an evening of eclectic electronic beats as local and international DJs spin a fusion of house, techno, and disco. Members prides itself on providing a safe space where everyone can feel free to express themselves and let go of inhibitions.
There is a nice mix of people here, and a great place to meet others, too. It is currently being held at OXI club, on Sunday afternoon to Monday morning, and during summer, the outdoor courtyard is just fabulous vibes. There is a darkroom, but I definitely felt like the focus was more on the outdoor chatting, relaxing, and dancing scene. Of course, you can always make it what you want in Berlin 😈
Lines ★★★★★
Generally, you can buy tickets in advance for this party on RA. However, unless it is sold out (which is unlikely), you can buy tickets at the door for a bit more. Also, there was not a line at all at the door! A rarity in Berlin!
Bouncer ★★★★★
Like zero rejection. There aren't as many people going to this party, so rejection is highly unlikely.
Music ★★★★☆
Depending on the time of the day and the dance floor, you'll get a nice mix of disco house all the way to harder techno (not too hard).
Atmosphere ★★★★☆
Nice vibes, nice people! I feel like sometimes it could be a bit fuller, but not a major complaint.
Opportunities for Play ★★★☆☆
I would say this isn't the most orgiastic party on the list, but there are definitely "things" happening around corners.
Cocktail d'Amore is a legendary party that has made its mark on the Berlin nightlife scene. Held in various unique locations across the city, this queer gathering is known for its inclusive atmosphere and diverse crowd. Expect an avant-garde mix of electronic music, featuring both established and up-and-coming DJs who effortlessly blend genres. The party's focus on artistic expression, decadent visuals, and immersive performances creates an unforgettable experience for all attendees.
I have been here a few times, and it has a bit of a leveled-up vibe from Members. What I would say is there are fewer women and is a bit more sexually charged. Since it is held currently at the same location of OXI Club, it is easy to tell this is the more common choice of party-goers than Members, but other than that, they are not so different.
Lines ★★★★☆
Generally, you can buy tickets in advance for this party off of the link on their Instagram, but also at the door if they aren't sold out. I went on a Sunday afternoon and there was no line, although that may be different on a Saturday night.
Bouncer ★★★★★
Also, not so much rejection.
Music ★★★☆☆
They are heavier on the techno at Cocktail d'amore than other parties, so it doesn't have as much variety.
Atmosphere ★★★☆☆
Definitely similar in atmosphere to Members, but not as friendly. It also is a bit more male-centric, which I personally don't love.
Opportunities for Play ★★★★★
This is definitely high up there in terms of being sex-focused. There is a dark room and several other dark-ish places to play, with people very willing to get down and dirty 😆.
Snax (???):
Note: I put some question marks next to the name, as I do think this one is ridiculously overrated. Waiting in line for upwards of 5 hours only to get rejected is just not cool, particularly if you are only visiting Berlin for a short time.
Nonetheless, this is considered the pinnacle of the Berlin gay party scene and tends to turn into just one massive orgy. Held across both Lab and Berghain (they are connected), this party is not for the faint-hearted.
While Berghain is not explicitly a gay club on regular nights, it is widely recognized for its roots in the gay club scene of Berlin. The club is renowned for its sexually uninhibited parties and its connection to Lab. Snax is one of those parties, Berghain and Lab hold together which are highly popular within the LGBTQ+ community. 
It happens twice per year around Easter and again in November or December.
Lines ★☆☆☆☆
This is not one of those parties you can pre-purchase tickets to, so there are no special lines, just one massively long line that can stretch for hours and hours. Be prepared to wait (and wear plenty of clothes if you are coming for the winter session) or, much better, get there before the doors open.
Bouncer ★★★☆☆
There is less rejection than standard Berghain nights, but it definitely still occurs, especially as the night winds on, and they are at capacity. Try to not go in such massive groups, and make sure you bring your kinky accessories to make it known that you understand what the party is about.
Tips:
Really make sure to wear something based on a fetish. You can translate this article to English just to see some of the crazy rejection stories due to people not dressing in fetish enough
Music ★★★☆☆
More on the techno side, and I wouldn't say it is the main focus of the party 🤣.
Atmosphere ★★★☆☆
It can be very intense, but is thought to be a must-do while visiting Berlin.
Opportunities for Play ★★★★☆
Look back at the description of this party; no additional info needed 😅.
Blurring the boundaries between art, sexuality, and nightlife, Pornceptual offers a truly immersive and liberating experience. This boundary-pushing party combines electronic music, provocative visuals, and erotic performances. Pornceptual challenges societal norms and celebrates sexual liberation, creating an inclusive space where attendees can embrace their desires and engage in a sensory journey.
Typically held at Alte Münze, a fantastic venue with several dance floors and upwards of two darkrooms, this quarterly party used to be one of my favorites before the pandemic. It has come back in full force and is still always creating nights to remember. Fun fact: You pay less money to enter if you go in completely naked!
Lines ★★★☆☆
You can pre-purchase tickets from RA, but I find that there is always still quite a long line (sometimes over 1 hour), if you arrive after opening on the Saturday night.
Bouncer ★★★★★
I don't think I have seen people rejected from this party, so that is a plus! But it is somewhat of a kinky, fetish party, so feel free to go wild with your interpretation here.
Music ★★★☆☆
Definitely a bit more on the techno side on the basement dance floors. A bit more low-key, house in the one dance floor on the first floor. It generally doesn't have the world's best DJs, but music is still a very important component of Pornceptual, so you will find something you like.
Atmosphere ★★★★☆
A ton of people and places to explore, which makes it an adult playground. I do think this party has become a bit more mainstream in the past years, changing the vibe slightly and not living up to its true values, but it is still a banging time.
Opportunities for Play ★★★★☆
The name says it all. You have darkrooms, kinky corners, but go ahead and do your thing just about anywhere without judgment. I am knocking off one star as if you like your privacy, it will be a bit difficult to get.
Gegen is an underground queer party that pushes the boundaries of conventional club culture. With a focus on music, art, and self-expression, Gegen presents an alternative and thought-provoking experience. The party attracts a diverse crowd of individuals who share a passion for underground electronic music, avant-garde fashion, and immersive visual installations.
This is often held at KitKat on a Friday night, but sometimes in other locations around Berlin. It is a carnival of kinkiness in which any of your kinks, fetishes, or desires can be expressed and fulfilled.
You will always get a mix of genders and orientations here!
Lines ★★★☆☆
As with any event at KitKat, there are lines, lines, lines. Get there early or get there late. For this event, you cannot purchase them in advance.
Bouncer ★★★☆☆
As with any event at KitKat, there are rejections! Make sure you read a bit up on what the party is about and dress the part with confidence.
Music ★★★★☆
There is always a nice collective of DJs at this party, with a range of electronic styles.
Atmosphere ★★★★★
Eclectic, kinky, crazy -- the real adult playground of the globe.
Opportunities for Play ★★★★★
KitKat is famously notorious or notoriously famous for being a sex-focused club, so you'll find it all here.
If you want something more light-hearted and dance-focused, look no further than Horse Meat Disco. What started in London's Chinatown for disenfranchised disco citizens (whatever this means), has made it to Berlin and provides a safe space for the queer community.
We went here a few times, and everyone was bouncing off the walls to disco and house beats. It is certainly not as sex-focused as some of the other parties, but has a lot of eye-candy.
Lines ★★★★☆
You can purchase tickets in advance from the website. Sometimes at peak periods, there is a bit of a line, but nothing you will experience at some of the standard clubs.
Bouncer ★★★★★
If you have a ticket or get there early enough, you shouldn't have a problem getting in!
Music ★★★★☆
Very light in terms of electronic music. There is only one floor, so if disco/house is not your style, you don't have other options. Nonetheless it is always a really nice lineup.
Atmosphere ★★★★★
People are literally bouncing off the walls! This is the perfect place to get the endorphins, dopamine, and seratonin rushing!
Opportunities for Play ★☆☆☆☆
It doesn't seem to be the kind of party to do this. While there is a darkroom, people are using it for other purposes 😅.
Another centerpiece of gay parties in Berlin, Revolver is a go-to for party goers coming to Berlin. It is very male-centric (I think I have only ever seen one or two women there at a time), and very sex-focused. As it is also at KitKat, there are all the usual corners and dance floors mentioned earlier.
However, like Snax, I do find it to be a bit overrated, perhaps because the lines can sometimes be outrageous, perhaps because there is sometimes too much male energy 🤣. But whatever floats your boat!
Lines ★★☆☆☆
You can purchase tickets in advance from the website, but the lines at KitKat during peak times are still going to be hellish. Beware.
Bouncer ★★★☆☆
I don't think there is so much rejection as you should be fine having purchased a ticket in advance, but I have seen it a bit, particularly when lines are long and perhaps the club is at capacity.
Music ★★★☆☆
Music is certainly not the focus of this party, so you won't get world-class.
Atmosphere ★★★☆☆
I mean, it is KitKat, so that is a plus, but I do find the toxic male energy to be sometimes highly present there.
Opportunities for Play ★★★★★
It is KitKat with a bunch of gay men, so you can imagine how it will go 😅.
Other Fabulous Gay Parties in Berlin:
---
Tips for Enjoying Berlin's Gay Parties
Before we wrap up, here are a few extra tips that will help you make the most of your Berlin party experience: 
As the vibrant, beating heart of Germany's nightlife, Berlin is infamous for its notoriously lengthy party queues. However, don't let this deter you from experiencing the city's incredible gay party scene. There are a couple of strategies that can help you navigate these lines and maximize your time soaking up the electric atmosphere inside the clubs. 
Line Hack: Timing is Everything 
One tactic that the city's experienced party-goers often recommend is to arrive well before the doors officially open. By doing this, you can avoid the peak rush and secure your spot inside the club early. However, this strategy does require some patience, as you might find yourself waiting in line for quite some time. To make the waiting period more enjoyable, consider bringing along a couple of drinks to share with your fellow line members. Not only will this help pass the time, but it's also a great way to start striking up conversations and making new friends even before the party kicks off. 
Line Hack: Early Morning Adventures 
A second approach is to swing by the club in the early hours of the morning. This might sound unconventional, but remember that many of Berlin's parties run from Saturday night right through to Sunday, or even beyond. So, you can still catch plenty of the action while bypassing the peak-time queues. This option is particularly suitable for those who love the excitement of a party already in full swing. 
However, if you're visiting Berlin for a short period, it's crucial to strike a balance. While experiencing the city's nightlife is a must, spending hours waiting in line can be frustrating and can eat into your precious vacation time. So, play it smart and plan your party schedule carefully. 
Remember, these tips are not rules set in stone. The most important thing is to have fun and enjoy the unique, liberating atmosphere that Berlin's gay parties have to offer. Just keep these tips in mind, and you'll be well on your way to making the most out of your Berlin party experience.
More Tips to Enhance Your Gay Party Experience in Berlin:
One of the joys of partying in Berlin is the city's vibrant gay party scene. However, it does come with its own unique set of challenges. Here are some helpful tips to enhance your party experience: 
Dress Appropriately: Always remember that Berlin's gay parties are not about high fashion or glitz, but about being comfortable and expressive. So, dress in a way that reflects your personality and helps you blend in with the crowd.
Respect the Space: Berlin's gay parties are safe spaces for the LGBTQ+ community. Always respect the space, the people around you and their privacy. If you're visiting from a different cultural background, make sure to familiarize yourself with Berlin's local customs and expectations.
Stay Hydrated: Partying for long hours can be exhausting and dehydrating. Always make sure to have a water bottle with you and stay hydrated throughout the night.
Be Open-Minded: Berlin's gay parties are known for their eclectic mix of music, people, and performances. Be open to new experiences and enjoy the uniqueness of each event.
Remember, the real beauty of Berlin's gay parties lies in their diversity, inclusivity, and openness. So, go out there, have fun, and let yourself be a part of this wonderful community.
---
Conclusion:
Berlin's gay parties offer a kaleidoscope of experiences, each with its own unique atmosphere and energy. Whether you're looking for an inclusive space to dance the night away, embrace your sexuality, or explore the artistic side of Berlin's LGBTQ+ community, these parties provide an escape into a world of acceptance and liberation. Have fun, boys.
More things Berlin: